USADA's Armstrong doping report in brief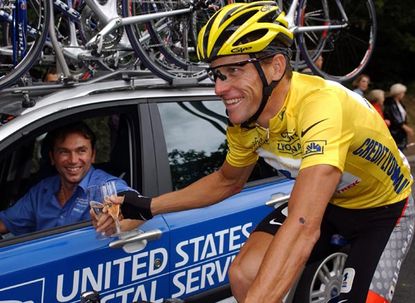 The United States Anti-Doping Agency (USADA) Reasoned Decision yesterday made clear its decision to ban Lance Armstrong for doping. As the decision shows, the agency had reason to strip him of his seven Tour de France wins.
The agency said it sanctioned Armstrong for use of banned drugs and methods, including EPO, blood transfusions, testosterone and corticosteroids. For possession of banned drugs and methods. For trafficking them. For administrating them. And for assisting, encouraging, aiding, abetting and covering up along the way to his seven wins, from 1999 to 2007.
"There will not be a hearing in this case because Lance Armstrong strategically avoided it," the agency said. "He voluntarily gave up the right to cross examine the witnesses against him. He abandoned his opportunity to testify (and avoided the prospect of being cross examined) under oath in response to USADA's witnesses. ... He did not want to testify - he wanted to walk away and avoid the truth telling. However, his refusal to attend a hearing still speaks volumes."
Highlights from Volumes 1999 to 2005
1999
- Team director Johan Bruyneel and Dr Luis Garcia del Moral join the team from team ONCE, known for its organised doping.
- Armstrong, Tyler Hamilton and Kevin Livingston train with Dr Michele Ferrari and receive EPO injections.
- At the Tour, the three or 'the A-Team', receive special EPO deliveries from Armstrong's Nice gardener, referred to as 'Motoman'.
- Armstrong and team fabricate a therapeutic use exemption (TUE) certificate after he tests positive for cortisone in Tour prologue.
- The A-team trio receives EPO injections during Tour every three to four days.
2000
- Hamilton said he and Livingston begin blood doping with Armstrong after he wins Dauphiné Libéré
- Armstrong abandoned Spanish race [País Vasco] to avoid test. Hincapie knew he was taking testosterone "[when] I heard that drug testing officials were at the hotel, I texted Lance to warn him to avoid the place. As a result, Lance dropped out of the race."
- Tour: "As in 1999, there was an important but untold back story to the public accounts of Armstrong's triumph that flooded newspapers, magazines, and the airwaves ... USADA has first hand evidence that Armstrong engaged in the use of testosterone, EPO and blood doping.
- Hamilton recalled the rest day on July 11 in the Hôtel l'Esplan in Saint-Paul-Trois-Châteaux near Mount Ventoux. "Kevin Livingston and I received our transfusions in one room and Lance got his in an adjacent room with an adjoining door. During the transfusion Lance was visible from our room." Armstrong lets Marco Pantani win the next day.
- French media followed US Postal car, searched the rubbish bins and found drug Actovegin. Armstrong and team said it is for road rash and for staff member with diabetes. Vande Velde said that was not true. He explained, "Actovegin was given by the team doctor to Postal Service cyclists to enhance performance and with the claim that it would improve our circulation" and "would help me perform better." USADA pointed out that it is not a banned drug, but that Armstrong and his team tried to cover-up its use. "In other words, if Lance Armstrong was willing to lie about Actovegin - and he clearly did lie about Actovegin - there is little reason to believe that Armstrong would not be willing to lie about other products and with regard to other topics."
2001
- George Hincapie began working with Ferrari, paying $15,000 for the season. He continued through 2006.
- Floyd Landis and Hamilton testified Armstrong tested positive for EPO at the Tour of Switzerland. UCI tells WADA lab director that one positive sample from the race is Armstrong's.
- Greg LeMond's Ferrari comments enraged Armstrong. After the Tour he said, "I'm going to take him down" and I'll "shut him up."
2002
- Landis became Armstrong's close friend. "Floyd watched over their blood bags while Armstrong was out of town. They shared doping advice from Michele Ferrari, and when Floyd needed EPO Lance shared that too."
- Armstrong continued Ferrari relationship despite media pressure, paid $150,000 in 2002 to his Swiss account.
- Blood doping continues. "Landis personally witnessed the re-infusion of blood into Armstrong on the evening before the individual time trial." Armstrong told Landis he had a second litre of blood for the second week.
2003
- Armstrong paid Ferrari $475,000 during the year.
- Landis said small refrigerator in Armstrong's Girona apartment stored blood. He was in charge of controlling it for a few weeks when Armstrong went away.
- Hincapie told of story where Armstrong borrowed his apartment to re-infuse blood with Del Moral's help.
- Landis said he, Armstrong, Hincapie and other team-mates re-infused blood at the Tour on July 11 and 17.
- Hincapie recalled at this Tour or in the 2004 edition that Armstrong told him, "I am going to be 500 grams heavier today," referring to a blood re-infusion.
2004
- Pedro Celaya, coming from Spain's ONCE team, replaced del Moral as the head team physician.
- Armstrong wired Ferrari $100,000 before the Tour began.
- Team re-infused blood twice in race, once on the side of the road in the bus. George Hincapie said, "[After] a stage ... blood transfusions were given on the team bus to most of the riders on the team."
- Armstrong used EPO in small doses "to stimulate the production of immature red blood cells known as reticulocytes in order to mask the transfusion was standard practice on the USPS/Discovery Channel Team as Tom Danielson has indicated."
- In stage 18 Armstrong chased down an escape with Filippo Simeoni and threatened him for testifying against Ferrari. "Armstrong was captured on video making a 'zip the lips' gesture ... [It was a] sad moment in the history of cycling."
2005
- Hincapie gave testimony that "Armstrong possessed EPO in 2005 and that in 2005 Armstrong administered EPO to Hincapie."
- After seventh Tour win, Armstrong travelled directly to the USA. Hincapie said that Bruyneel asked him "to sweep" Armstrong's Girona apartment to make sure it was free of drugs or related materials.
- Despite saying he stopped working with Ferrari, Tom Danielson recalls a training meeting with him, Armstrong and Ferrari in Girona. On March 29, Armstrong wired Ferrari $100,000.
- In March while training in Tenerife, Levi Leipheimer began working with Ferrari.
- On November 30, Armstrong lied under oath in SCA hearing regarding his relationship with Ferrari.
External link
Full PDF of USADA's 'reasoned decision' plus links to supporting evidence
Related links
USADA publishes details of Armstrong doping case file
UCI responds to USADA Armstrong doping evidence
Former Armstrong team-mate Barry: 'Doping had become an epidemic problem
Hincapie admits to doping during career
USADA strips Lance Armstrong of seven Tour titles
Lance Armstrong to be stripped of his seven Tour titles
Judge dismisses Armstrong lawsuit against USADA
LeMond suggests changes need to be made to drug testing and UCI
Vaughters denies that Garmin team riders will be suspended by USADA
Armstrong attacks USADA for opening formal action against him
Armstrong banned from triathlons as new doping charge brought against him
February 4 2012: Armstrong holds off the law
Armstrong case dropped by US investigators
Armstrong investigation arrives in Europe
Armstrong's team mate Popovych testifies he did not witness doping
Armstrong's team-mate Popovych summonsed in doping investigation
Landis admits he doped and implicates others
Thank you for reading 20 articles this month* Join now for unlimited access
Enjoy your first month for just £1 / $1 / €1
*Read 5 free articles per month without a subscription
Join now for unlimited access
Try first month for just £1 / $1 / €1