We go volunteering at the Perfs Pedal bike race to find out what's involved
With Cycling Weekly's volunteering drive in full swing, features editor Vern Pitt puts his back into it at the Perfs Pedal race to find out what this volunteering lark is all about.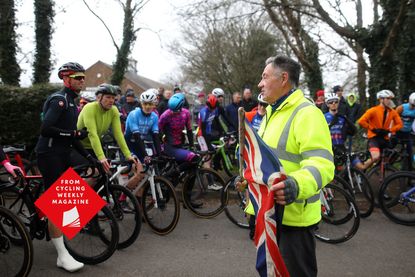 (Image credit: Charlie Crowhurst)
Get The Leadout Newsletter
The latest race content, interviews, features, reviews and expert buying guides, direct to your inbox!
Thank you for signing up to The Pick. You will receive a verification email shortly.
There was a problem. Please refresh the page and try again.
Iron-Man has his armoured suit, Batman has his cape and cowl and I have a high-viz jacket. The power of the high-viz jacket is not to be underestimated. It confers the wearer with automatic authority and respect. People treat you differently when they can see you coming from four clicks away they look to your for support, help and advice even if you're not really qualified to give it
And that is how I came to meet Joe Surmon. Joe, who rides for the University of Bristol, was riding his first road race - he'd done a few crits before - and having exited the sign-on area with his numbers he saw a man milling about in a high-viz jacket and thought "I'll get him to help me put these on, I'm sure he's done this before". Unfortunately for Joe the person in the jacket was me and I have only pinned numbers on very sparingly and not while someone was wearing the garment I was doing it to.
Predictably, I fumble around, prick Joe several times and end up with a result I fear number pinning grand master Doctor Hutch might get me fired for. Joe is very understanding and after far too long he trots off very happily numbers billowing at an angle I estimate is costing him 17 watts.
I'm at the Perfs Pedal race, just north of Portsmouth in Hampshire, because for the past few weeks Cycling Weekly has been urging you to volunteer by registering your interest with British Cycling or CTT and getting involved so it seemed only fair we do our bit too.
Organiser Mick Metcalf seems only too pleased to have another pair of hands, as inexperienced as they might be, and I'm treated to a smorgasbord of roles. Most of the work that needs doing is before the race even starts.
So fairly swiftly I'm dispatched to a small car park just up the road to help fill it as neatly as possible. There I meet Tony who is long-standing organiser Mick Waite's son in-law. The whole event is something of a family affair with his daughters Kelly and Vanessa staffing the sign-on area and his other son in law, Pete, monitoring parking in the other car park. While they've all clearly been press-ganged into it at some point - most are not ardent UK cycling fans - they take pride in the race which has been running for over 70 years and long ago established itself as the south coast's season opener.
Amiable Tony tells me that most people can be relied upon to park sensibly. "I just let them do what they do and if they behave like muppets I interfere," he says. So I'm mostly just giving directions, and acting as spotter to try and make sure the cars are close together. I do have to ask one driver to move as he's blocking the way and I worry that we might be about to enter muppet territory, but there's no conflict and he's only too happy to move - the power of the high-viz jacket in action.
The jacket works its magic again when a fully uniformed member of the army questions me over what is going on and whether the relevant permits have been filled out. They have, I inform him confidently while just assuming that's the case.
Parking sorted I amble back to the HQ where the buzz is building even on a blustery and damp morning in February there's excitement in the air. It's striking that that sensation at a National B is so similar to the Tour de France there's less razmataz (ok, there's no razmataz this morning) but the soundtrack of clunking rear mechs and the feeling of building anticipation is identical. It doesn't hurt that there are some very good riders here from the Wiv-Sungod pairing of Damien Clayton and Josh Whitehead to retired pros Yanto Barker and Alex Paton.
Back at HQ I'm tasked with measuring junior gears. Wheeling bikes backwards in a straight line is well within my skillset and I'm thankful I don't have to throw anyone out of the race before it has even begun. If you like fancy carbon this is the job for you because despite their owners mostly being in school every bike I lay my hands on is top of the range beauty.
It's not long after this that I meet Joe and fumble around spiking him in the bum with a safety pin over and over. By this point I already feel part of the organisational family despite the fact I've only been here for a couple of hours.
Just before the race rolls out I decline the kind invitation from head commissaire for the day Patrick Kavanagh who has seens his volunteering take him to commissaire at the World Championships in Yorkshire in 2019. I fear I'll look like I'm taking the easy route sitting in the back of a warm car for the next few hours.
Instead my last stop is out on the course with a bunch of the marshalls for the day. Marshalls must go through training and accreditation process and the sport is in dire need of more of them (see box). One will later recount to me how there was panic on the Friday before the race that they would not have enough to staff every point on the course (the race wasn't under threat but it would have meant staffing those points in a less than ideal way) and a frantic series of phone calls and emails ensued.
The upside to this shortage for those that are accredited is that it's rather like a school reunion. They all know each other and the conversation flows easily as they catch up on what everyone has been doing since the end of the 2021 season.
The appeal is obvious, although they're just standing at the side of a B road in the rain they're essential just hanging out with their friends.
There's commitment there too: "I did the last of my training races when I was eight months pregnant standing on the side of the road," marshall Kim Reading tells me, "People were like, 'My god Kim don't have your baby!'"
She adds: "It's very tight community the cycling world." And as if on queue some members of her old club Fareham Wheelers arrive at the junction and start chatting away, watch the race come past and then push on to their destination.
Today it is thankfully relaxed though Kim tells me sometimes people can be "impatient" to "get their Sunday papers".
We stand theri getting progressively wetter until the race enters its closing stages at which point we all hop in the car to high-tail it to the finish. Clayton has left the rest of the field for dead and comes across the line alone. Almost everyone following is shivering to the point of concern and I'm left grateful for my thick coat and hat.
Oh, in case you were wondering, the number pinning victim Joe did just fine finishing in the bunch in 32nd spot, not bad when so many retired from the race.
Back at HQ it's time to say goodbye to this new found family I feel I've made this morning. There's discussion of where everyone will see each other next. After all high-viz superheroes do love a good team-up.
Thank you for reading 20 articles this month* Join now for unlimited access
Enjoy your first month for just £1 / $1 / €1
*Read 5 free articles per month without a subscription
Join now for unlimited access
Try first month for just £1 / $1 / €1