Wiggins and Weller record Christmas show for BBC 6 Music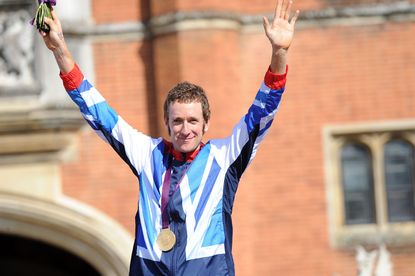 Tour de France and multi-Olympic champion Bradley Wiggins has teamed up with his music idol Paul Weller to record a one-off Christmas special for BBC 6 Music.
Wiggins' interest in music and mod culture is well known, and his Weller-style haircut and sideburns has become a trademark for the 32-year-old Londoner. Weller, 54, is best known for being the lead singer of The Jam, the Style Council and for his solo recordings.
Wiggins and Weller pre-recorded the radio show in Salford, Manchester, on Monday. The duo present a selection of their favourite tracks as well as chatting about music and life, and it will be broadcast on Boxing Day, December 26, from 1pm.
"It's fantastic that two men who have excelled in their chosen fields can share their love of music on BBC Radio 6 Music," said James Stirling, head of programming at BBC 6 Music.
"We've had a long relationship with Paul Weller and I know that Bradley and his team listened to 6 Music during this year's Tour de France.
"Their show will be a chance for them to reflect on their year and to play and discuss the tunes that have inspired them throughout their lives."
Thank you for reading 5 articles this month* Join now for unlimited access
Enjoy your first month for just £1 / $1 / €1
*Read 5 free articles per month without a subscription
Join now for unlimited access
Try first month for just £1 / $1 / €1