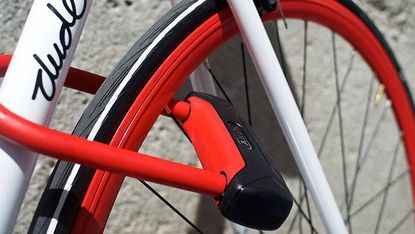 (Image credit: Abus)
Get The Leadout Newsletter
The latest race content, interviews, features, reviews and expert buying guides, direct to your inbox!
Thank you for signing up to The Pick. You will receive a verification email shortly.
There was a problem. Please refresh the page and try again.
We are truly living in the golden age of cycling in 2021. More than ever cyclists from all walks of life are enjoying what our two-wheeled machines have to offer, from racing to general fitness and mountain to gravel. Possibly the greatest increase is in riders from the active category, with a huge number investing in e-bikes to cycle for travel or leisure.
All of us as bike riders need to think about security and who better to ensure our pride and joys are kept safe than ABUS, with nearly 100 years of experience in the sector. They offer a huge range of locks for all types of situations, whether that is at home, at work or briefly locking your bike outside a café or pub.
Although police data shows that bike theft has slowed (likely due to lockdown restrictions), this isn't time to relax into a false sense of security! In fact, a massive 74,573 bikes were reported stolen in England and Wales in 2020, with Greater London having the highest rate of bike theft - 492 thefts per 100,000 residents.
The best way to defend against theft is investing wisely in your lock. Look out for the 'Gold Standard' as seen on ABUS's Bordo Granit XPlus 6500 folding lock and its Granit XPlus 540 u-lock, which are just two from a long list of locks from the German brand. The 'Gold Standard' rubber stamp is provided by Sold Secure which is an independent lock tester. It rates locks and gives them a rating like Diamond, Gold, Silver and Bronze. Gold offers one of the highest level of security and is needed as a minimum by most, if not all, insurance providers.
Compounding the need to focus on security is the recent stark rise in bike prices. When you invest significant sums in a bike why wouldn't you invest in securing it reliably? Most insurers recommend spending at least 10 percent of the value of your bike as a good rule of thumb.
Increasing numbers of households now own more than one bike and this can lead to an overwhelming number of locks and keys. ABUS has developed a system unique to them which tackles this problem. Its exclusive Keyed Alike programme aims to help not only keep your bike protected from theft but also massively reduce the hassle of owning multiple locks that you use for different scenarios. This programme distils the process of bike security; one key for all your locks.
How does this innovative system work? All ABUS locks come with its own 'code card' showing the unique key code. ABUS can build a new Keyed Alike lock or system using the unique key code, even after several years of the purchase of your original lock. Any subsequent purchases are made to order around your existing key. So, you can add to it as the need arises, you just need to keep the code. With the code you can head to your local ABUS dealer to not only help you find your new lock that is best for you but to link the new purchase with your current locks through the Keyed Alike Programme. It is easy to find your local ABUS dealer via the ABUS website.
This provision for future purchases demonstrates how ABUS aim not only to make life safer and more secure but also more convenient. Currently, the Keyed Alike logo on lock packaging identifies which locks are compatible with the Keyed Alike Program when deciding on your purchase.
There are two different types of ABUS locking barrels that can be keyed alike - 'Plus' and 'XPlus'. For example, from the Plus range, the CityChain Plus 1010 provides beefy bike security and is ideal to give peace of mind when storing your bike at work. From the XPlus range, the CityChain X-Plus 1060 is perfectly suited to locking at home for prolonged protection of bikes usually stored over longer periods.
The Keyed Alike programme works with both Plus and XPlus locks, incorporating a whole range of types of lock: u-locks, chains, frame locks and padlocks. It's important to note, however, that for Keyed Alike to work, you cannot switch between the two.
Those who ride e-bikes already will know that you can typically need three keys and locks if you're being safety conscious. One key for battery, one key for the frame and one key for your main bike lock. Keyed Alike reduces this to just one, saving significant space on your keyring!
This neat solution from ABUS could utilise a combination of complementary locks from their Plus range. The ABUS frame lock Shield Plus 5750, perfect for city use (and can fit around tyres up to 70mm) could be used alongside a Bordo 6000. This is a heavy duty but flexible lock thanks to the folding design and can be easily attached and discreetly stored.
If folding isn't for you and you need more of a traditional D shape lock you could team the frame lock with the gold standard Granit Plus 470. The Keyed Alike system can even link to your e-bike ABUS battery lock, too, meaning one key for three locks.
Both Plus and XPlus range locks are available directly through retailers with only a 10% upcharge.
All Plus and Xplus cylinder locks can be Keyed Alike but some of the highlights in this range are listed below:
Plus Locks:
Folding: Bordo 6000 (90cm £89.99, 120cm £99.99)
D-Locks: Granit 460 (230mm £54.99, 300mm £59.99); Granit Plus 470 (230mm £79.99, 300mm £84.99)
Chain: CityChain 1010 (85cm £99.99, 110cm £109.99, 140cm £119.99)
Frame Lock: Shield Plus 5750 L (£49.99)
X-Plus Locks:
Folding: Bordo Granit XPlus 6500 (85cm £129.99, 110cm £139.99)
Chain: CityChain X-Plus 1060 (110cm £169.99, 140cm £179.99)
D-Lock: Granit XPlus 540 (150mm £99.99, 230cm £109.99, 300mm £119.99)
Thank you for reading 20 articles this month* Join now for unlimited access
Enjoy your first month for just £1 / $1 / €1
*Read 5 free articles per month without a subscription
Join now for unlimited access
Try first month for just £1 / $1 / €1
Get The Leadout Newsletter
The latest race content, interviews, features, reviews and expert buying guides, direct to your inbox!