New handlebars are a cost-effective way to improve your ride
ENVE show there's much more to handlebars than steering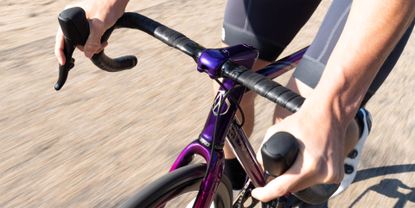 (Image credit: ENVE)
Get The Leadout Newsletter
The latest race content, interviews, features, reviews and expert buying guides, direct to your inbox!
Thank you for signing up to The Pick. You will receive a verification email shortly.
There was a problem. Please refresh the page and try again.
If you thought the handlebars were just on your bike to help you steer, it's time to think again. Yes, pointing you in the right direction is important, but choosing the best handlebars for you and your preferred riding style can have a significant effect on both comfort and aerodynamics. In fact, investing in new handlebars for your bike is one of the most cost-effective ways to improve your performance in the saddle.
Gone are the days of simply picking up the first pair of drop handlebars you find and hitting the road. There are numerous factors you need to consider before making a purchase, and all can influence the quality of your ride.
For starters, you need to think about the width of your handlebars: bars that are too wide can put extra pressure on your neck and arms, while bars that are too narrow can leave you feeling uncomfortably cramped. At the same time, narrow bars have the benefit of pulling your elbows inwards, reducing your cross-sectional area and improving your aerodynamics.
Speaking of aerodynamics, speed demons should probably set their sights on an aero-optimised design shaped to cut through the air more efficiently. Meanwhile, grabbing a set of carbon handlebars is a sensible option for anyone looking to reduce the overall weight of their bike.
And then there's the shape of the bars: if you're chasing PB-smashing time trail pace, you'll want lower, traditionally shaped bars, but if you're going to be spending a whole day in the saddle, chances are a more compact, less severe design will be up your street. Flare (the amount the drops angle out to the sides) is also important, particularly when it comes to comfort and control.
In the ever-evolving world of handlebars, there's no shortage of factors to consider before making a purchase but the good news is that Saddleback – the home of performance cycling – has plenty of top-quality bars to choose from. Here are three of the best you can buy from leading US brand ENVE.
The ENVE SES Aero Road Handlebar was built with road racers and short-course triathletes in mind, and has even seen action in the Tour de France courtesy of Team Dimension Data.
ENVE worked with aerodynamicist Simon Smart in the development of this lightweight, full-carbon bar, and the wind tunnel-tested design helps to minimise a rider's profile against the wind – this is particularly important when you're out on the road, because your body is responsible for the majority of aerodynamic drag you encounter.
Speed doesn't come at the cost of comfort, however, because the compact geometry of the bar allows you to assume a fast, aero position that can be maintained for long periods of time. The flare is also an aggressive 5cm from hoods to drops – a winning combination of super-tight on the tops and better handling on the drops.
Price: £440
Gravel bikes have exploded in popularity in recent years, and the ENVE SES AR Handlebar is designed to help you get the most out of this exciting branch of cycling. Equally comfortable taking on fast sections of tarmac and rougher gravel courses, the bar is built with versatility in mind – it's adaptable enough to handle both different riding styles, and various configurations of wheels, tyres and frames.
The "AR" refers to ENVE's All Road principle, which uses a unique carbon laminate to help smooth out the effects of the roughest terrain. The drop's 23.5mm flare offers excellent control, and although the SES AR is less aerodynamic than the SES Aero, the bar's top section features an aero cross-section for excellent performance against the wind.
Price: £440
Available in a variety of widths (from 38-46cm) and with the option to adjust the hood-to-drop distance by up to 2cm, the versatile ENVE Compact Road Handlebar is a bike fitter's dream come true. As well as giving you the option to adopt your ideal position on your bike, the ENVE Compact Road is built entirely from carbon, creating a lightweight yet stiff bar that delivers an impressively comfortable ride. It's important to note, too, that not all carbon is created equal, and that the manufacture, finish and testing of ENVE bars help them to stand out from cheaper alternatives on the market.
Like the ENVE SES Aero and the ENVE SES AR Handlebars, the ENVE Compact Road is compatible with internal cabling.
Price: £440
To find out more about Saddleback and its range of ENVE handlebars, visit saddleback.co.uk
Thank you for reading 20 articles this month* Join now for unlimited access
Enjoy your first month for just £1 / $1 / €1
*Read 5 free articles per month without a subscription
Join now for unlimited access
Try first month for just £1 / $1 / €1
Get The Leadout Newsletter
The latest race content, interviews, features, reviews and expert buying guides, direct to your inbox!