See and be seen: how to choose the best cycling light for you
Whether you're riding road, MTB or gravel, Lezyne can light the way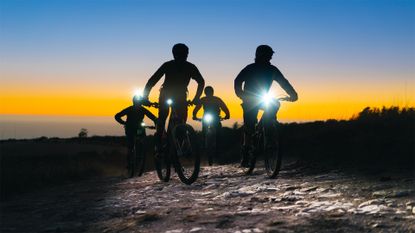 (Image credit: Lezyne)
Get The Leadout Newsletter
The latest race content, interviews, features, reviews and expert buying guides, direct to your inbox!
Thank you for signing up to The Pick. You will receive a verification email shortly.
There was a problem. Please refresh the page and try again.
Bike lights have moved on since the days of incandescent bulbs and chunky disposable batteries. The evolution of LEDs and USB-powered rechargeables has transformed lighting tech, and plenty of elegantly designed, lightweight devices are now available to make sure you can see – and be seen – when riding at night.
While all that choice is brilliant news for cyclists, however, it does make buying a new light significantly more challenging. These days, illuminating your rides isn't quite as simple as buying a generic white light for the front and a red light for the rear, because different models offer very different functionality. That means it's worth doing your homework to ensure you find the lights that best suit your own cycling needs.
Here, we'll illuminate what you should be looking for when buying lights for your commute, for e-bikes, and for riding road, MTB and gravel. We'll also highlight which products from leading manufacturer Lezyne are best for lighting your way.
The importance of lumens
One of the first things you'll want to consider when buying new bike lights is how many lumens they deliver. The lumen is a scientific unit that measures the amount of light emitted by a source per second – in other words, the lumen value tells you how brightly the light shines.
The lumen value is really important, because it'll be the first thing to look for when determining when deciding if a light is suitable for your favoured cycling discipline. Brighter isn't always better, however – remember, the more lumens a light emits, the quicker it will burn through its battery.
It's also essential to check out the minimum requirements for bike lights where you live, because every country has different restrictions. In Germany, for example, lights need to conform to the more stringent STVZ0 standard.
Lights for commuters
When you're cycling your commute to work, there's a good chance you'll be riding on well-lit town or city roads. In this scenario, your lights' function is less about showing you the path ahead than ensuring that cars, pedestrians and other road users can see you.
A front light of 200 lumens and a rear light of 30 lumens will be enough to get you seen, though we'd recommend a minimum of 50 lumens at the rear just to make sure. You might also want to run a second light at the back, just in case one of them fails – this massively reduces the chances of you getting a nasty surprise that you've been riding without rear lighting.
The Lezyne KTV Drive Pro Smart Pair is the ideal combo for commuters. The KTV Drive Smart Front offers up to 200 lumens of output, while the KTV Drive Pro Smart Rear delivers up to 75 lumens, with a Wide Angle Optics lens to provide 270° of visibility. Lezyne's Smart Connect wireless technology allows you to pair front and rear lights with the companion LED Ally smartphone app, meaning you can control both lights with just the touch of a button at the front. You can also select various flash, pulse, blast and economy modes to help preserve battery life, including a Daytime Flash mode to improve your chances of being seen during the day – after all, making cyclists more visible can only be a good thing.
Lights for road cyclists
If you're a road cyclist who's likely to be riding routes without street lighting, a light that will help you see the road ahead becomes essential. You'll need a front light with a minimum of 500 lumens to properly light your way.
The Lezyne Connect Smart 1000XL/KTV Smart Pair is the ideal choice for road cyclists. As with the KTV Drive Pro Smart Pair above, front and rear lights can be linked using the Smart Connect functionality. There are also even more settings to choose from, including a battery-saving Femto mode that allows up to 87 hours of runtime.
Arguably the combo's most important feature, however, is the Connect Smart 1000XL front light, which uses its MOR (Maximum Optical Reflection) lens to optimise and evenly disperse its 1,000 lumens of output, providing illumination on even the darkest roads.
Lights for MTBs
Long winter nights don't have to keep you away from your favourite mountain bike trails, but you are going to need a more powerful light to keep you safe on bumpy, unpaved routes. A light that delivers 1,000 lumens or more should fit the bill.
MTB riders also need to pay particular attention to their light's beam pattern, because all the lumens in the world are no good if they're concentrated on a tiny spot in front of your bike. That's why Lezyne works really hard to ensure its lights deliver lumens across the entire width of the road or trail.
With a maximum output of 1,300 lumens, the Lezyne Macro Drive 1300XXL is perfect for MTB riders. This front light uses Tri-Focus Optics to create a bright centre spot within a large wide-angle beam pattern. It also features multiple settings to help you find the right balance between light output and battery life, while the aluminium design incorporates integrated cooling fins to optimise performance throughout the light's lifetime.
Lights for gravel cycling
Gravel bikes are one of the fastest growing sectors in cycling, thanks in part to versatility that makes them equally at home on road and trail.
The Micro Pro 800XL/Strip Pair is the ideal combo to bridge the gap between terrains. The Micro Drive Pro XL front light delivers an impressive 800 lumens, and features side cutouts to offer 180° visibility. Its multiple settings also feature the Daytime Flash mode to help keep you visible during the day, while the fact the light is Remote Switch compatible enables operation without needing to take your hands off the handlebars.
At the back, the Strip Drive Rear provides 150 lumens of illumination, with Wide Angle Optics technology providing 270° of visibility.
Lights for e-bikes
When you're riding an electric bike, there's no need to worry about finding a USB socket to charge your lights. Lezyne's e-bike lights are powered by the e-bike's motor/battery, and the Lezyne E-Bike Macro Drive 1000 takes full advantage to deliver a maximum output of 1,000 lumens at the front. The light also features numerous light modes, including intelligent automatic daytime dimming, and is designed to be compatible with top e-bike manufacturers including Bosch, Shimano and Yamaha. Lezyne recommends having a trained e-bike professional install your lights for you.
For more information about Lezyne bike lights, visit ride.lezyne.com.
Get The Leadout Newsletter
The latest race content, interviews, features, reviews and expert buying guides, direct to your inbox!