Mavic Cosmic Pro Carbon SL UST wheelset review
The new tubeless update to Mavic's 40mm mid-section wheel has a more aerodynamic rim than before plus a slightly lower overall wheel weight when the tyres are factored in – and they roll fast!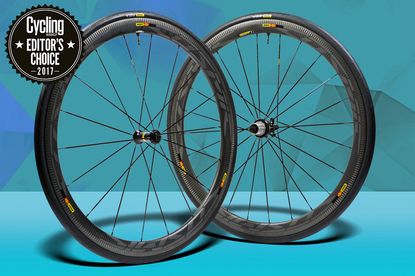 You can trust Cycling Weekly. Our team of experts put in hard miles testing cycling tech and will always share honest, unbiased advice to help you choose. Find out more about how we test.
The new tubeless update to Mavic's 40mm mid-section wheel has a more aerodynamic rim than before plus a slightly lower overall wheel weight when the tyres are factored in – and they roll fast!
The Mavic Cosmic Pro Carbon SL UST was one of the best carbon wheels on the market and by making it tubeless, Mavic has made a superb wheel even better (and faster). They are great value when compared to other premium brand carbon clinchers and being 40mm deep, ideal for all round use. To top it all off, the braking is excellent. Mavic has changed the game with these, hence their inclusion in the 2017 Editor's Choice awards...
Newly launched this year, the new Mavic Cosmic Pro Carbon SL UST road bike wheels are an updated, tubeless-ready version of the brilliant Cosmic Pro Carbon SL C clinchers. The wheels feature a wide 'U' shaped profile and improved brake track over the previous 'V' shaped Mavic Cosmic 40C wheels.
The new U-shaped NACA profile on the Mavic Cosmic Pro Carbon SL UST is said to be more aerodynamic, more stable in crosswinds and also wider than previous Mavic wheels (19mm internal, 25mm external). The wider rims are also better suited to integration with wider tyres.
Improved stopping power is thanks to Mavic's iTgMax carbon technology. The secret behind the excellent braking is said to lie in the manufacturing process. The company has a patented process which uses a laser to prepare the braking surface. This burns away the surface resin leaving the carbon fibres intact and exposed. It has also developed a heat curing process to ensure that its rims can tolerate braking temperatures of up to 200ºC, which is at the extreme of potential real-world conditions.
Creating a carbon clincher rim profile and its braking surfaces requires moulding to very close tolerances and Mavic has developed its own proprietary processes to achieve this without subsequent machining of the rim, as this can lead to cut carbon fibres and damage to the rim's integrity.
Aero benefits
Mavic has also tested the aero benefits of its new rims. It started by gathering data on the real-world wind yaw angles experienced when riding, which are rarely much above 5 or 10°C. Wind tunnel testing showed best-in-class results for its 40mm rim at these lower angles. We haven't aero tested the new Mavic Cosmic Pro Carbon SL UST, but we did test the non-tubeless Cosmic SL C it has replaced, which has a very similar rim profile. Our own drag coefficient testing suggested that there was very little difference between the Mavic Cosmic Pro Carbon SL C and other similar depth wheels from brands such as Zipp, Enve and Fast Forward.
Mavic's NACA rim profile certainly provides an aero advantage though, with our drag coefficient testing suggesting a 9-10W saving at 40kph over a Mavic Ksyrium Elite box-section rim. The Mavic Cosmic Pro Carbon SL C also uses new elliptical steel spokes to help reduce air resistance, while the hubs are Mavic Instant Drive 360, with 9° engagement.
The new Pro Carbon SL UST is also lighter than the older Cosmic 40C with a claimed weight of 1,490g v 1,550g.
Making a tubeless-compatible rim has added a small amount of weight over the Pro Carbon SL C (1,450g a pair) that it replaces – but Mavic insists that a tubeless tyre and sealant results in a net weight saving over 40g per wheel over a traditional clincher and butyl tube.
Although the overall wheel weight may appear slightly more than the likes of Zipp and Enve, this is misleading – the skewers supplied are not the lightest. You could easily swap these. The key thing is the low 470g rim weight, which consequently has low inertia and is really noticeable when accelerating or ascending.
To put the wheels and their iTgMax brake track technology to the ultimate test, we used them in Spain's biggest Gran Fondo – Quebrantahuesos.
The event features three hors categorie climbs and to make matters more testing we experienced terrible weather too.
Safe descending
While descending Pyrenean climbs in the wet we felt safe, with assured, consistent braking – with no disconcerting squealing or brake fade as can be the case on carbon rims.
We have also used the iTgMax carbon brake track during Paris Nice Gran Fondo, and although this event was dry, the technical descents required heavy braking at times. The same result of consistent, quiet, assured braking was observed. For riding carbon in the mountains, we wouldn't want anything else. One caveat though – you have to use the yellow Mavic Swiss Stop pads (a set is included with the wheels).
The Mavic Cosmic Pro Carbon SL UST come supplied with Mavic's own Yksion UST 25mm tyres. These tubeless tyres roll nicely and feel faster than Mavics standard Yksion (non tubeless) tyres.
Black Friday 2018 deal: Mavic Cosmic Pro Carbon at Evans Cycles for £821
What cannot be ignored is the price: £1,579 a pair. Although expensive, the price is still much lower than those of other premium brands and you get tyres included too. The weight is slightly higher than a pair of Zipp 303s or Enve 4.5s, but as previously mentioned, this added weight is not in the rim, where inertia is most important.
It is also worth noting that Mavic is now offering a pre-purchase test programme called 'Riding is Believing' through selected dealers, allowing you to try before you buy. It is also offering a new warranty called Mavic Care Plus which offers a free third year and discounted crash replacement.
Thank you for reading 20 articles this month* Join now for unlimited access
Enjoy your first month for just £1 / $1 / €1
*Read 5 free articles per month without a subscription
Join now for unlimited access
Try first month for just £1 / $1 / €1