Feedback Sports Velo Cache 2-bike Column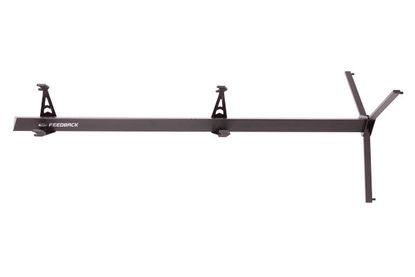 Overall, the Velo Cache is a secure, sleek and attractive way to store your bike either in the house or in the shed. But it does come at quite a price.
Why you can trust Cycling Weekly Our expert reviewers spend hours testing and comparing products and services so you can choose the best for you. Find out more about how we test.
What a mouthful! Let's just ?call it the Velo Cache. As ?over-engineered as its name, it's kind of appropriate when faced with the stand.
With three widely spaced legs, the central triangular column is amply stable, which is a good thing given that the top tube is potentially a long way off the ground.
We love the fact that each individual arm can be adjusted separately so almost any frame shape can be accommodated and that two XL bikes can be put on the Cache without clashing.
Of course, there are limitations; you can't turn the pedals and the arms themselves could do with being further apart to further increase stability.
Thank you for reading 10 articles this month* Join now for unlimited access
Enjoy your first month for just £1 / $1 / €1
*Read 5 free articles per month without a subscription
Join now for unlimited access
Try first month for just £1 / $1 / €1