Ribble 725 Gravel Pro review - fun to ride and value for money but not without issues
Built using Reynolds 725 steel tubing, Ribble's latest gravel offering is both comfortable and adaptable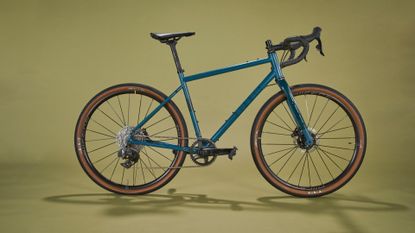 (Image credit: Future)
The 725 Gravel Pro combines value for money with an enjoyable ride that's made possible thanks to the quality frame material, progressive geometry and 650b wheel size. However, the finish on the frame does present a worry, displaying a tendency to chip. Another slight concern is just who this bike is designed for. A gravel bike like this is great, but I can't help but think a lot of riders would notice the weight saving of a good alloy frame over the ride quality of steel, which makes the price that little bit more tricky to justify. Equally, many die-hard steel fans may end up opting for more bespoke framesets and custom build options. That said, for the open minded adventurer the Ribble Gravel 725 Pro is still more than worthy of a place on your new gravel bike shortlist.
Reasons to buy
+

Great fun to ride

+

Comfortable ride quality

+

Strong spec for the price point

+
Reasons to avoid
-

Not the lightest - 10.6kg

-

Paint/frame finish isn't the most durable
You can trust Cycling Weekly. Our team of experts put in hard miles testing cycling tech and will always share honest, unbiased advice to help you choose. Find out more about how we test.
The latest addition to Ribble's myriad of off-road machines is the all new Gravel 725 range. All three models - Pro (which is reviewed here), Enthusiast and Sport - boast triple butted 725 Reynolds tubing, progressive geometry and a multitude of mounting points for adventure needs - the latter two features found on many of the best gravel bikes.
Arguably Ribble's most capable off-road drop-bar rig, the 725 has continued to impress me since my first ride review just a few weeks ago. But it has not been a totally jovial relationship, with an icy cold snap getting the better of me on one occasion - more on that later. One thing is for sure though the changeable weather over the last few weeks has allowed me to really delve deep into the 725's true character.
But before the ride, the build...
Ribble 725 Gravel Pro: construction
This was the all-singing, all-dancing top of the range version of the Pro 725. The steel frameset is paired to a carbon fork with a tapered steerer and CarryAll mounts.
The bike's geometry is described as "longer and slacker" than a conventional road bike. And that plays out in the numbers. I tested a size medium, which has 435mm chainstays and a wheelbase that measures 1052.5mm - compare this to Ribble's Endurance road bike, which has 410mm stays and 999mm wheelbase and it's fair to assume that the Gravel 725 should deliver plenty of stability, especially when the terrain gets more challenging.
Stack height and reach are as you might expect for gravel bike that designed to be rugged rather than racy. The medium has a stack of 584mm and reach of just under 397mm - comparable number's to the Sonder Camino, for example, which is designed with a similar remit as the Gravel 725.
Elsewhere there's a threaded bottom bracket and an array of mounts including three bottle cage options, fitting for a rear rack and a top tube 'bento' box. Whether you're commuting to work or heading out into the wilds on a camping trip, you should be covered.
Another attribute of the steel frame is the simplicity of the construction. Ribble has maintained a classy look with its internal routing - without resorting to a silly, and impractical, fully integrated headset. Plus cleaning is a breeze with so much space round the bottom bracket area compared to carbon bikes - which is especially great as the type of riding this bike encourages means you'll likely be familiar with your hose pipe, especially through the winter!
The wheels are Mavic's Allroad model in the 650b size. They appear a sensible choice, designed for high-volume tires and as the name suggests, all-road use. Aluminium rims with a 25mm internal width measurement, 24 straight pull spokes front and rear and an Infinity hub adds up to a set that tips the scales at a claimed 1,840 grams - not exactly lightweight but comparable to many other alloy gravel sets. As you'd expect, they are tubeless ready.
Ribble's in-house finishing kit brand, Level provides pretty much all the finishing kit for the bike and even in the longer term, I haven't found any issues here. The flared bar, which also features a 20mm rise, felt slightly alien to me on the first few rides, but the more I got used to it the more I enjoyed the added control when in the drops to achieve a wide stance on more technical trails.
The bars and stem, both alloy, seemed stiff enough too, with no unwanted front end flex. Better still, they didn't provide me with a particularly harsh ride - but that could have been masked by such a comfortable steel frame.
The carbon seatpost was a nice touch too, helping to save a little bit of weight on a build that still came in at 10.6kg on the scales.
The top-of-the-range Pro is clad in SRAM's Force eTap AXS wireless electronic groupset, and the shifting is nothing short of exemplary. Not a single botched gear change in all the time I had with the bike - and I haven't given the bike an easy time!
Stopping on the Force 160mm hydraulic disc brakes was effortless, which was greatly appreciated given the recent sub zero temperatures and resulting numb hands. As for the gearing range, it's a whopping 440% thanks to a 10-44t cassette paired with a 40t chainring.
The Pro build is rounded out with some Halo GXC Gravel FD60 tires in a 47mm width and a Fizik Taiga saddle.
Ribble 725 Gravel Pro: the ride
I really enjoyed my time on the Ribble 725 Gravel Pro but I did encounter a couple of minor issues which I'll just get out of the way first.
First was the Halo GXC tyres with their evenly-spaced fairly small knobs. Now, these are perfectly good tires for a certain style of riding; they roll quite fast and the grip is reasonable considering the height of the knobs. But although Ribble's website says that the GXC is the most aggressive tire in Halo's line-up, objectively it's not really that aggressive at all - it's a long way off Schwalbe's Ultrabite tires, for instance.
Of course, with the huge variety of conditions and terrains that a gravel bike can be ridden in, it'd be impossible to spec a tire that is perfect for all people in all places. But considering the geometry and general burliness of the Ribble 725 Gravel Pro, I can't help but feel that a more aggressive tire would be the better fit for most people who'd be buying this bike - Ribble's lighter and faster CGR platform would be the better home for these tires.
And, sure enough, I did end up coming a cropper on a slippery corner - and although more user error than anything else, I didn't have any such problems when switching out to the more aggressive tread pattern of the Pirelli Cinturato.
And after this little spill, I realised another issue with the bike is the paintwork. After such a small impact I found quite a deep scrape on the top tube. The worry here is the subsequent lack of corrosion protection on the frame. Rust is a problem on steel bikes and it's important they stay protected - so a roll of clear frame protection tape seemed a worthy investment to say the least. As well as this after only a month's use, I noticed a few flecks of paint missing on the chainstay from chain bashing.
Now neither of these are by any means out of the ordinary, but both instances happened more easily than I would expect on a bike of this spec - and on one with such a focus on rugged riding, it does have to be highlighted.
That said though, the two main issues - tires and paint - are rectifiable, which is important to remember.
But there is lots to like about the Ribble Gravel 725! And for me it's the fun factor of the ride that comes top of the list. This bike truly made me get out more, even in bad weather - a clear indicator that Ribble has come up with a well thought-out package.
The added compliance from the Reynolds 725 tubing is noticeable and a definite consideration - if you can overlook the kilo or two difference when compared to an carbon or alloy frame. And the versatility of such capable geometry means you can take on a wide range of riding.
Although I didn't get an opportunity to take this bike out on a multi-day excursion, I did at least have the chance to load up the bike with a full complement of bikepacking kit.
Unsurprisingly, given the geometry and frame material, it carries weight really well. Combined with the plentiful number of mounting points and you've got a bike that's more than ready for some off-grid adventures.
In my time with the Gravel 725 Pro, I tried three different wheel and tire combinations. My initial switch was the aforementioned Cinturato upgrade. For UK riding, these are brilliant. They tubeless setup was easy on the Mavic Allroad rims and they made such a difference to my confidence with the bike.
With a set of 700c wheels in, the bike handles pretty differently. It was less playful but quicker rolling , which has its place if you're focused on covering more ground, However, I feel this bike just excels on the rougher ground and I quickly found myself reaching back for the 650b wheels for a more playful experience.
I'll say right away, Ribble chose wisely speccing this bike with 650b wheels - but it's also impressive that only 2mm of tire clearance is sacrificed when going up to 700c (the maximum recommend clearance is 47mm and 45mm respectively). This certainly keeps your options open when choosing tire and wheel size.
Value
Ribble as a brand has built a reputation for providing great value for money and I think the 725 Pro is, for the most part, no different. For $3,499.56 / £2,899.00 you get a wireless 1x groupset matched to a premium frameset alongside decent wheels and finishing kit.
For comparison you can get Ribble's Gravel AL Sport for $1,674.85 / £1,699.00. It's a significant saving but you're trading in steel for aluminium and a wireless 12-speed 1x groupset for mechanical 10-speed 2x set-up, namely Shimano GRX 400. Interestingly, though, it only weighs a couple hundred grams more that the 725.
If you're looking for another steel gravel bike to compare it too, Ritchey's Outback comes with a similar number of mounts, making it another great bikepacking choice among other things. However, it's offered as frame only option, costing $1,599 / £1,435.
Thank you for reading 20 articles this month* Join now for unlimited access
Enjoy your first month for just £1 / $1 / €1
*Read 5 free articles per month without a subscription
Join now for unlimited access
Try first month for just £1 / $1 / €1