Lifeline Bottle Cleaning Brush review
We've tested Lifeline's water bottle cleaning brush. Has it left our bottles as clean and sparking - and hygienic - as new?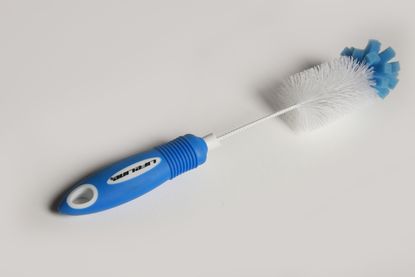 (Image credit: mike prior)
It may not be the most attractive looking cycling accessory, but the Lifeline brush is a cheap way to reach parts of your water bottles which other cleaning methods can't reach
Reasons to buy
+

Gets at those nooks and crannies in your bottles which are difficult to clean

+

Cheaper than chips

+

Doesn't leave your bottles tasting of dishwashers

+
Reasons to avoid
-

Another thing littering up your kitchen
You can trust Cycling Weekly. Our team of experts put in hard miles testing cycling tech and will always share honest, unbiased advice to help you choose. Find out more about how we test.
Most water bottles seem to have awkward lips and ledges to their designs, which are hard to get to. If you're like me you probably give your bottles a quick rinse after a ride and leave them to dry. I occasionally put my bottles through the dishwasher, but not all are dishwasher-safe and they tend to develop a dishwasher tablet taste afterwards.
Here's how to keep your clothing clean too
When I do give them a more thorough clean, I quite often find there's a layer of brown gunk which has accumulated around those curvy bits which I haven't cleaned properly – not nice.
>>> How to clean your bike in seven minutes
Enter Wiggle's own-brand Lifeline accessories range, with its bottle cleaning brush. The blue spongy end bit gets up a good lather and you can push it into the crevasses at the bottom of the bottle and in the inside of the lid. Meanwhile the white bristles will scour the sides of the bottle and those corners and remove whatever it is which is accumulating there. They're quite soft though, so they won't scratch up the plastic and provide even more nooks for the brown stuff to breed in. The handle is easy to grip and the brush is nice and long, so you can really have a vigorous scrub.
Of course the other option is to throw out your old bottles regularly and start again with new ones – there's no shortage if you are an avid sportiviste. But this somehow goes against my natural parsimoniousness and preference for brands of bottle which don't seem to be given away so frequently, so a deep clean is a more attractive option.
>>> Check out this bacteria-resistant water bottle from ABLOC
All-in-all the Lifeline brush is a useful, cheap solution to a problem which you probably didn't know – or want to know – that you had.
Thank you for reading 20 articles this month* Join now for unlimited access
Enjoy your first month for just £1 / $1 / €1
*Read 5 free articles per month without a subscription
Join now for unlimited access
Try first month for just £1 / $1 / €1