Airnimal Joey Commute review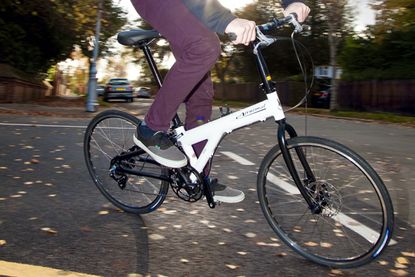 Why you can trust Cycling Weekly Our expert reviewers spend hours testing and comparing products and services so you can choose the best for you. Find out more about how we test.
Words Jamie Darlow | Photos Daniel Gould
Folding bikes are a work of compromise, a trade-off between a bike that rides well and one that packs up quickly and easily when you need to stash it on public transport. Sometimes the compromise is brilliant, sometimes it leaves us feeling hollow inside.
In our experience, the easier a bike folds, the worse it performs in its primary function as a bicycle. Easy-folders often feel flexy, slow and unbalanced when you pedal. Likewise, bikes that don't fold well often feel great to ride but are a faff to stash. What about the Joey — a triumph or a tragedy?
Flexible friend
In unfolded form, the Joey is certainly very good. It feels sprightly even when you stand up on the pedals and really crank it, with none of the noodly flexiness some folders suffer from. This is probably because it has a big, chunky top tube and still maintains a double triangle shaped frame, while the main hinge where the bike folds is also clamped off with a solid quick-release to reduce any chance of play between the joining parts.
>> Read more: The best folding bikes (opens in new tab)
Just as important is the height of the frame. While most folders have tiny wheels that necessitate low frames and really long steerers and handlebars, the Joey's bigger wheels mean the controls are more compact and therefore stiffer.
I can't go any further, then, without mentioning the wheels, which feel a million times better than any other folder simply because of their size. At 24in, they are nearly full size and that really does make a difference to the feeling of stability on the bike. It's also a much smoother and faster ride because rough road surfaces have less of an impact on the big wheels, as they just roll over the top.
There are two options when you buy the bike: fat-profile wheels and tyres, if you want to take it off-road or want more grip in town, or narrow tyres with high pressures for speed. We went for the latter and didn't regret it, as the skinny tyres seemed to have lots of grip. Not enough grip for the vice-like pull of the front brake, though, which is a really powerful cable-operated disc brake and has way too much power and not enough modulation for the task in hand. Airnimal has fitted it with honest intentions, to make the front wheel easier to remove.
Into the fold
If you feel like there's an inevitable, looming caveat over this glowing review, you're right… sort of. The inevitable payoff embodied in this great-riding folder is that it's tougher to fold. Because of the big wheels, there was no way the Airnimal engineers could fold the bike to a reasonable size without requiring detachment of the front wheel, e.g. when you want to get it into a compact enough size to carry on to the Tube.
It's not that the action is particularly difficult — drop the saddle, remove the front wheel, fold the bike along the main hinge and hook the wheel on a purpose-built dropout — but the Joey's is far slower than the best folding action out there, from Brompton. The latter takes about 10 seconds, the former about a minute. Our Joey came specced with something called the Commuter Kit to make moving the bike around in its folded state easier.
It means you can roll the bike along on its front wheel even when folded, which is a great feature because carrying a bike even over short distances quickly becomes a pain in the arm. The Joey also comes with a big Joey Bag to stuff it into for car journeys and such like, and a Traveller Case too if you want to fold it up small and take it abroad.
I know this bike is slightly clunkier to fold than some of its rivals, but I don't care. It's worth it for the ride feel; it pretty much feels like you're riding a non-folding urban bike. In any case, how often do you see folding bikes actually folded properly on the train? Rarely. I think the presence of fold-ability, just in case a railway jobsworth challenges you, is the real value here. Point out the big hinge in the middle of the bike and, voilà, you're set free and on your way.
Specification
Airnimal Joey Commute £1,399
Frameset Joey folding, cro-mo fork
Gears Shimano Alfine 8spd rear hub
Chainset Airnimal 48T
Brakes Shimano disc (f), Acera V rear
Wheels 24in, 32h Airnimal rims
Tyres Schwalbe Marathon 1.75in
Bar 2B alloy
Stem 2B 120mm
Saddle 2B Comfort
Seatpost Telescopic
Weight 13.5kg
Alternative
Birdy Light £1,369
If you're looking for something a little different, try a Birdy. While most folding bikes hinge in the middle, the Birdy Light folds around its suspension pivots, which Birdy says makes it stiffer and lighter than conventional folders. The folding action is quicker than the Airnimal, taking a claimed 15 seconds, and it shouldn't be a pain to carry. At 10.9kg, it's very light — around 2.5kg lighter than the Joey. A little bit of suspension can only be a good thing too, in light of the government's pothole-growing scheme. www.birdybike.com
Thank you for reading 5 articles this month* Join now for unlimited access
Enjoy your first month for just £1 / $1 / €1
*Read 5 free articles per month without a subscription
Join now for unlimited access
Try first month for just £1 / $1 / €1