Eastway FB4.0 hybrid review
A hybrid bike well suited to city riding, but is slightly let down by the harsh ride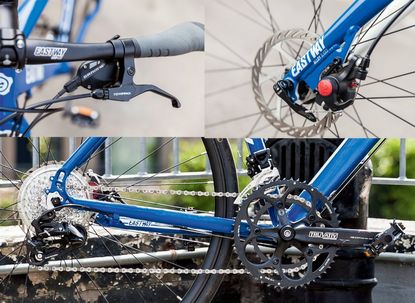 From a London brand that makes bikes for the city, we expected good things on the roads in town, and around the CA HQ in Croydon. Away from the East End the bike performs well, but a few upgrades, either in a future model, or from the buyer at purchase, like chunkier tyres, or even mudguards, would create a more rewarding partner in crime for the city streets
Reasons to buy
+

Sporty geometry

+

Looks great
Reasons to avoid
-

Ride is too harsh

-

Hydraulic brakes would set it apart from the competition
Why you can trust Cycling Weekly Our expert reviewers spend hours testing and comparing products and services so you can choose the best for you. Find out more about how we test.
Born in East London, and named after the famous racing circuit, Eastway comes a relatively new brand, building bikes designed to take the rough and tumble of city riding. Two childhood friends, bored of replacing broken parts from riding broken roads, came together in 2011 to create Eastway. We've seen one or two of their bikes here before, both of which reviewed well, but this Eastway FB4.0 hybrid really is a bike built for city duties, so we expected a lot.
Frameset
Locked up at Waterloo station, the royal blue aluminium frame stands out (if safety is a top priority, maybe that's not the best news). The frame is made from 7005 Aluminium, a practical choice that should stand the test of time. The fork doesn't have the luxury of a number, although does look shapely and well designed. Geometry-wise, this is no sit-up-and-beg city cruiser. The front end is relatively low, more akin to the Eastway circuit heritage than a Dutch shopper, so handles well around town, although at the price of comfort.
Components
The SRAM kit doesn't break any technological boundaries, but it was dependable and secure throughout testing. The spread of gears matches that ethos too, with a compact chainset sporting both 34 and 50 chainrings, and a wide spread of gears on the cassette making most hills, even those outside London, manageable. The Eastway finishing kit is obviously budget stuff, but ties up the look nicely and is arguably a better choice than buying some cheap parts from a well-known manufacturer.
Wheels
Like the finishing kit, the wheels are also Eastway branded. They're a budget offering and they aren't doing the ride any favours. Wrapped in Kenda 25c tyres, they would be helped with something a little wider and more forgiving that would offset the harshness of the rim.
Riding
Reliability may have been the inspiration for the Eastway, and there were no qualms with this during testing. But as important to the brand is the way the bike rides around town, and here things start to get murky. The ride is quite harsh, toppling to uncomfortable on rougher services as well as over potholed tarmac. When the surface is smooth, the bike flies along, and the sporty geometry and narrow tyres make tight turns, in and around traffic, a cinch. But on your average road, the constant battering was tiring. An easy improvement at the point of purchase would be chunkier tyres. The frame has room for something more rotund, and although it may sully the bike's racing heritage, for the sake of a comfortable ride and making city escapes a joy, it would be worth it.
Thank you for reading 5 articles this month* Join now for unlimited access
Enjoy your first month for just £1 / $1 / €1
*Read 5 free articles per month without a subscription
Join now for unlimited access
Try first month for just £1 / $1 / €1