GORE C5 Windstopper Thermo jacket review
With windproof, water-resistant and thermal claims, can the GORE C5 Windstopper Thermo jacket be your winter riding partner for the season?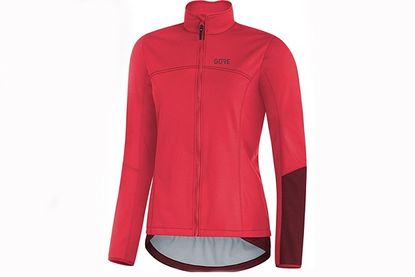 The GORE C5 Windstopper Thermo jacket is a high-quality piece of women's-specific winter apparel that will appeal to riders wanting to keep warm on the bike without the skin-tight look.
Reasons to buy
+

Windproof

+

Water resistant

+

Breathable

+

Relaxed fit

+

High collar

+

Extra long back

+
+
Reasons to avoid
-

Small pockets

-

Wide Cuffs
Why you can trust Cycling Weekly Our expert reviewers spend hours testing and comparing products and services so you can choose the best for you. Find out more about how we test.
As the provider of gold-standard technical fabrics, GORE is often the go-to brand for many winter clothing manufacturers, with the likes of the Castelli Alpha RoS jacket boasting its capabilities.
So can the GORE C5 Windstopper Thermo jacket also live up to high expectations?
Construction
As you'd expect, the C5 is a showcase piece for Windstopper fabric. To the uninitiated, this a thin soft-shell type fabric that is constructed of three laminated membranes to make it totally windproof yet highly breathable.
Made of a versatile polymer PTFE (polytetrafluorethylene), a synthetic that often gets referred to by its best-known brand name Teflon, which is expanded to create a microporous structure, GORE says these its micropores are 900 times larger than water vapour molecules, allowing perspiration to pass through unhindered.
>>>Winter cycling survival guide: 10 helpful tips to keep you riding
The waffled fleece-lined internals of the GORE C5 Windstopper Thermo jacket help trap warm air, nature's best insulator and, according to the brand, should be good for keeping you toasty down to a 5°C.
An extra-high collar, measuring 6cm, is teamed with an extralong back, measuring 77cm, which is 3cm longer than the Castelli Alpha RoS.
This size and fabric construction does mean that while it's not exactly bulky, it's not as malleable as some of the current winter jackets on the market, or as light, weighing 388g for a size small.
At the rear of the GORE C5 Windstopper Thermo jacket are three cargo pockets, which also carry the reflective detailing.
The ride
Donning the C5, it was pleasing to find a slightly looser, more relaxed fit. We can often get caught up in the desire to have everything figure hugging these days, so riders looking for something less aero will rejoice. That said, the GORE sizes do tend to come up big, so it's still worth sizing down to reap the maximum benefits from the jacket's properties.
The marketing blurb suggests a 5-15°C temperature window but me being me threw caution to the literal wind and strove out in the GORE C5 Windstopper Thermo jacket in a rather cold 3°C – to pleasing results.
Admittedly I did beef up to a winter weight base layer, but I found myself at the optimum temperature for a reasonably paced gravel ride on the flat canals and disused railway lines of north-east Cheshire. It's great to alternate the local Peak District hills with this way of riding, but the very nature of their flat existence can make it hard to keep warm without constantly pressing on, which obviously isn't always the style of riding you want to commit to, and thankfully the GORE C5 Windstopper Thermo jacket didn't demand I do so either.
I was on the cooler side, but not uncomfortably so, and there certainly wasn't any feeling of the windchill breaching the jacket. The high collar and drop tail at the rear were both really effective at adding a bit of extra fabric to hide in, with the latter being perfect for keeping drier from road/puddle spray should you not have a mudguard-equipped bike.
There are a couple of points that did let the C5 down, however, in the form of the cuffs and pocket size, with a size swap needed.
The cuffs are just too wide. I could easily fit my winter gloves underneath but ideally, in order to create a better insulated barrier, I'd want them to fit over the top. It's a minor design tweak that would make such a difference to the finish of the arm and really take the C5 to the next level performance wise.
At the other end of the size spectrum are the pockets, with only the central one being big enough to fit a gloved hand and remove an object without getting stuck. There's a really nice elasticated band to help secure your items, but this combined with the narrowness of the two side pockets just means that only a bare hand will fit in to retrieve an item.
Value
As always, the GORE C5 Windstopper Thermo jacket is beautifully made and faultless in its technical attributes. It is pitched at the mid-price point at a penny shy of £150, and I personally think it's in the middle in terms of design. If GORE could iron out the cuff and pocket sizing then that would give it a higher-end finish for a very reasonable price.
Thank you for reading 5 articles this month* Join now for unlimited access
Enjoy your first month for just £1 / $1 / €1
*Read 5 free articles per month without a subscription
Join now for unlimited access
Try first month for just £1 / $1 / €1