Santini BETA Winter Windstopper jacket review
Created to provide protection from harsh elements in temperatures below freezing, the Santini BETA Winter Windstopper jacket looks surprisingly lightweight, so while winter is refusing to disappear just yet, we tested it to the fullest in sub-zero conditions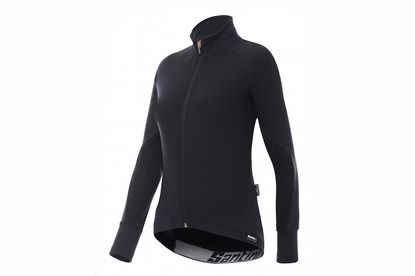 The lightweight and low profile Santini BETA Winter Windstopper jacket is, as always, beautifully constructed, but it promises an awful lot of weather protection, and unfortunately doesn't hit the mark this time by not providing enough warmth for winter.
Reasons to buy
+

Female and male versions

+

Reflective detailing

+
Reasons to avoid
-

Not fit for purpose

-

Low neck line

-

Short pockets on women's specific version

-
-
Why you can trust Cycling Weekly Our expert reviewers spend hours testing and comparing products and services so you can choose the best for you. Find out more about how we test.
The Santini BETA Winter Windstopper jacket was nearly over looked this winter and added to the spring testing pile due to its incredibly thin and lightweight characteristics, which certainly weren't on a par with the usual winter garments, with even the excellent performing low-profile Castelli Alpha Ros jacket coming in at over a third heavier and includes a double layer.
So it was with eyebrow-arching surprise that it claimed to be the ideal riding partner in temperatures of between plus five and as low as minus eight degrees celsius.
http://www.youtube.com/watch?v=l-zlRGHWA6A
Constuction
The reason for the lightweight nature of the BETA Winter Windstopper jacket is that it's constructed using what Santini says is the GORE Windstopper Thermofleece. GORE Windstopper fabric on its own is considered the gold standard of wind-proofing and used by a significant number of cycle clothing manufacturers, as it's remarkably thin layering system that keeps wind out whilst remaining breathable is probably the best on the market.
The specific Thermofleece version (which is called Fuga on the men's version) has a polyester knit face (prepared especially for print applications) with a polyester microfleece backer and a Windstopper membrane. Santini claim it scores five out of five on its scales for wind- and water-resistance, insulation, and a four out of five for breathability.
Design-wise, the Santini BETA Winter Windstopper jacket is available in both a male and female cut (I tested the women's specific version). Santini says is uses a true road cut fit – think race cut – and with the fabrics used to construct it, allows it to be low weight, hitting just 298grams on the scale.
Santini has applied a lot of attention to detail with the jacket, with a Windstopper panel on the inside of the front zip, slim line cuffs for ease of teaming with gloves and reflective detailing at the back.
Also at the back of the Santini BETA Winter Windstopper jacket are three open pockets (the men's version gains a fourth zip secure one) and a four-centimetre silicone-backed, elasticated strip to prevent the jacket twisting or riding up.
The Ride
Pulling the Santini BETA Winter Windstopper jacket on for a ride when the thermometer is hovering around the zero mark is somewhat disconcerting, it really is that low profile and so lightweight-looking that it feels more like a spring number.
The fit of the Jacket is as Santini promised, with the women's-specific version being close-fitting, without being skin tight. The slender forearm panels teamed well with gloves with the sleeves slotting nicely under them.
But riding out in the Santini BETA Winter Windstopper jacket for the first time, I swiftly realised two things:
Firstly, the neck line needs to be winterised: the collar is currently far to low for riding in the suggested temperatures and without a snood, as I soon found out, your neck and chin will become exceptionally frozen.
Secondly, you need to work pretty hard to stay warm, so a downhill roll-out for the first 10 minutes of the ride wasn't ideal, and even with a winter-weight base layer on, I was uncomfortably cold.
Thankfully I was riding on a crisp, but dry and sunny day, and once I was able to get my heart pumping and blood circulating again, I warmed up, but any time I was in shaded conditions or riding slowly, I immediately felt the chill, and I certainly wouldn't have wanted to be out in the wet in that kind of temperature.
The second point also highlights the difference between thermometer temperature and wind chill. So although Santini says the BETA Winter Windstopper is good to minus eight, on a day when the temperature hovers around the minus one mark, the Met Office calculates that it will feel more like minus 15, and that's based on measuring how much heat is lost from a person's bare face at a walking speed of three mph. Riding in it will be significantly lower, meaning you'll need a significantly higher air temperature to stay warm when riding, which are pretty unlikely in winter.
Other noticeable features are the three rear pockets of the size small jacket, roomy enough for spares and ride snacks, but were a little short at only 15 cm (the Castelli Alpha Ros measures 17cm) which made my phone feel slightly vulnerable poking out the top, you'll require a waterproof phone/valuable wallet for protection.
Value
Taking the review at face value, the jacket didn't exactly live up to expectations, and I have to admit that I wasn't exactly surprised, it needs significantly more thought in to the insulation aspect, and for the £139.99 you'd expect more.
It's a rare fail from the Santini house, it's a great-fitting well made jacket, but it feels like jacket will be much better suited for spring rather than winter.
Thank you for reading 5 articles this month* Join now for unlimited access
Enjoy your first month for just £1 / $1 / €1
*Read 5 free articles per month without a subscription
Join now for unlimited access
Try first month for just £1 / $1 / €1