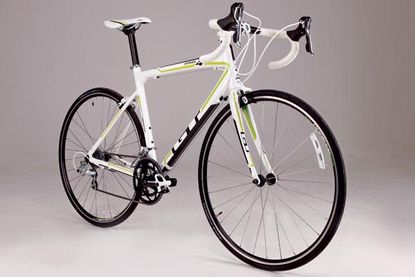 As a complete package, the GTR Series 4 is a fine-looking option. It's only a small thing, but I have to say the white metallic sparkle finish used here is fantastic. So as a first road bike, in many ways it appears very tempting and you could have a lot of enjoyment from it. It's just that I think there are better - and better value - options available.
Reasons to buy
+

Stiff frame

+

Good tyres

+

Lovely finish to frame
Reasons to avoid
-

Stiff frame leads to harsh ride
You can trust Cycling Weekly. Our team of experts put in hard miles testing cycling tech and will always share honest, unbiased advice to help you choose. Find out more about how we test.
Like most US bike brands, GT Bicycles is best known for its mountain bikes. That said, the firm's origins actually lie in BMX racing.
Nowadays it has developed into one of those companies that supplies pedal-powered machines for everyone, from young children to carbon fetishists. The GTR Series 4 sits squarely in its Road Performance range, meaning it's designed for the relatively novice-level road rider.
One thing I didn't mention about the Vitus was the profile of its tubing - pretty much circular throughout. That becomes important when you take a first glance at the Series 4 because this machine couldn't be a bigger step away from the generally subtle geometry and composition of its more expensive rival. Not only are the tubes on the GT big, thick and square-edged but even the frame's shape leans towards outright strength.
The climax of this rigidity-first philosophy is the almost BMC-esque undersized rear triangle. GT mountain bike frames are famed for employing three triangles in their frames - the two obvious ones plus a small third triangle where the seatstays join the top tube, rather than the seat tube.
In the Series 4's case, that small third triangle takes the shape of a severe-looking bit of gusseting. (Interestingly, online pictures of the bike don't show this reinforcement.) Ladies and gentlemen, we could be in for a bumpy ride.
Zippy business
So let's put it to the test - how does the GTR Series 4 feel on the road? In this instance, natural instinct doesn't let us down. This is a stiff, zippy, compact little bike, so you do feel bumps buzzing right up your wazoo. Hit the first climb of the day, though, and strangely that directness doesn't always transfer into forward motion. Unlike the Vitus, which floats its way over road imperfections, the back end of the GT hops and skips so much it can be hard to get the power down.
It's also no lightweight. I know we shouldn't really expect much from a £700 road bike, but knocking on 10kg seems rather hefty. And like the Vitus, there are no 28-tooth or bigger cogs at the back. The 'easiest' available bears 26 teeth - good enough for most situations, but you might find yourself grinding on steep climbs.
In fact, the nine-speed gearset itself is quite interesting, with the little known Microshift brand being used for shifter and front derailleur duties (Shimano Sora is found at the back). The shifters feel decent on the hoods - there's plenty of room to get a good handhold - but the gear-change action is rather clickety-clackety. It seems just a little plasticky. Also the shift paddles are quite substantial, so if you use two fingers to give the brake levers a good squeeze, you might find your other two digits getting slightly squashed.
Flinging fun
As expected, when it comes to dropping the anchor, there's not quite the same confidence that we felt with the 105 levers. However, the unbranded brake calipers did a very decent job of slowing things down. A great deal of credit for their efficiency has to go to the Schwalbe Lugano tyres, to my mind probably the best budget rubber you can hope to find on a new off-the-peg bike.
There's more good news. That combination of reliable and predictable tread allied with the direct, responsive and actually rather zesty frame means this is a great bike to fling round corners and have a bit of fun on. It reacts well to rider input, both in terms of direction changes and increased power output on smooth surfaces, although those Jalco wheels aren't anything to write home about.
Thank you for reading 20 articles this month* Join now for unlimited access
Enjoy your first month for just £1 / $1 / €1
*Read 5 free articles per month without a subscription
Join now for unlimited access
Try first month for just £1 / $1 / €1