Fizik Vento Argo R3 saddle review - more versatile than expected
Designed for racing but an intelligent design and palatable price point broadens its scope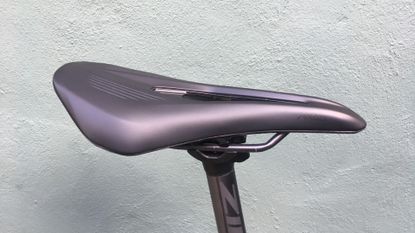 (Image credit: Luke Friend)
Fizik has done it again, creating a race-first saddle that, through its smart design, should still suit a variety of cyclists. Even if you're not pinning on a number the Vento Argo provides the right amount of comfort and support, neither too spongy or overly stiff. Whether favoring the rear of the saddle or the nose, it allows you to remain planted thus getting the most from each pedal stroke even if you're just chasing the sun rather than the cyclist in front of you. Weight obsessives will likely raise an eyebrow at the number on the scales, but the model comes in a couple of carbon rail options too. For most of us, the R3 strikes the right balance between performance and price.
Reasons to buy
+

Well-designed, comfortable shape

+

Springy yet low-profile padding

+

Generous cut-out helps relieve pressure

+

Easy to clean
Reasons to avoid
-

R3 version might be too heavy for the weight obsessed
You can trust Cycling Weekly. Our team of experts put in hard miles testing cycling tech and will always share honest, unbiased advice to help you choose. Find out more about how we test.
Get The Leadout Newsletter
The latest race content, interviews, features, reviews and expert buying guides, direct to your inbox!
Thank you for signing up to The Pick. You will receive a verification email shortly.
There was a problem. Please refresh the page and try again.
Fizik's array of saddles is certainly comprehensive, covering road, gravel and mountain bike disciplines, with several models featured in our guide to the best bike saddles.
The road offerings are divided further still, with long and short options, as well as adaptive designs and profiles suited to specific demands, from elite racing to hilly sportives - in fact, Jonas Vingegaard has just won his second Tour de France title aboard a Vento Argo saddle.
The Vento Argo is a short-nosed racing saddle, with the 'Vento' designating the racing element and the 'Argo' its short-nose design. Like most Fizik saddles it's offered in a number of 'builds', including 00 and R1 models featuring carbon rails, and the R3, reviewed here, which uses a Kium hollow rail.
Fizik Vento Argo R3: construction
Like all the Fizik saddles I've ridden, the Vento Argo R3 looks and feels well made. At 265mm in length, it's noticeably shorter than my current saddle, the Antares Versus Evo. It matches the dropped nose with a higher seat, to create a profile that, front to back, is more sloped than the flatter Antares.
To help relieve pressure it uses an ergonomic cutout positioned towards the front of the saddle rather than a full channel seen on some Fizik saddles, including the Versus Evo models.
The R1 foam used on the top of the saddle is, according to Fizik, designed to be both springy and reactive. It feels as such, firm but not unyielding.
The Type 1 foam used on the top of the saddle is, according to Fizik, designed to be both springy and reactive. It feels as such, firm but not unyielding.
The R3 undercarriage comprises a 140mm wide carbon reinforced nylon shell and a Kium hollow 7x7mm rail - and it's offered in a 150mm width too. There's some obvious flex here, and my experience with other R3 models tells me it should translate to just the right amount of compliance without sacrificing strength.
On my kitchen scales the Vento Argo R3 weighs 223g, which is 10g heavier than the claimed number.
Fizik Vento Argo R3: the ride
Fizk describes its Argo saddle shape as its "most versatile", although in this Vento edition it's aimed at racing or for those who prefer a lower, more aggressive position on the bike. I neither race or am especially concerned with aerodynamics, but my preference has long been for 'racier' saddles.
Having tried many perches in the past, the flatter profile and minimal padding of a 'racing' saddle allows me to better hold a position on the bike, reducing my movement, which I find leads to greater comfort whether I'm riding on road or off.
To test my theory I fitted the Vento Argo to my gravel bike; increasingly it's become my choice for all seasons, including road rides where the additional comfort from the wider tires and more relaxed geometry aid comfort and combat poor road surfaces.
Fizik says the Vento Argo has a "purposeful shape". It struck me as an interesting way to describe a saddle but the words stayed with me during my first forays using the product.
Certainly the shorter, sloped nose allowed me to remain comfortable whilst adopting a lower position on the bike. In my case, on a bike with a reasonable stack height, a 100mm stem and my not-so-flexible back, this is far from a low-slung racing position. All the same, on long stretches of road I could tuck in on the hoods, feeling solid and, well, purposeful.
In this position the pressure relief cut-out really does its job. As previously mentioned, it's positioned more towards the nose of the saddle and to date I haven't experienced any discomfort, especially when sitting further forward on the saddle.
When riding on the tops of the bars, which positioned me more upright and towards the back of the saddle, the cut out is less effective. However, it was never really an issue, rather just something that was detectable when compared to saddles that have relief channels running the full length. It also serves to highlight that Fizik, as stated, have designed the Vento Argo with racing in mind.
In fact, I found the saddle to be perfectly comfortable when riding in a more upright position. The shaping is clever. It's raised towards the back, with an ever-so-slight concave across the width, before dropping off at the wings. The combination creates a dish of sorts for your rear end, resulting in a planted position that's both easy to hold and supportive.
The padding needs to take some credit here too. The Vento Argo's 'Type 1 foam formulation' is as springy as claimed, but achieves this without any unnecessary bulk. It's always difficult to assess just how much any single component is contributing to the reduction of road chatter when you're riding on high-volume tires, but I didn't experience any great amount of vibration through the saddle even on rougher road and gravel surfaces. It's also worth mentioning that the foam is easy to clean too.
Several rides in and the Vento Argo's shape has become both familiar and friendly. It's a supremely comfortable saddle that strikes an optimum balance between comfort and support. As such, for me at least, this makes it applicable beyond its race-ready intentions. Yes, it aids an aggressive position on the bike but it's perfectly adaptable too.
Fizik Vento Argo R3: value and conclusion
At $149.99 / £144.99 the Vento Argo R3 is far from cheap, but it does sit at the lower end of the product range - the R5 is the entry point for this model and costs $109.99 / £99.99. It uses an alloy rail and weighs around 20 grams more than the R3.
Above the R3 sit the R1 and 00 models. The R1 features the same carbon-reinforced shell as the R3 but uses carbon. It brings the claimed weight below 200g - to 179g to be precise - but raises the price to $224.99 / £179.99. The 00 model is more expensive again, retailing at $299.99 / £259.99. For this you get a full carbon shell and rails and a claimed weight of just 134g.
The Vento Argo is offered in two adaptive models as well, which start at $/£299.99.
Specs
Length: 265 mm
Width: 140 mm
Weight: 220 g
Height at 75mm width: 45 mm
Length from nose to 75mm width: 114 mm
Rail: 7x7 mm
Thank you for reading 20 articles this month* Join now for unlimited access
Enjoy your first month for just £1 / $1 / €1
*Read 5 free articles per month without a subscription
Join now for unlimited access
Try first month for just £1 / $1 / €1