Scicon X-Over women's bib shorts review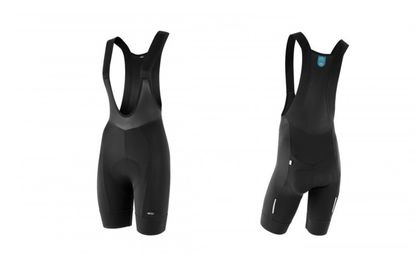 A really comfortable pair of shorts with soft fabric, and good fit and a chamois that works. The price tag is off putting, and we know we can get comparable quality for less.
Reasons to buy
+

Wide grippers

+

Soft but compression fabric

+

Great fit

+

Comfortable chamois
The first attempt at bib shorts from Scicon comes with input from ASG Bike Science - plus a set of espresso mugs. Are you paying for science of fine china?
When your bib shorts arrive in a presentation box, accompanied by two espresso cups and a carry case, you know you've parted with a lot of money somewhere along the way. The big question is - did it go towards top end tech that will equal comfort on the bike, or into manufacturing china cups?
With a retail price of £219, Scicon's X-Over women's bib shorts come as above, but the company best known for its bike travel boxes has woven a lot of science into the fabric of its shorts.
The shorts were designed with technical input from ASG Bike Science, the bike fitting arm of ASG International which also owns Scicon. They follow on from the Elan saddle, which like the shorts was designed to bridge the boundary the cycling industry has created between performance and comfort.
With this in mind, what's on offer is a race fit garment that boasts an endurance ready chamois.
At the legs, 'Mititch' panels are designed to reduce fatigue via compression, with a carefully tailored 'anatomical Power Ergo Design' fit ensuring that the TLC goes to the muscles that need it most. The fabric did feel soft to the touch whilst being supportive, and there's enough panels to create a good fit at the legs.
The cuffs are finished with 75mm carbon texture leg grippers which are silicone free and offer 4-way compression to ensure they stay put without crushing those valuable quads. A good leg gripper is high on my wish list then it comes to shorts, and this was by far my favourite element of Scicon's offering.
The women's version of the shorts finish around mid-thigh, which makes them a couple of centimetres shorter than the men's traditional Euro design. For me, this is a plus as I'm not a fan of shorts which finish at my knees, but that's not universal.
At the body, Scicon has used a mesh fabric on the tapered waist and upper back, with a lovely soft ribbon-like strap over the shoulders, which is designed on the women's version to sit around the chest.
The chamois stitched into a pair of shorts is ultimately their most important asset, and Scicon is right when it says it's this element which separates men's from women's shorts (having accidentally picked up this year's team kit with a men's chamois, I know this to be true!).
Watch: How to dress like a cyclist
The brand has used a female specific Italian Elastic Interface Technology (EIT) signature pad, that's made from 100 per cent recycled Eco Carbonium Flash material. It suits short as well as long rides, and comes with some interesting looking ventilation holes to keep things breezy down there.
I did find I had to hoist the chamois up a bit when pulling the shorts on - it didn't automatically sit in place. However, hoisting complete I was comfortable and had no saddle issues on the bike despite the pad being pleasantly on the thinner, non-bulky side.
Scion and ASG obviously appreciate a good fit, too - there's also an almighty ten sizes on offer, from 2XS to 5XL - a rare offering which we think is often missing in the market.
Obviously proud of its heritage, Scicon has proclaimed 'entirely made in Italy' on a sewn in label at the bib strap, a cool touch if you like your kit all Italiano. There's a couple of solid plastic labels, such as the sewn on 'Scicon' on the left thigh, and though these won't chip away like silicone labels I'm not sure I appreciate them.
All in, Scicon - with input from ASG Bike Science - has created a really well fitting, comfortable pair of bib shorts. Whether they're worth the price tag attached is debatable, there are market leaders selling shorts at 30 per cent less and so the entry price feels a bit bullish.
Thank you for reading 5 articles this month* Join now for unlimited access
Enjoy your first month for just £1 / $1 / €1
*Read 5 free articles per month without a subscription
Join now for unlimited access
Try first month for just £1 / $1 / €1