Koga Signature Randonneur review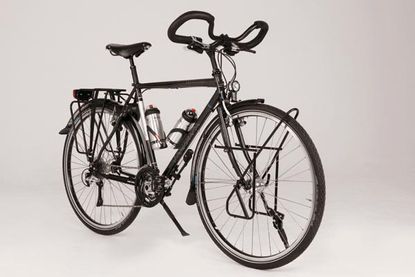 When it came to the ride, there really isn't a bad word to say. It's comfort at a new level, and not to the detriment of speed. The kings of touring in the Netherlands have built a reputation based on excellent service and even better bikes. This particular model has me scratching my head to find anything really negative to say. If touring accessories and ride quality are top of your list of priorities, you'll do very well to take a closer look at the Koga Signature website.
You can trust Cycling Weekly. Our team of experts put in hard miles testing cycling tech and will always share honest, unbiased advice to help you choose. Find out more about how we test.
All the way from Holland is the Koga Signature Randonneur, 'Signature' being Koga's online custom orientated service. You don't get a custom-made frame, but what you do get is... everything else. With several frames to choose from, including their well-respected and well toured aluminium models, I chose to go with the steel Randonneur.
After the frame, it was all a bit of a blur. There are half a dozen options in each category, ranging from tyres, to lighting, stands and seatposts, luggage, saddles, wheels, dynamos, locks. You name it, you can spec it. The dizzying selection left me bewildered and excited all at the same time. In the end Koga settled it for me. A mid to high-range specced bike pricing in at €2,500. Which is about £2,100 in our British monies at the moment. Prices do in fact start from about £1,200 for a complete bike and skyrocket all the way to £3,600.
Bikes are all assembled in the Netherlands, and shipped off to a UK dealer for final preparation. This kind of service gives the buyer the custom experience, with a LBS finish. You don't take your Koga home until you're happy with it, So there's no worries with buying an online bike and having it arrive to your door the wrong colour, size, or worse, banged up into bits.
At a few hundred pounds more than the Dawes, you'll be forgiven for expecting a little more in return for your paycheck, and to be fair to Koga, it really delivers. The spec sheet for this bike was two pages long. Let me share a few highlights with you. Shock absorbing seatpost. Lock. Pump. Two kickstands. Posh dynamo with lights. Brake control adjustment. Butterfly bar. Pump. Thermos bottles. And...compass. The list goes on...
What the spec!
Listing these upgrades brings me on to a good point - raised by fellow tourer, and CA tester, Derri Dunn. With so many more things adorning this bicycle, isn't that so many more things to break? Yes, that is a worry actually. The simpler a bike is, the less you have to worry about in terms of durability. So I guess with each optional extra you have to weigh a few factors up.
One, funnily enough, is weight. Then there's cost. There's the possibility of your bike breaking, divided by the likelihood of you being able to fix it on the road. And finally, the benefits. One example is the shock absorbing seatpost. It's wonderful. If I was touring on rougher roads I'd definitely include it. If I was travelling through almost any of Western Europe... I probably wouldn't bother. Something to keep in mind when putting your Koga together.
The butterfly effect
If you consider yourself a traditionalist, you've probably already decided you don't like the looks of the Randonneur. But don't be hasty. I'll admit I didn't fall for it at first glance. It's a bit fiddly to look at, with every space seemingly filled with one component upgrade or another.
But you have to view it as a case of function trumping form. Everything has its place and everything works. When you look behind the parts, you'll see what is an exceptionally well-made frame this is. The traditional lugs are particularly nice. Then there's the lovely paint job and the smart typography. All in, it's not looking so bad.
When you hop aboard the Koga, you can see why Mark Beaumont, The Man Who Cycled the World (and in record time) owns seven of them. Seven. A Brooks saddle, a shock-absorbing seatpost, and a lovely steel frame have comfort wrapped up in a lovely neat package. I've never been so comfortable on a bike for so many miles as I was on this.
The next item to thank would be the butterfly handlebars. A European must-have when it comes to touring, but over here, you'll be lucky if you saw one set for every hundred bikes on the road. I think we're missing a trick though. At first they were a little bit cumbersome, but once rolling they really do offer a different level of comfort. Different doesn't essentially equal 'better' of course, but as a change of scenery at least, it certainly perked up my riding. With no drops to fall down to you're generally in a higher riding position, with a straighter back and a higher viewpoint. With your hands on the very top, you assume an 'old faithful' position. It's very different from what we're used to with 'tops and drops'.
The Koga is accompanied by a full Deore XT groupset. Unlike the mixed Shimano bucket of parts on the Dawes Ultra Galaxy, the Randonneur has the full complement of top-rate mountain bike metal. The gear changing is very sweet. The thumb shifters are located in a perfect position on the bar making for the most effortless shifting of all three bikes. No matter what the hill, there's a gear here for you to make things easy. The brakes provided real stopping power, although with the turning of the weather come the end of May, I didn't get to test them in the wet. The Dawes' were this good too, until the rain came down.
Thank you for reading 20 articles this month* Join now for unlimited access
Enjoy your first month for just £1 / $1 / €1
*Read 5 free articles per month without a subscription
Join now for unlimited access
Try first month for just £1 / $1 / €1