Pinnacle HC turbo trainer
An entry level turbo trainer that will get you hooked up to online platforms for a competitive price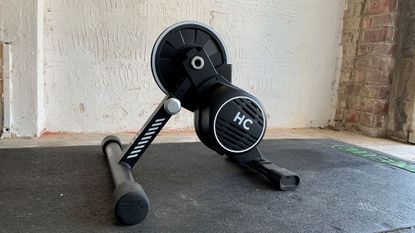 (Image credit: Myles Warwood for Future)
The Pinnacle HC doesn't beat all competition, hands down, in all areas - which is why it gets 4 out of 5, instead of a full house. The 'best' of these models, for you, will depend upon your preferences. However, the trainer does a lot well and with its self calibration, there's not a lot of babysitting to be done to make sure it's running correctly. Just remember you will have to have a cassette installed on the turbo trainer and you'll need tools to do this with.
Reasons to buy
+

Reduced price - £500 - is extremely competitive

+

Replicates steeper climbs than competition

+

Easy to set up and nice ride feel

+

Stable enough for our efforts
Reasons to avoid
-

+/-2.5% accuracy falls outside high level Zwift racing requirements

-

Campagnolo freehubs not available, SRAM XDR an extra purchase

-

No cassette included
You can trust Cycling Weekly. Our team of experts put in hard miles testing cycling tech and will always share honest, unbiased advice to help you choose. Find out more about how we test.
Get The Leadout Newsletter
The latest race content, interviews, features, reviews and expert buying guides, direct to your inbox!
Thank you for signing up to The Pick. You will receive a verification email shortly.
There was a problem. Please refresh the page and try again.
Pinnacle is the in-house brand of UK cycling retailer Evans Cycles. The long-established manufacturer of Pinnacle bikes has now moved into producing kit and accessories, with the HC smart turbo trainer one of the newer additions, poised to take on the likes of Wahoo, Tacx and others in the forever expanding indoor cycling market.
Currently, down from £700 to £499.99 ($749 from $1,050) the HC Turbo bears a striking resemblance to the LifeLine Xplova Noza S Smart Trainer (£699.99, down to £399.99/ $879.99 down to $502.85). It also places itself right alongside the Wahoo Kickr Core (£699.99/$899.99).
Evans Cycles told me that the £499.99 price is a promotional reduction, however, this reduction has been maintained for some time.
Pinnacle HC turbo trainer build
From the fast glace at the Pinnacle HC Turbo, you don't need to look too closely to see the resemblance it has to the Wahoo Kickr Core, or, indeed the LifeLine Xplova Noza S Smart Trainer available at Wiggle. The products are all exceptionally similar, and they're often reduced, so it's well worth comparing prices at the time of purchase if you intend to buy.
Weighing in at 15kg - 5.7kg of that being the flywheel weight – it's light enough to pick up and move about your home, if needed, however with no carry handle it's quite awkward to manoeuvre. The advantage is that the footprint is small, so you may not need to move it around too much, unless you're limited on space and don't have a designated 'pain cave' like the lucky few.
The legs don't fold out laterally, as per more expensive units, but being staggered with one in front of the other does decrease the overall surface area taken up once set up.
The HC Turbo does not come with a cassette, you will either have to buy one for the trainer or, take the cassette off of your bike for the trainer. It's compatible with 8 to 12 speed Shimano HG cassettes – a SRAM XDR Freehub is available separately through Pinnacle/Evans but if you run on Campagnolo, I'm afraid you're out of luck, there is no option available.
As per most turbos, you will need to build the trainer yourself once it arrives, it doesn't come ready to ride straight out the box (if it did, the box would be even bigger than it is). The process is simple, the rear leg is bolted on using the spanner provided and the front leg is slotted into place and set to the size of your bike's wheel.
Axel adaptors are included for both 130mm and 135mm quick-release and 12 x 142 / 12 x 148 thru-axle bikes. This should cover all of the most common mountain and road bikes.
The Pinnacle HC turbo trainer promises an accuracy rate of +/- 2.5%. This means that, on any given day, 250w could read between ~243w or ~256w. Some accuracy drift is par for the course among all turbo trainers, and, it's greater at lower price points. At 2.5%, the HC is on a par with the Lifeline Xplova, and a little less impressive than the +/-2% of the Wahoo Kickr Core.
However - and this is really important if you plan to race on Zwift at a high level - Zwift's most recent ammendments to the Cycling eSports Ruleset Version 1.0.7 state that, in order to race, "smart trainers and smart bikes must have a manufacturer-claimed power accuracy of within +/- two per cent". These rules are only enforced at higher level races, such as Zwift's Premier League and Racing League events. However, you'll need a higher accuracy unit if you are planning serious competiton, and we never know when the rules may change to encompass all racers - making the Wahoo Kickr Core a more viable option.
Pinnacle HC turbo trainer connectivity
Plug the HC Turbo in and there's nothing more to do, no on button or switch, it'll fire up and go through a moment of self calibration. You don't need to carry out a dedicated 'spin down' test to calibrate the unit, it performs this ahead of each ride - however, you need to be patient and allow this process to be complete before riding. This will happen every time you turn the turbo on, so remember to let it go through its cycle.
The turbo trainer indicates that calibration is taking place by displaying a red flashing light on top of the resistance unit, once this has stopped flashing red and turned green, the turbo is ready to ride.
I've tested the Pinnacle HC Turbo with Zwift, exclusively. It easily connected via Bluetooth, ANT+ FE-C to my MacBook Pro and suffered no ill effects.
The ride
The claimed flywheel weight of 5.7kg suggests a good solid flywheel, leading us to expect a quality ride feel that's reasonably close to the inertia of being outside. It's not as heavy as premium options, the Wahoo Kickr, for example, has a flywheel of 7.25KG and costs near enough £1,000, for example - but for the price, it's in line with competition.
The ride is solid, there is a smooth delivery of resistance, which can replicate a 20% climb and has a power ceiling of 2,500watts. This power and gradient ability is best in this price bracket by far, the LifeLine model replicates climbs up to 18% whilst the Kickr Core goes to 16%. Frankly, few users of any of these units will get close to surpassing the 2,500watt mark.
Being lighter than top end models, and having legs that sit one in front of the other as opposed to folding out laterally, means it's not as sturdy as the pricey juggernauts of smart training. However, I found the stability was good enough for my level of riding, even when working out of the saddle on those steeper climbs.
Whilst top end models have been able to eliminate much of the audio accompaniment thrown up by the turbo trainers of old, cheaper units do give off a constant, rather loud, whirring as you spin the flywheel or electromagnet. The Pinnacle model is no exception. This noise can be quite loud and end up being the soundtrack to many indoor rides. The Pinnacle claims a 52dB at 19mph or 30.6 kph, however, in testing I found it to be slightly more. Measured using an app on my iPhone, I found it to be closer to 60dB at around 30kph. Increase your power, and the noise increases in line.
At slow speeds, I found the cadence and power readings to be accurate enough for my needs, once the trainer had self-calibrated. The +/-2.5% accuracy rate didn't both me, but it would if I was worried about hitting exact power targets during my ride - that's just a trade off which comes with opting for a lower priced unit, and how much it bothers you is going to come down to individual circumstances.
Value and conclusions
Being owned by Sports Direct - the HC turbo trainer even arrived in a Sports Direct box - Pinnacle has huge buying power and is able to undercut much of the market. Therefore, I would argue that you would struggle to find many better turbo trainers, at the current reduced price.
Like other turbo trainers at this level of investment (such as the Lifeline model), the accuracy of +/-2.5% is a hindrance, as is the lack of cassette and initial set up process - something worth being aware of should the price ever jump back up to £700.
However, for now, Pinnacle has completely dropped the price to £499.99. Being able to mirror slightly steeper climbs than the Lifeline model, whilst maintaining equal accuracy, it just pips the closest competition on specs - but that £100 saving via Lifeline's reduction could tempt some. The Wahoo Kickr Core would be a smarter choice for avid Zwift racers, or racers to be, though the higher climb replication of the Pinnacle would certainly be a draw.
Price: was £700, now £499.99
Weight: 14.8kg
Year: 2021
Brand: Pinnacle
Connectivity: Ant+ fe-c and bluetooth
Device compatibility: Android, ios, mac and windows
Flywheel weight: 5.7kg
Folding legs: no
Hub compatibility: Shimano HG, 8- to 12-speed
Max grade: 20%
Max power: 2,500W
Mount: Direct drive
Noise: 60dB
Resistance type: Electromagnetic
Trainer type: Smart trainer
Wheel size: 26in and 29in/700c
Thank you for reading 20 articles this month* Join now for unlimited access
Enjoy your first month for just £1 / $1 / €1
*Read 5 free articles per month without a subscription
Join now for unlimited access
Try first month for just £1 / $1 / €1
Get The Leadout Newsletter
The latest race content, interviews, features, reviews and expert buying guides, direct to your inbox!
Myles Warwood is a cycling journalist, automotive journalist and videographer. He writes for Cycling Weekly, Cyclist and Car magazine.