Bontrager R3 tubeless-ready tyres review
More and more brands are bringing out tubeless tyres. We put Bontragers R3 tyres through some extreme tests to see how they perform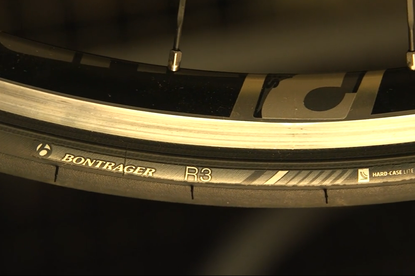 Winter is coming and these tyres are ideal.
Reasons to buy
+

Roll nicely

+

Superb puncture protection

+

Good grip
Why you can trust Cycling Weekly Our expert reviewers spend hours testing and comparing products and services so you can choose the best for you. Find out more about how we test.
We recently produced a video entitled 'Can a tubeless tyre survive a nail?' The answer, much to my surprise was yes it can.
The tyres used in that particular video were 25mm Bontrager R3 tubeless-ready tyres. I tested the puncture protection by inserting multiple drawing pins and even nails into the tyre carcass. Astonishingly, the sealant was able to seal all the holes, rendering punctures highly unlikely.
Video - Watch how tubeless tyres seal big punctures
After performing the nail test multiple times I have continued to run these tyres including riding them on the epic Rapha Manchester to London ride, in support of Amibitious About Autism. (opens in new tab) The ride was 388km in a single day and was completed without any punctures.
These tyres have converted me to tubeless. They came with Bontrager sealant, but work equally well with other sealants, such as Stan's. The tyres can also be run with regular inner tubes if you wish.
Quite a few Trek bikes actually come with these tyres, such as the Trek Domane we reviewed earlier in the year.
The 25mm width rolls very nicely too, especially when you drop the pressure to 60-70psi. Riding tubeless gives you the opportunity to ride lower pressure, as there is not risk of a pinch flat.
>>> Buyer's guide to road bike tyres (video)
Grip is great too, while not as supple as a 320 TPI tyre, I felt comfortable and in control when pushing the tyres on corners.
>>> Buyer's guide to road bike wheels
The downside is that they can be difficult to fit, but the difficulty can vary depending upon the tyre/rim combination — Bontrager wheels were easier than the American Classics (see video, above) which in turn were easier than the Hed Ardennes.
Finding a good combination can take some experimenting.
The above picture is a graphic detailing the Bontrager tubeless system. These tyres run brilliantly as clinchers too, with a fast rolling speed and very good puncture resistance.
For more information head over to Bontrager.
Thank you for reading 10 articles this month* Join now for unlimited access
Enjoy your first month for just £1 / $1 / €1
*Read 5 free articles per month without a subscription
Join now for unlimited access
Try first month for just £1 / $1 / €1
Oliver Bridgewood - no, Doctor Oliver Bridgewood - is a PhD Chemist who discovered a love of cycling. He enjoys racing time trials, hill climbs, road races and criteriums. During his time at Cycling Weekly, he worked predominantly within the tech team, also utilising his science background to produce insightful fitness articles, before moving to an entirely video-focused role heading up the Cycling Weekly YouTube channel, where his feature-length documentary 'Project 49' was his crowning glory.