Wahoo Kickr Move first ride review: improved comfort - yes; less sure about the 'ride feel'
It's only 12 months since Wahoo launched the WiFi enabled Kickr. Now its latest innovation incorporates movement into the direct drive trainer for greater comfort and rider performance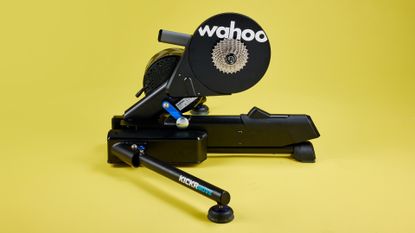 (Image credit: Future)
By incorporating forward / backward and side-to-side movement into the base of the Kickr, Wahoo claim to have designed a direct drive indoor trainer that not only improves ride feel but comfort and rider performance too. On the comfort front it does an excellent job, there's a lot less shuffling around in the saddle and numbness on longer rides. It's easy to see how this can lead to an increase in performance. Whether it improves ride feel is less clear, the lateral movement isn't very natural and bigger shifts in the saddle or changes in pedalling dynamics can result in an excess of forward / backward motion. We'll be back with a longer term review to see how these factors balance out and whether it's worth the $1,599.99 / £1,399.99 outlay.
Reasons to buy
+

Improved comfort riding indoors

+

Greater engagement with riding and improved pedalling dynamics

+

Wahoo's excellent direct drive trainer performance including WiFi connectivity, ERG ramp and +/-1% accuracy
Reasons to avoid
-

Price

-

Lateral movement doesn't feel particularly natural

-

In some instances front / back motion is excessive

-

Size and weight
You can trust Cycling Weekly. Our team of experts put in hard miles testing cycling tech and will always share honest, unbiased advice to help you choose. Find out more about how we test.
Get The Leadout Newsletter
The latest race content, interviews, features, reviews and expert buying guides, direct to your inbox!
Thank you for signing up to The Pick. You will receive a verification email shortly.
There was a problem. Please refresh the page and try again.
Despite the financial difficulties Wahoo has been in following its massive expansion through its peak in the pandemic, Wahoo continue to push the development of the indoor training market. Only 12 months ago it launched version 6 of its flagship Kickr indoor trainer which has today been eclipsed by the launch of the Kickr Move.
As the name suggests, the Kickr Move integrates movement into the V6 trainer. This occurs in both a forwards/backwards and side-to-side direction. Wahoo believes this gets around the inherent problem in the design of indoor trainers, the need to fix the bike (unless you opt for basic bike rollers). Not only does a fixed bike take something away from ride feel, critically it leads to a lack of comfort as riders remain quite static in the saddle throughout the ride.
There have been various attempts to get round this lack of movement, like using rocker plates under the bike and trainer. Even the best rocker plates have their downsides like requiring you to climb up your bike in skiddy cleats and, paradoxically, reversing the natural lateral push/pull movements you need when put in more effort (the same mechanics that are at play when you reverse a vehicle with a trailer). Personally, I love old-fashioned rollers but they're really limited when it comes to adding resistance.
By incorporating movement into the trainer itself, Wahoo say the Kickr Move is a trainer capable of "delivering the closest real world, smart trainer ride-feel" without the downsides of other approaches. Will this make the new Move the best of the best turbo trainers?
Wahoo Kickr Move: construction
The Kickr Move's headline feature is the 8" (20cm) of forward/backward movement. The trainer is mounted on a curved track within its housing which allows your bike to move forward and back as you shift position and power. Realistically the trainer will rarely – if ever – move 8", rather this length of track allows the trainer to move naturally and gently oscillate around its neutral position.
As well as forward and back motion, there's a smaller amount of lateral movement through engineered 'play' in the track. Motion on these two planes combine to allow subtle movement of you and your bike which cause constant loading / off-loading between your bum and saddle, akin to riding outdoors. Wahoo has found that leads to significant comfort gains allowing users to ride more often, for longer and without the inevitable drop off in performance.
Aside from the moving parts, the rest of the Move is identical to the Kickr V6. It includes Wi-Fi connectivity for a faster connection when racing, the ERG Ramp function and all of the other good bits that Wahoo is renowned for.
Wahoo has also developed a hardware add-on for the Climb so it can be used in tandem with the Move. We've not yet received the add-on so can't comment on this yet but we will be including it in our longer term review of the Move.
The new design does add a decent amount of weight and size to the Move compared to its predecessor, it's both wider (89cm width vs 70cm with legs fully extended) and also a whole chunk heavier (64 vs 47lb; 29 vs 22kg) than the Kickr V6. It is not something you'll want to be regularly moving if you can avoid it. I've found it to be a noticeable gain in weight even though I only shuffle the trainer a few inches as I swing my bike out the way for storage.
Wahoo Kickr Move: set up
Set up of the hardware is ridiculously easy and the new "out the box" packaging is really impressive. It comes ready equipped for 700c, 11-speed standard freehub body, 135mm QR axle so I didn't need to do any swapping. If you have a different wheel size or axle you'll need to adjust with the included adaptors. Part of the "out of box" set up includes tailored videos based on your set up.
The lock mechanism should hold the forward / backward movement making it easier to move and install your bike. On the model we had to review part of this mechanism had broken which caused the lock to come free when the Move was lifted. Wahoo has clarified that this is a known issue on some of the early models and have redesigned this part prior to full production.
The other potential issue is the apparent vulnerability of the AC power cable which lies close to the rear of the track where the trainer moves. Although it looks like it might get trapped, Wahoo says it has ensured that the design of the track and cable means that this cannot happen.
Accessing the dial for wheel size adjustment is definitely trickier than previous iterations and would be a bit of a pain if you changed bikes a lot. If you use a different cassette and freehub then you'll need to buy and install yourself, which was also the case for previous models.
Technological set up is the same as on the Kickr V6 and other Wahoo kit, you will just need to go through your various ANT+, Bluetooth and WiFi connections, devices and apps to make sure the trainer can talk to all the right ones.
Wahoo Kickr Move: the ride
The movement of the trainer is (obviously) quite prominent and a bit disconcerting when you first climb on your bike. But once you start spinning along it's not really that noticeable, which – despite the headlines – is the intention.
I've not had the Move long but in my few rides of over two hours I have definitely felt a lot more comfortable. I haven't found myself wriggling around in the saddle to relieve pressure points as I would normally after this amount of time on a trainer. I even took the bold move to wear my least comfortable shorts and still my bum came out with all its sensation intact. From that point of view, I think Wahoo has done a really excellent job with the Move.
But there are less good parts too.
Unlike the forward/backward movement, the side-to-side motion doesn't occur within a curved track so doesn't have the same dampening and control. In addition there isn't the control from the gyroscopic forces to hold the bike upright which would occur outside. All of this causes the bike to move side-to-side less naturally than I expected. For instance, I'd have liked a greater degree of movement when out the saddle, a less jerky motion and a more prominent neutral point; pretty much as the curved track delivers for the front / back motion. These sensations aren't helped by the metallic clunk as the trainer moves to its lateral limits. I've also found that the lateral 'play' causes the trainer, and my bike, sit to one side so I have to load my bike to correct. This may be because I haven't got the trainer level enough but I haven't been able to correct this yet.
There are also instances when the for / aft movements feel quite amplified and false. For example, there is a lot of unnatural movement when you shuffle yourself around, like when reaching for stuff on the table in front of you or when sitting back down after an effort. Granted, this may just be a result of me landing back in the saddle like a sack of spuds but it is still not something I notice outside and only ever a little on the rollers. More significantly, if you're riding at a higher power and lower cadence, there can also be quite a lot of forward/back motion which can be enough to disturb your pedal stroke. Hopefully by improving technique I can lessen this effect (and improve my pedalling dynamics).
Wahoo Kickr Move: power analysis
We will leave analysis of power to long term review although expect it to be as excellent as we found on the Kickr V6.
Wahoo Kickr Move: value and conclusion
I've only had limited time riding the Kickr Move so I still have to get a full picture on how it performs. Even without that many regular, longer rides I'm still pretty convinced that Wahoo has developed a trainer that is a lot more comfortable than one which uses the standard fixed design.
But, it's not perfect. For the most part the front/back movement is smooth and subtle but the lateral shifts are not so refined or natural. Moving around more on the bike and certain riding, results in some unwanted forward / backward motion.
The other stumbling block is the price, $1,599.99 / £1,399.99 is a great chunk of money. But then again, what is the value of a comfortable bottom?
Specs
Power accuracy: +/- 1%
Max power: 2,200W
Calibration: Auto
Connectivity: Bluetooth, ANT+, WiFi, Direct Connect
ERG: Easy Ramp
Weight: 64lb / 29kg
Thank you for reading 20 articles this month* Join now for unlimited access
Enjoy your first month for just £1 / $1 / €1
*Read 5 free articles per month without a subscription
Join now for unlimited access
Try first month for just £1 / $1 / €1
Get The Leadout Newsletter
The latest race content, interviews, features, reviews and expert buying guides, direct to your inbox!
Rachel has been writing about and reviewing bike tech for the last 10 years. Cynical by nature, Rachel never really trusts the marketing hype and prefers to give products a mighty good testing before deciding whether they're worth buying or not.
Rachel's first riding love is mountain biking where she's been European and UK 24hr Champion on more than one occasion. She's not just confined to the trails though and regularly rides - and occasionally races - on gravel and road too.