Avon and Somerset with Simon Richardson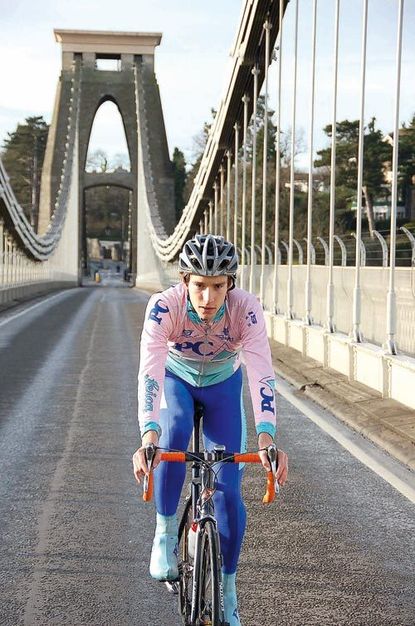 DISTANCE 45 miles (72km)
MAIN CLIMBMain climb: Castle of Comfort
TOTAL CLIMB650m
ACHTUNG!Multiple crossings of the A38
Simon Richardson was a talented cross country mountain biker whose career suddenly stalled. He was British under-23 champion in 2005. He finished 12th in the 2006 Commonwealth Games, and was a British Cycling supported athlete aiming for a place at the Beijing Olympics.
Then, "all of a sudden I couldn't meet the targets set by the plan. I continued to train hard but I wasn't getting the results any more," he explains in his Clifton flat in Bristol before setting off on the ride.
It's a familiar story for young mountain bikers, and Richardson thinks he knows why. "I think it's possible to underestimate the effort you put into a mountain bike race. You get a real pounding and are pushing near your limit for well over two hours. Some people compare it to running a marathon, and the top runners only do two or three of those a year, but a mountain biker will ride a lot more races than that.
"Also there's a masochistic mentality that runs through cyclists. You think, I've done four hours today, I've got to do four tomorrow, and so on. You can soon end up in a big hole," he says.
Luckily PCA offered Richardson a way out in the form of a place in their road team. It was a big step. Richardson's first two stage races were the Tour of Ireland and Tour of Britain, but he got through them well. "I'd trained a lot on the road — most of my training in fact — but I only rode a few road races for training while I was a mountain biker, so I've had a lot of learning to do."
City feel
Clifton has a Bohemian, city feel but is right on the edge of Bristol, so it's ideal for a young bike rider who needs to get straight out into the countryside. And are there many better starts to a ride than over Isambard Kindom Brunel's famous suspension bridge?
Brunel won the contract to build this revolutionary bridge in 1830, when he was the same age as Richardson is now: 24. But a life of hard work and worry over the impossible projects that Brunel set himself, including this one, wore him out and he died at the age of 53, never to see his bridge completed.
The route descends through the country park of Ashton Court, an excellent place for mountain bikers, with waymarked trails and only a stone's throw from the city. Lanky Richardson looks smooth as he crouches into the descent, but he is well aware that descending on a road bike is very different with 100-plus riders around you. "Bunch positioning was my biggest problem in Ireland and the Tour of Britain," he says.
"Every day I'd lose a handful of seconds. I'd be OK, sitting comfortably in the line, but too far back, and people would sit up on the run-in to stage finishes. Or I'd get it completely wrong on a descent, like the day over Exmoor in the Tour of Britain. I was climbing OK that day, but I ended up in a group of non-climbers just because I was in the wrong place on the descents.
"That's one of the hard things about road racing. In a mountain bike race it's always the best man who wins, but a moment's lapse in concentration in a road race can land you with a place that's far worse than you had expected. In a way though I like that. It adds to the challenge."
Richardson is well aware of the disadvantages of coming into road racing from a mountain bike background, but the performances of ex-mountain bikers like Cadel Evans and others show that there must also be some advantages. "Yeah, we are good at grinding it out," Richardson agrees. "In a mountain bike race you are pretty much on it all the time, so you have the suffering mentality for things like sitting in the gutter when the going gets tough in a road race for an hour or more."
Up and down
Once the route emerges from Ashton Court it's an up and down slog until Chew Valley lake. Then comes a concerted climb from West Harptree up onto the back bone of the Mendips at the Castle of Comfort pub. After which there is a long and blustery straight ride to the top of Burrington Coombe — a sort of carbon copy of the much more famous Cheddar Gorge that cuts into the northern slope of the Mendips.
From there the route loops around Bristol's busy but bearable airport, before we take the Sustrans route into the city at Flax Bourton. "It's nice to just roll out of Bristol and into the countryside on the roads we've just done, and I like to use the Sustrans route whenever I can," says Richardson, before riding back over the Clifton bridge and into the city.
He's content with his form before his first really big road season. "I broke my toe in November and was off the bike for four weeks, so I'm a bit behind. In the cyclo-cross nationals I've been up with the lead group before, but I was just behind the action this year," he says, reflecting on his 17th place in Sunday's National Cyclo-Cross Championship.
But more than anything, Richardson is looking forward to road racing in 2008, and especially to some races that could favour his off-road background. "I enjoyed the Rutland Classic last year, I'm really looking forward to that. I like races with a big atmosphere and I'd love to ride a road Classic one day. Other than that, I'm looking forward to the whole Premier Calendar this year. We've got some good races and some good teams."
YOUR GUIDE: SIMON RICHARDSON
* Age 24, born in Bristol and lives there with girlfriend Katharine, who is a junior doctor
* Has a degree in geography from Sheffield University and is thinking about doing a Masters in Urban Regeneration, the field he'd like to work in after his cycling career
* His hobbies are "coffee and cake at the moment; but I've got plenty, like white water kayaking and surfing, lined up for after cycling."
* Says his ambitions are "to take it as far as I can. The Tour de France is a dream, but I'm a fan of big one-day races like Liège and Lombardy, so I'd like to ride those one day. Oh, and win a cyclo-cross World Cup"
* Not to be confused with workshy CW Deputy Editor Simon Richardson
WHICH WAY?
Start in Clifton or in Ashton Court estate. Ride through the estate, turn left (TL) onto B3128. Turn right (TR) and TL on unclassified to Yanley. TR on A38 and TL on unclassified to Dundry and Chew Magna. TL and 1st TR on B3130 onto unclassified to Bishop Sutton. TR on A368 to West Harptree and TL on unclassified to the Castle of Comfort PH. TR on B3134. TR and 1st TL on A368. Cross A38 and TR in Blackmoor to Wrington.
TR to Redhill. TL on A38 and 1st TR. TL on unclassified to Kingdown and TR to Wingford Manor and TL to Felton. TR on A38 and 2nd TL and join B3130. TR at Cambridge Batch. TL in Long Ashton, cross B3128 and TR on B3129. TR on A369 back to Ashton Court gates or Clifton.
Thank you for reading 20 articles this month* Join now for unlimited access
Enjoy your first month for just £1 / $1 / €1
*Read 5 free articles per month without a subscription
Join now for unlimited access
Try first month for just £1 / $1 / €1