How to climb Honister Pass: West to East (video)
Our video guide on how to climb Honister Pass West to East, heading from Buttermere towards Keswick. One of the most beautiful climbs in the world.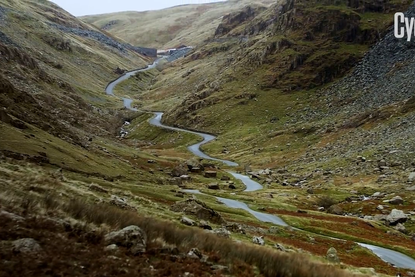 The climb begins from the picture postcard setting of Buttermere. This is the opposite side to that used in the Fred Whitton Challenge and has famously been used in many adverts and car commercials, owing to the dramatic views. The thing about Honister Pass from this direction is that it gets steeper and steeper as you go further up. This is always worth bearing in mind as you start the climb, so don't go off too hard.
>>> How to climb Honister Pass from the other side, East to West (video)
The Stats:
Distance 3.8km
Category 3
Average Gradient 7%
Max Gradient 25%
Height gain 247m
Suggested Gearing – 34-32 or 36-32
>>> How to climb faster up steep climbs
You head up through a dramatic V-shaped valley that feels like an amphitheatre with giant boulders that the last ice age has nonchalantly scattered around. The last 2.3 miles averages 7% as you climb 270m. But, it is the last section of Honister Pass, which is the real leg breaker, being 20% for a considerable time.
>>> Core skills and fitness for climbing
In 2013, the Tour of Britain went up this side of Honister Pass in the driving rain. Nairo Quintana and Dan Martin attacked on the steepest part of the climb, with gradients as high as 25%, splitting the peloton to bits in the process. The top of the climb can turn into a stream when it rains, which combined with the steep gradient can mean maintaining traction is very difficult.
>>> How to master a long climb
Entry to the slate mine and top of the climb is marked by an impressive slate gateway. The towering slate pillars are dramatic and feel like something off the set of lord of the rings. Through the gate there is still 50 meters or so of steep up hill and then you are there! A pro will do Honister Pass from this side in around 10-12 minutes. It's a brute, but also one of most stunning climbs going and on a clear day you can see Helvelyn in the distance.
Thank you for reading 10 articles this month* Join now for unlimited access
Enjoy your first month for just £1 / $1 / €1
*Read 5 free articles per month without a subscription
Join now for unlimited access
Try first month for just £1 / $1 / €1
Oliver Bridgewood - no, Doctor Oliver Bridgewood - is a PhD Chemist who discovered a love of cycling. He enjoys racing time trials, hill climbs, road races and criteriums. During his time at Cycling Weekly, he worked predominantly within the tech team, also utilising his science background to produce insightful fitness articles, before moving to an entirely video-focused role heading up the Cycling Weekly YouTube channel, where his feature-length documentary 'Project 49' was his crowning glory.