Post-Training Meals: Thai Style Coconut Broth With Shrimps & Salmon (video)
A rich and hearty Thai curry that will really hit the spot after a high intensity ride.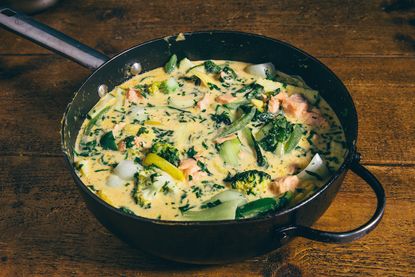 (Image credit: daniel gould)
This meal is ideal for a high intensity days or even days where you have increased your riding volume and deserve that added treat.
>>> How to make your own recovery and energy drinks
This is also a great recipe that you can stick on before you head out for a quick spin or churn away on the turbo trainer. Once you have finished your session you can add the last few ingredients and by the time you are showered it is ready to eat.
Ingredients (Serves 3)
200g cooked shrimps
250g fresh salmon
1 tin coconut milk
350ml chicken or fish stock or coconut tin of water & stock cube
1-2 tsp Thai green curry paste (depending on taste)
2 sticks of lemongrass, finely chopped
1 small fresh chilli
100g of fresh ginger, finely chopped
1 tbsp olive oil
Mixed vegetables (pak choi, baby corn, mange tout, baby spinach, courgette, green beans)
Boiled rice to serve
2 tsp Thai fish sauce
Juice of one lime
Bunch of fresh coriander to finish at the end.
Method
In a large non stick saucepan gently saute the ginger, chilli and lemongrass for 2-3 minutes without any colour in the olive oil,
Add the curry paste and cook over a low heat for 3-4 minutes,
Add the coconut milk and stock and transfer to the slow cooker and put on medium heat for 90 minutes,
Add the salmon, shrimps, noodles and vegetables and cook for a further five minutes.
Taste and then correct seasoning again, then add coriander and serve with cooked boiled rice.
Notes
The key to success with this is not cooking the fish & vegetable for too long and seasoning it well at the end. The broth base can be made up in advance and it can also be re-heated really well. This dish also works really well with chicken or pork as well, just amend the cooking times accordingly.
Thank you for reading 10 articles this month* Join now for unlimited access
Enjoy your first month for just £1 / $1 / €1
*Read 5 free articles per month without a subscription
Join now for unlimited access
Try first month for just £1 / $1 / €1
Paul Knott is a fitness and features writer, who has also presented Cycling Weekly videos as well as contributing to the print magazine as well as online articles. In 2020 he published his first book, The Official Tour de France Road Cycling Training Guide (Welbeck), a guide designed to help readers improve their cycling performance via cherrypicking from the strategies adopted by the pros.