Motorist charged with assault after punching cyclist in face in road rage incident (video)
Road rage apparently caused by cyclist riding in middle of lane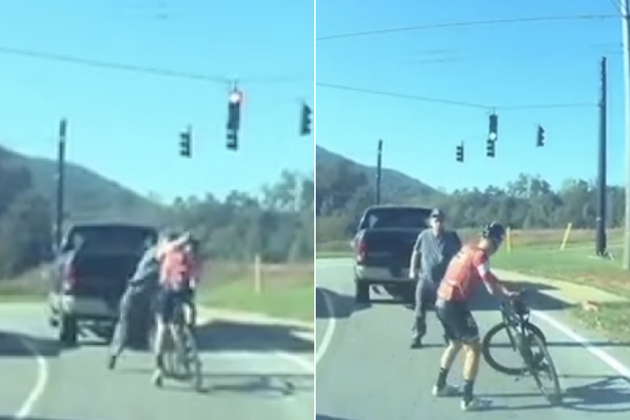 A motorist in America has been charged with simple assault and reckless driving to endanger after a video posted online showed him punching a cyclist in a road rage incident.
Claude Donald Watson was arrested on September 29, two days after a video showed him getting out of his Dodge Ram pick-up truck and punching a cyclist at a junction near Asheville, North Carolina.
According to Asheville on Bikes, the cyclist claimed that he had been riding in the middle of the lane on the approach to the junction as the downhill gradient had allowed him to travel at the same speed of the traffic.
>>> Motorist brandishes knife at cyclist in shocking road rage incident (video)
The cyclist then said that the motorist drove behind him as he was initially unable to pass, before eventually being able to overtake shortly before the junction where the footage was filmed from a commercial vehicle behind.
An Asheville Police Department incident report confirmed that the cyclist had escaped with "minor" injuries in the incident, with the Citizen-Times reporting that he had suffered "a bloody nose, busted lip, and toothache."
After exchanging words with the cyclist and another motorist, the video shows the man climbing back into his truck and driving off, with 74-year-old Claude Watson arrested two days after the incident was filmed.