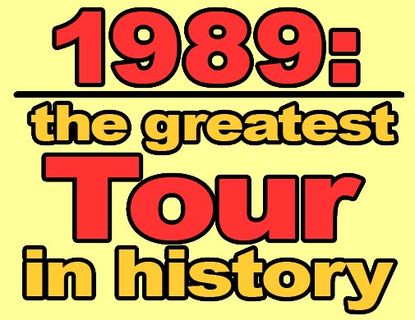 Prologue, Luxembourg
At the front of the race, Erik Breukink won, ahead of a three-way tie between Laurent Fignon, Sean Kelly and Greg LeMond. At the back, defending champion Pedro Delgado missed his start time by over two minutes, and finished dead last, 2-54 behind Breukink.
Stage one, Luxembourg-Luxembourg
Acacio Da Silva won solo in the morning stage, after breaking away from two other escapees. The bunch totally misjudged the chase, finishing almost five minutes down. Pedro Delgado made possibly the most reckless attack ever by a GC contender on a flat stage by trying to jump away in the final couple of kilometres, gaining all of 10 metres, then getting swallowed up. He remained in last.
Stage two, Luxembourg TTT
Good news for Laurent Fignon, whose Super-U squad won the team time trial. PDM also had a decent day, finishing fourth at 50 seconds. Delgado's Reynolds team had a shocker, dropping their leader. They had to wait for him after he blew following the effort involved in the morning's attack. Result – another 4-32 lost. Da Silva held yellow, while Fignon was the best placed of the favourites, 2-37 down. LeMond was in 14th place, another 51 seconds down.
Stage three, Luxembourg-Spa; Stage four, Liège-Wasquehal
Two flat stages restored order to the bunch, and Delgado finally stopped losing time. Mexico's Raul Alcala won in Spa, with the stage finishing on the motor racing circuit. The next day, which crossed several sections of pave, was won with a last-ditch attack by Jelle Nijdam.
Stage five, Dinard-Rennes TT
Greg LeMond won the long time trial after missing two Tours thanks to being shot in a hunting accident. L'Equipe's headline – "La Resurrection". LeMond, riding on tri-bars, which had never before been used in the Tour, finished 24 seconds ahead of a rejuvenated Pedro Delgado and 56 ahead of Fignon. To complete the fairytale comeback, LeMond took the yellow jersey by five seconds ahead of Fignon.
Stage six, Rennes-Futuroscope; Stage seven, Poitiers-Bordeaux; Stage eight, La Bastide d'Armagnac-Pau
Three flat stages, and three different winners. Joel Pelier won in Futuroscope after a 170 kilometre lone break. The first bunch sprint of the entire Tour the next day saw Etienne De Wilde win in Bordeaux, and then Irishman Martin Earley took a popular victory in Pau, attacking his three breakaway companions on the outskirts of the city.
Stage nine, Pau-Cauterets La Cambasque
Mountains: Col de Marie Blanque (Cat 1), Col d'Aubisque (HC), Col de Bordères (Cat 2), La Cambasque (Cat 1)
In the first Pyrenean stage, Miguel Indurain attacked a long way out, and held off a strong pursuit up the finishing climb of La Cambasque. Behind Indurain, who took the climber's jersey on this stage for the only time in his career, Delgado attacked strongly, taking another 27 seconds on Kelly, Rooks and Theunisse, and 29 on Fignon and LeMond. LeMond kept the yellow jersey ahead of Fignon.
Stage 10, Cauterets-Superbagnères
Mountains: Col du Tourmalet (HC), Col d'Aspin (Cat 2), Col de Peyresourde (Cat 1), Superbagnères (Cat 1)
A spectacular stage saw Robert Millar and Charly Mottet attack early. Delgado used a tactically-astute move to join them, bridging via an attack by his team mate Julien Gorospe on the descent of the Tourmalet. The trio moved almost five minutes ahead, putting Mottet into the virtual yellow jersey. At the finish, Millar outsprinted Delgado, while Mottet lost a handful of seconds. Below, PDM attacked en masse, with Rooks and Theunisse coming in fourth and fifth, 3-04 behind Millar. In the final kilometre, Fignon attacked and dropped LeMond, putting 12 seconds into him. Overall, Fignon now led LeMond by seven seconds, Mottet was in third, 57 seconds down, and Delgado was now fourth, only 2-53 down.
Stage 11, Luchon-Blagnac; Stage 12, Toulouse-Montpellier; Stage 13, Montpellier-Marseille, Stage 14; Marseille-Gap
The first transition stages were relaxed affairs, with Mathieu Hermans winning a bunch sprint in Blagnac, and Valerio Tebaldi winning in Montpellier, 21 minutes ahead of a dawdling peloton.
But the next day, Bastille Day, saw a spectacular attack by yellow jersey Fignon and Mottet, on the flat. They motored away following a botched PDM attack at the feed zone, and it took the bunch, led by PDM and LeMond, a long time to close them down. Their lead stretched to almost a minute at one point, but when the stage turned into a headwind, the two sat up. Vincent Barteau attacked to lead a French one-two-three into Marseille. The final transition stage, to Gap, saw Jelle Nijdam execute a carbon copy of his previous stage win, attacking in the final kilometre.
Stage 15, Gap-Orcières Merlette, mountain TT
Mountains: Col de Manse (Cat 1), Merlette (Cat 1)
A complicated mountain time trial, with two climbs, plus a long stretch of flat, saw Steven Rooks gain a stage win. Delgado was the strongest of the real favourites, finishing fourth at 49 seconds, with LeMond in fifth at 57 seconds. Fignon was 10th, at 1-44, giving LeMond the race lead, 40 seconds ahead of Fignon, and 2-17 ahead of Mottet. Delgado remained fourth, 2-48 down.
Stage 16, Gap-Briançon
Mountains: Col de Vars (Cat 1), Col d'Izoard (HC)
Pascal Richard won the stage after a long break. Behind, Fignon was having a bad day. He was dropped by the other favourites on the Col de Vars, crossing the summit half a minute behind LeMond. Luckily, team mate Thierry Marie dropped back from the early break, to pace him back on.
On the Izoard, Mottet was particularly aggressive, dragging LeMond and Delgado clear of Fignon again, and they crossed the summit 10 seconds clear. Fignon pursued LeMond all the way up the steep finishing climb in Briançon, losing only 13 seconds. LeMond was in yellow by 53 seconds.
Stage 17, Briançon-Alpe d'Huez
Mountains: Col du Galibier (HC), Col de la Croix de Fer (HC), Alpe d'Huez (HC)
Gert-Jan Theunisse won the hardest stage of the race after attacking on the Col du Galibier and riding almost the entire day on his own. Britain's Robert Millar made a brave attempt to join him, attacking off the Croix de Fer, and holding off the lead group until the very final stretch of Alpe d'Huez.
On Alpe d'Huez, Fignon attacked LeMond, dropping him with four kilometres to go. Delgado crawled up to Fignon, and the pair finished 1-09 down on Theunisse, but 1-18 ahead of LeMond. Fignon now led LeMond by 26 seconds and Delgado by 1-55.
Stage 18, Bourg d'Oisans-Villard de Lans
Mountains: Côte de Laffrey (Cat 2), Côte de St Nizier (Cat 1), Balcon de Villard (Cat 3)
Fignon made one of the most incredible solo attacks in Tour history on stage 18, riding away from the lead group on the Côte de St Nizier. The summit was followed by 15 flat kilometres, plus a final third category climb to the finish, and Fignon built a lead of 50 seconds. Delgado and PDM took up the pursuit, and the lead was cut to 24 seconds, but overall, LeMond now trailed Fignon by 50 seconds. It looked like the Tour was over.
Stage 19, Villard-Aix les Bains
Col de Porte (Cat 1), Col du Cucheron (Cat 2), Col de Granier (Cat 2)
It was another amazing stage, and an unprecedented situation in the modern Tour. The four leading riders, plus sixth-placed Marino Lejarreta (who would move up to fifth) escaped from the other favourites. They rode in almost perfect, aggressive harmony to the finish, save for a crash round a sharp corner, and LeMond and Fignon drifting off the back, neither wanting to lead. Into Aix, 2-11 clear of their rivals, the finishing order was exactly the same as the final order of the Tour – LeMond, Fignon, Delgado, Theunisse, Lejarreta.
Stage 20, Aix les Bains-L'Isle d'Abeau
Giovanni Fidanza won the final road stage of the Tour, while the favourites saved themselves for the next day's time trial.
Stage 21, Versailles-Paris Champs Elysées
The greatest Tour de France of all time came to a dramatic conclusion on the Champs Elysées, when Greg LeMond overturned Laurent Fignon's 50 second lead, and added another eight seconds, in only 25 kilometres. LeMond used tri-bars again, and powered his way to the finish, while Fignon, complaining of a saddle sore, looked ungainly. Eight seconds remains the closest Tour finish.
Thank you for reading 20 articles this month* Join now for unlimited access
Enjoy your first month for just £1 / $1 / €1
*Read 5 free articles per month without a subscription
Join now for unlimited access
Try first month for just £1 / $1 / €1