Alex Dowsett: 'Even my mum said I was going slow'
British rider Alex Dowsett says "fear" of fast cornering cost him seconds in Eneco Tour time trial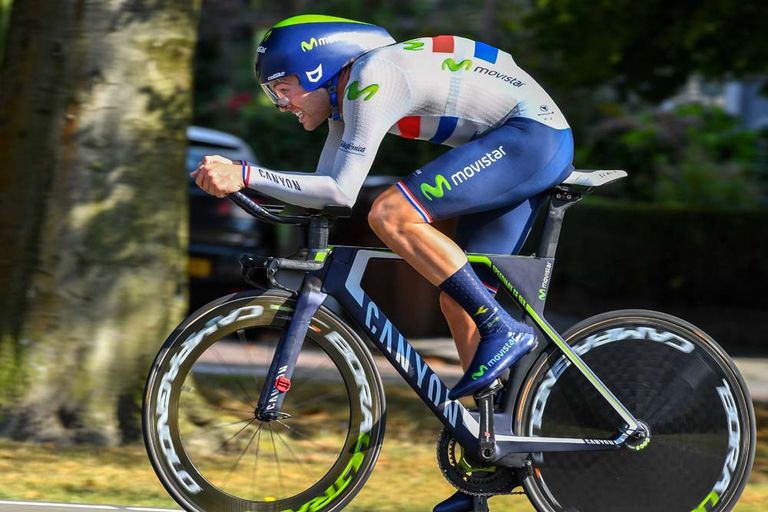 (Image credit: Watson)
Alex Dowsett (Movistar) has said that fear of fast cornering cost him precious seconds in the time trial at the Eneco Tour yesterday and that "even his mum" knew he was going too slowly.
Dowsett placed tenth in the time trial in Breda in the Netherlands with a time of 11:06 over the 9.6km course, 18 seconds off the winning time of 10:48 set by Rohan Dennis (BMC).
Speaking to Cycling Weekly before the start of the race's third stage in Blankenberg, Belgium, on Wednesday he said: "I cornered terribly… It wasn't just the team that was telling me I was going slow through the corners, I knew I was going slow round the corners. My dad did too.
"Even my mum told me I was going slow and she is all for me going slow round the corners.
>>> Rohan Dennis takes Eneco Tour lead after time trial victory
In June, Dowsett escaped serious injury when he came off in the prologue at the Tour de Suisse and he said that incident had dented his confidence on the bends.
He added: "Two years ago I had a huge moment on the second corner on this course [at Eneco] and I was just scared and lacked confidence."
Despite this he said he was pleased with his ride and that he was happy with his power output.
Dowsett added that his ride yesterday "wouldn't hurt" his chances of selection for one of the two places for British riders at the World Championships time trial in Doha in October.
"Although it [the Worlds course] is short it's a similar kind of course [to the Eneco TT] where you are on the power the whole time. I wouldn't like to be a selection committee choosing between me, Steve [Cummings] and Geraint [Thomas]. Steve has had an amazing two years, Geraint's Geraint, but out of the three I'm the only one who has won TTs this year."
Cummings has said the uncertainty hanging over the selection for the Worlds TT spots has had negative effect on his ability to prepare for the event.
But Dowsett said the uncertainty didn't make much difference to him as he was preparing to go to the Worlds as part of Movistar's team for the team time trial, which involves similar preparation.
An announcement on who will fill GB's two TT slots is expected later this week.
Dowsett said: "If it's not to be then I'll go and do a 30 or 25 mile TT somewhere in the UK."