12 secrets from the Belgian physio who brought van Aert, Evenepoel and other pros back from serious injuries
Ever wondered how pro cyclists bounce back from terrible injuries? We meet the man regarded by many as the best cyclist-fixer in the business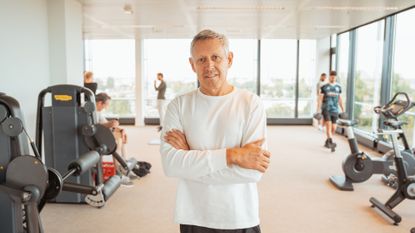 (Image credit: )
Get The Leadout Newsletter
The latest race content, interviews, features, reviews and expert buying guides, direct to your inbox!
Thank you for signing up to The Pick. You will receive a verification email shortly.
There was a problem. Please refresh the page and try again.
What do Johan Museeuw, Frank Vandenbroucke, Wout van Aert, Remco Evenepoel and Tom Pidcock have in common? Yes, all have Grand Tour stage wins in their palmarès, and yes, all are regarded as among the very best cyclists of their generation. But the other less well known commonality is that they have all trusted the methods of Lieven Maesschalck to help them recover from serious injuries.
Whether it was Museeuw battling to come back after a motorbike incident in 2000 almost ended his life, van Aert returning from a terrible crash at the 2019 Tour de France, or Evenepoel bouncing back from a horrifying fall into a ravine at Il Lombardia in 2020, Belgian physiotherapist Maesschalck has been the man they have all called in their hour of need.
Speak to any of these riders, and they'll credit Maesschalck for their comebacks. After a short interview with the Belgian specialist following Evenepoel's successful recuperation, we knew we needed to dig a little further into his methods...
Move to cure
A physio since 1986, Maesschalck's rehab principle is simple: move to cure, which is also the name of his business. "I didn't invent this way of treating injuries, it existed for 100 years, but as soon as I started seeing improvement in patients who had lower back injuries, I knew that this system worked and would work for all types of sporting injuries," Maesschalck tells CW.
It was in 1990 when Maesschalck first treated a cyclist. Franky De Buyst, a Belgian Classics rider, crashed in a race and broke his lower back, elbow and multiple bones in his face. His chances of making a full recovery were rated as nil. But Eddy Merckx recommended Maesschalck to De Buyst, and he beat expectations, returned to racing and only hung up his wheels a decade later.
In 1996 the successful Mapei team hired Maesschalck, and he has remained within cycling circles ever since. "Eddy brought me into contact with a lot of pro cyclists, and after I cured Frank Vandenbroucke's knee injury [in 2007], even more cyclists came with traumas, big fractures, big injuries and big complications."
Maesschalck has also worked as a physio for the Belgian national football team and is regularly a consultant to Real Madrid's medical department, but it's for his work in bike racing that he is best known. "Belgium is the mecca of cycling, and because every team has a connection with Belgium, they are always referring riders to me."
Having secured an interview with the man who has fixed more top-tier cyclists than perhaps anyone else in the world, we wanted to coax some of Maesschalck's secrets out of him, to help us to better treat our own injuries and get us back on our bikes as soon as possible when the unfortunate happens.
1. Keep moving but respect pain
We work on the injury in an indirect way while simultaneously respecting biology. You can recover by remaining active and moving the body. There is a natural regeneration and we can accelerate it, but we do so by respecting pain; pain becomes your guide. If you have a muscle injury and you start to move the affected area, you're going to limp. By moving more around the injury, you begin to be able to load more weight and limp less.
2. Motor skills really matter
At the beginning of my career, we treated people who didn't have the motor skills to complete certain moves, but now in Belgium moving as a way to treat an injury is what everyone does. A good therapist is creative to adaptation, and if we have someone who doesn't have the required motor skills, then we adapt to them. There is always a solution, but now it is accepted that moving is the best.
3. Find an interim activity
While you must respect biology, you can still do a lot. It is possible to work the cardiovascular system in another way, such as walking, running, swimming with straight legs or paddling in a pool. You could wait 12 weeks for the injury to heal naturally, do nothing, and then when you're back on the bike you start from zero; or, alternatively, you can do something else and when you're fully recovered your level won't be as low. You can work on the muscles while injured, in an indirect way that will have a positive impact on the injury.
4. Run - cautiously
I get concerned when cyclists see Wout van Aert and Tom Pidcock posting runs on Strava because they think that they should do it too. Wout and Tom are used to running, so it's not a problem for them. If you're not, start carefully as you don't want another overuse injury. Progress gradually step-by-step and adapt to running carefully. Cardiovascularly, running isn't a problem for cyclists, but if the muscles and tendons aren't used to it then it leads to issues. Once you're familiar with it, running is a great way to perform active recovery – but be aware of the overuse risks.
5. Recuperate an hour a day
Amateurs are unlikely to be able to commit three hours a day to the healing process like a pro athlete can, but a one hour workout three times a week at home can achieve a lot. The hour can include warming up, functional and strength workouts and the cool-down. By moving regularly, you'll strengthen the body in its recuperation phase.
6. Big injuries, bigger determination
The three worst injuries I have treated in cycling were not common. Johan Museeuw almost had his leg amputated after a motorbike accident; Remco Evenepoel, aged 20, a critical age in his development, fractured his whole pelvis, an injury I've only previously seen in horse riders; and Wout van Aert ruptured his whole gluteus maximus, an injury that no one had ever seen in cycling. What I like about these guys is that they came back even stronger a year later. It wasn't their talent that brought them back, but their dedication – they had to work really hard mentally and they pushed their limit. They had no special secret, other than the way they committed to the process and trained really hard.
7. The outcome is never guaranteed
As a physio, I know what I can and can't do. I know that I can treat a fracture, an overuse injury or a hernia problem, but every injury is a challenge, regardless of what I've done before. You can never guarantee recovery, and you shouldn't enter the rehabilitation phase expecting perfection. Science and medicine is never 100%. Therapists and physios predict a model, use our experience of what is and isn't possible, but it's never easy. Have patience and be aware that things may take longer than you wish.
8. Your body, your rehab
In the initial stages, the athlete comes to the therapist or physio for knowledge and for advice, and it's a 50-50 process. But as the athlete learns and progresses, it becomes 100% about them. I never want to create dependency but instead athlete independence. That can only happen with communication, and the athlete has to be honest about how they are feeling, otherwise the progression can be stalled.
9. Iron out imbalances
Many riders use one leg more than the other, and if you have an injury to one leg, you can use the rehab to strengthen the other. This way you are directly reprogramming the brain and helping to use the left and right leg equally. This will prevent injuries in the future.
10. Body weight exercises are essential
In our physio sessions we do a lot of exercises where the athlete uses their own body weight. I'd recommend to everyone doing 10 minutes a day of combining stability, flexibility and mobility. Combined exercise that trains the core, body strength, hip mobility, flexibility and arm strength makes you more efficient in all movements.
11. Don't neglect the upper body
It's not only about the quads and hamstrings for cyclists; you need to involve the whole body, including the shoulders and neck. The position on a bike demands that you train the whole body.
12. Technology assists prevention
We now know so much more about how to prevent injuries. We can measure, scan people using 3D systems, analyse movements, connect movements to injuries and prevent a possible injury from happening.
Legendary rider's view
Superstar of the 1990s Johan Museeuw, 57, the best Classics rider of his generation, underwent rehab with Lieven Maesschalck four times.
"If you start rehab with someone, you have to believe in them. The first time in 1992 after I broke my femur was very, very hard, and sometimes quite painful, but the rehab with Lieven worked," the Belgian tells CW.
The second time Museeuw visited Maesschalck was in 1998 when he shattered his left kneecap after a fall on the Paris-Roubaix cobbles in the Forest of Arenberg. Two years later, Museeuw won Roubaix for a second time, famously pointing to his knee as he crossed the line.
What sets Maesschalck apart from others in his field is his calming presence and approach to treatment, according to Museeuw. "He is a physio who goes a little bit further and maybe even faster [than others] but he knows how far he can go. He knows his job perfectly.
"In rehab there are weeks of progression, and then weeks of feeling down. In those moments you need someone to get you over the hill. Every time, you must start rehab with the belief that you will recover. Lieven does his rehab perfectly, but he is also a great motivator.
This full version of this article was published in the print edition of Cycling Weekly. Subscribe online and get the magazine delivered direct to your door every week.
Thank you for reading 20 articles this month* Join now for unlimited access
Enjoy your first month for just £1 / $1 / €1
*Read 5 free articles per month without a subscription
Join now for unlimited access
Try first month for just £1 / $1 / €1
Get The Leadout Newsletter
The latest race content, interviews, features, reviews and expert buying guides, direct to your inbox!
Chris first started writing for Cycling Weekly in 2013 on work experience and has since become a regular name in the magazine and on the website. Reporting from races, long interviews with riders from the peloton and riding features drive his love of writing about all things two wheels.
Probably a bit too obsessed with mountains, he was previously found playing and guiding in the Canadian Rockies, and now mostly lives in the Val d'Aran in the Spanish Pyrenees where he's a ski instructor in the winter and cycling guide in the summer. He almost certainly holds the record for the most number of interviews conducted from snowy mountains.