8 things we learnt from riding the 100-mile Trans-Cambrian Way through Wales
The A to B gravel trail in mid-Wales has a luscious mix of compact fireroad gravel, grassy hilltops as well as pristine lakes and reservoirs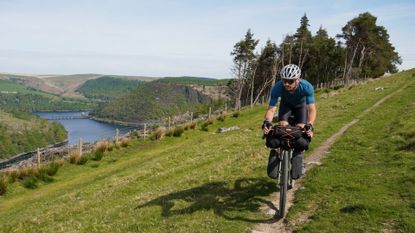 (Image credit: Anna Abram)
If the Trans Cambrian Way isn't already on your bucket list, it really should be. The 100 mile off-road route winds its way from the Welsh-English border in the east, off towards the Irish Sea on Wales' west coast - and right through the heart of Wales' rugged Cambrian mountains.
Or rather, 'mountains'. Thanks to the ravages of time, the highest peak in the range is only 752 metres, so not technically a mountain - even though that is what they are known as.
Still, size doesn't always matter. The mix of compact fireroad gravel, lush grassy hilltops and pristine lakes and reservoirs of the Cambrians are really quite unique - and you hardly have to share it! The population density of this part of Wales is 26 residents per kilometer - that's emptier than Vermont, the second most sparsely populated state in the US (Wyoming takes the top spot, but it's really empty there).
Anyway, myself and Stefan, our Tech Features Editor, were using this route as a testbed for a new tubeless vs inner tubes head-to-head and a shoot out between Garmin's flagship Solar smartwatch and bike computer (more on that upcoming!) - but also to explore one of Britain's most famous long-distance cycle trails. Here's what we found…
1. Expect steep climbs
As ever, it's hard to capture just how steep a hill really is - but take it from us, this first climb into the hills is a brutal introduction. In the steepest 200 meter section of the climb, the gradient was sustained at over 30 per cent.
There are a lot of other climbs packed into the 100 mile route, but I don't think any quite as steep as that first one - either that, or you just end up getting used to these kinds of gradients as you get further into the Cambrians and they become less of a shock!
2. But quite a lot of it is rideable, even fully loaded
And there are plenty of more moderate climbs along the Trans Cambrian Way, too. Through the forests are there excellent fireroad trails, with an even surface and big sweeping hairpins flattening out the gradients - pure bliss.
Also, Cambrian climbs don't tend to drag on for too long - or, at least, they're shorter than you get other places with (dare I say it!) 'proper' mountains. With no eight mile climbs at 10%, it's much easier to estimate how far you'll actually ride over a given distance, as you can generally assume there'll be a downhill to balance things out soon enough!
3. Lots of fords - prepare for wet feet
Wales is famously wet. Even when there's blue skies and not a cloud to be seen, the sponge-like hills continue to exude their water down into the valleys below. Given the abundance of these streams, often enough the roads or trails will just cut straight across them, rather than fussing about with a bridge.
The result is that even if you're not getting rained on from above, you can pretty much guarantee that your feet are going to get wet. If you're doing the ride over more than one day, although spare socks are always a good idea, they are particularly necessary for this ride…
4. The cycle paths by the reservoirs are bliss
We saw a great many lakes and reservoirs dotted throughout the Cambrians, all of the stunning with their pristine waters. But the biggest in the Elan Valley - and hands down the best - was the Claerwen reservoir.
It is massive. We followed the northern shoreline for a full 10 kilometres before the Trans Cambrian Way then cut away - and the path around the perimeter is more of that lovely Welsh doubletrack, gently undulating up and down the bank. Very much a highlight of the ride.
5. Forestry works are quite common in Wales, so be prepared for a diversion
All the forestry work in Wales is great in that the network of fireroad trails is huge and well kept. On the other hand, it means that sections of the trail can suddenly be cordoned off when work is being carried out, leading to sometimes lengthy diversions off the marked route.
Still, that's by no means a bad trade-off for the riding that there is! But it does reinforce the importance of having plenty of supplies for being out longer than you anticipated, and some form of offline maps so you can plot yourself and follow an alternative route. Mobile data signals are very patchy across the route.
6. Sheep aren't used to the sun here either
After a disappointing spring, Wales has had a strong start to the summer. Back-to-back blue sky days and, unbelievably, we didn't have a single drop of rain at any point on the route - incredible!
The sheep didn't even know what to make of it, sheltering under a tree, presumably in confusion - despite the stable conditions, it didn't get particularly hot. The highs only hovered just around 21°C.
7. Not much choice of places to stay
This is a little bit of a paradox - there are many amazing places to stay in the Cambrian mountains, the issue is that with this region being so sparsely populated, those places are really quite spread out.
For the Trans Cambrian Way itself, there really aren't that many campsites or B and Bs along the route. Still, you only need one! And the Elan Oaks campsite (just before the reservoirs) breaks the route up nicely and is nestled in a lovely valley.
8. Getting back is less straight forward than you might expect
It's always helpful when a long distance route finishes at a train station - whether you need to get back to the start point or are planning on heading straight back home, it really helps with the post-ride logistics.
The issue with ending at Dovey Junction is that hardly any trains go past it! We found it would save about an hour and a half if we rode up the road to Machenllyth, which is a much better connected station. From the junction between the Trans Cambrian Way and the main road, it's about two kilometres to Dovey Junction and seven to Machenllyth - you'd generally be better off just heading straight for the bigger station!
Thank you for reading 20 articles this month* Join now for unlimited access
Enjoy your first month for just £1 / $1 / €1
*Read 5 free articles per month without a subscription
Join now for unlimited access
Try first month for just £1 / $1 / €1