Ask the expert: Should I do high or low reps in the gym?
Chris Peden quashes a common strength and conditioning misconception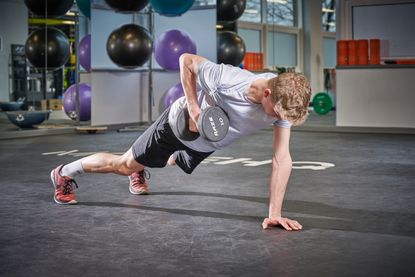 (Image credit: Richard Butcher)
There are certain nagging questions in cycling that have a tendency to generate conflicting opinions and a confusing array of different views. In this ASK THE EXPERT series from Cycling Weekly's print edition, we seek to clear up confusion by seeking out the experts best qualified to provide, if not the final word, then at least authoritative advice supported by verified expertise.
Strength training is an important component of training for cyclists, as it helps develop the bio-motor skills that underpin cycling performance. In recent years, strength training has slowly but surely grown more popular with cyclists, who have realised that it complements endurance training. As an S&C coach and cyclist, that makes me happy!
However, despite the increased research in this area, many misconceptions persist around how cyclists should train off the bike. One mistaken belief that seems particularly widespread is that, because cyclists are endurance athletes, their strength training should involve high reps so as to replicate the endurance demands of riding a bike. This is completely wrong.
It is unclear why this training myth persists, since a cursory flick through the recent research is all it takes to establish that high rep ranges went out with the ark! Whatever the reason, it is important that this error is corrected so that these riders can begin using strength training in an effective manner.
The average rider, from amateur through to professional, has years of cycling in their legs. As a result, the act of pedalling has provided all the muscular strength-endurance needed. Regardless of the gear you are in, you are always pushing against some form of resistance and, in effect, doing a form of high-rep resistance training. If you pedal at 90rpm for 60 minutes, for example, that's 5,400 repetitions – something you would never think about trying to replicate in the gym.
Most endurance cyclists are weight-conscious and want to be as light as possible, so it's understandable that many avoid strength training out of a fear of bulking up. Doing higher rep ranges promotes the development of unwanted muscle mass – exactly what most cyclists do not want. High rep ranges also accrue more fatigue and are harder to recover from.
The purpose behind strength and conditioning is to acquire the athletic qualities that are needed for but not progressively developed by the sport. It is important not to get too attached to 'sport-specificity', i.e. a compulsion to mimic the sport, its endurance qualities or the positions held while riding. Trying to bring riding-like qualities into the gym is actually limiting your potential to develop athletic qualities that could support high performance on the bike. Instead, it is important to focus on developing strength and power, as well as maintaining (or restoring) adequate mobility that may have been compromised through years of riding. Building and developing strength and range of motion does not require you to be in body positions that in any way replicate riding a bike.
There will come a time when greater specificity is required, to work on certain athletic qualities for a particular event: for example, loaded jumps to build force production, transferrable to sprinting. However, this is more advanced and only relevant once general strength has been developed.
Lower rep ranges and increasing your overall muscular strength is key to your performance as a cyclist. It will improve the mechanical efficiency of your pedal stroke by enabling you to reach peak torque earlier in the revolution, which in turn means you produce more power and go faster for the same perceived effort. This delays fatigue. If you are new to strength training remain within the eight to 10 rep range. This will enable you to learn the skill of exercising while helping build the necessary strength and capacity of your muscles and connective tissues to cope with heavier loads as you reduce the rep ranges further down the line.
As your training develops and you become stronger and more experienced, you can shift into the three to six rep range. These lower reps ranges will build the strength and power to support your cycling performance in a safer way without having to max-out in single-rep lifts.
Verdict: low reps best for cyclists
Riding your bike will always be the main priority – we S&C coaches fully accept that. However, if programmed correctly, in the right dose, the addition of strength training alongside your endurance training programme will yield positive results to your cycling performance and overall health. Crucially, don't get carried away trying to do too much with the limited time available – patient, steady progress is far better than ending up injured.
How to get started in the gym
Cyclists should undergo a full-body strength training routine once or twice a week, ideally all year round but certainly through the winter. It is important to train your upper body as well as your legs, since this helps support your riding position, stability and power production. Aim never to forego strength training for long periods of time, as the athletic qualities gained soon begin to decline once sessions cease.
There are no must-do exercises. It is not the particular exercise that matters, it is how you move within a given exercise. For example, the concentric pushing component should be executed as fast and forcefully as possible. The exercises you choose must be suited to your training experience, current needs, and the time of year in relation to your goals. I recommend calling on professional advice to help set up the right plan.
Your exercise choice should be guided by the movement patterns you (and your coach) identify as being the areas you most need to work on. The key movement patterns are as follows: squat, hinge, single leg, push, pull, core/carry. As a rule of thumb, you should select one exercise per movement pattern, and aim to complete two to three sets of three to six reps. With these basics in place, you won't go far wrong and will immediately begin getting stronger and improving your cycling performance.
Got a fitness question you'd like put to a cycling expert? Email david.bradford@futurenet.com
The full version of this article was published in the 23 March 2023 print edition of Cycling Weekly magazine. Subscribe online and get the magazine delivered to your door every week.
Thank you for reading 10 articles this month* Join now for unlimited access
Enjoy your first month for just £1 / $1 / €1
*Read 5 free articles per month without a subscription
Join now for unlimited access
Try first month for just £1 / $1 / €1
A former physical training instructor in the Royal Navy, Chris Peden holds a Master's degree in strength, conditioning and rehabilitation from the University of Portsmouth. He works with cyclists of all abilities, from women's WorldTour pros to amateurs.