Crossfit vs Hyrox: I tried both fitness trends and only one made me a better cyclist
Hyrox - the race for 'every body' which combines running with functional strength exercises - beat Crossfit's Olympic lifts meets gymnastic mash up, for former bike racer Hannah Bussey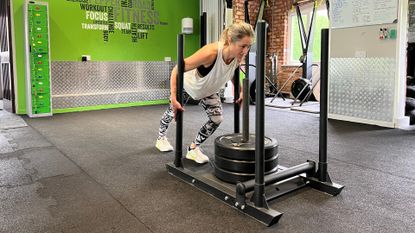 (Image credit: Ashley Flood)
In a former life, I competed in professional level cycling races across the world. I rode Lands End to John O'Groats (LEJOG) unaided, for fun. Then, I started a family, and quickly found that the hours I had available to me to train were significantly reduced.
The continuous juggling of family life means that I'm living in a perpetual state of catch up, rendering the mentality where a 12 to 15 hours on the bike was a 'recovery week' a distant memory. Sure, there's the world of indoor training to experiment with, or the option of disappearing into the darkness of dawn to be back from my ride at 7am, but neither meets my appetite for community and social interaction.
If I were a playwright, Hyrox would now be entering with aplomb stage left.
Sure, 'the global fitness race for every body' which takes place in the inner sanctum of a sweaty gym might seem like a curious jump from vistas and wind in the hair - but I've found strength based endurance discipline provides everything I need, all under one roof. More curious still is that it has somehow allowed me to maintain - nay - I'd even be bold enough to suggest, improve, my riding.
I'm not alone. The sport of Hyrox has also attracted the likes of former GB road and track rider Kimberley Keay (nee Blythe) and former pro, Olympian and national champion Nikki Brammeier. It was their pairing winning a race event convincingly, Brammier going on to win solo at the National Trophy Cyclocross race just seven days later, that confirmed it: Hyrox really is a new key to unlocking cycling performance gains.
What is Hyrox?
Hyrox combines both running and functional workouts in a timed 'Fitness Race'.
Competitors alternate one kilometre runs with eight functional exercises: SkiErg, Sled Push, Sled Pull, Burpee Broad Jumps, Rowing, Farmers Carry, Sandbag Lunges, Wall Balls.
These exercises may sound alien, but they're not hard once they've been demonstrated - 'sandbag lunges', for example, means lunging whilst carrying a heavy bag full of sand, and 'wall balls' will see you throwing a ball at a wall, aiming to reach a pre-determined height.
Similar to a cyclocross race or time trial, there's no let up - it's a constant endurance effort. There's no time cap, some competitors might take three hours, whilst World record times are 55 minutes (men) and 60 minutes (women).
The weight, repetition and functional fitness discipline distances do vary across the multiple race categories, but the run remains the same. Races accommodate bodies of all levels, with amateurs and professionals all able to compete in a format which remains constant at every event, enabling leaderboards, and a World Championship each year.
Hyrox beat Crossfit in the search for cycling crossover
I already knew the virtues of strength and cross training for bike riding, but it was only after I had my daughter and was diagnosed with osteopenia and perimenopause that I really started to take weight training seriously.
Due to my innate need to compete, I tried dabbling with Crossfit.
Crossfit, for the uninitiated, is a sport which combines everything from Olympic lifting to gymnastics. However, and I found myself lacking brute strength and outwitted by the skills requirement to compete. At the age of 44 I've concluded that handstand walks - revered by Crossfitters - are not a life skill requisite, and my pelvic floor feels similarly about double-unders (skipping).
Hyrox was different. I was immediately taken by the fast track approach to getting strength and conditioning training done. Within a one hour coached session I manage weight training, functional strength training and complete a workout that leaves me gasping for breath in an oxytocin rich state after smashing a workout.
It also gives me numbers. The ability to consistently measure progress over just those three hours a week is reminiscent of cyclists' desires to always be recording fastest times, or highest power when out riding.
While I naturally would expect to feel good after a hard workout, what I hadn't expected was what it did to my bike riding.
Since taking up Hyrox training, I've found my riding - when I do get a chance to get on a bike - is stronger than ever.
I'm able to just get on a bike and tackle some of the steepest step-ups and rocky sections on a gravel bike that I probably ever have. Even my endurance isn't too shabby, throwing myself in at the deep end in the Pyrenees, I was able to surmount mountains on zero specific training.
Yes I'm rusty on the techy stuff, you can't hone those skills in the gym - but a 70km loop and a 1500mtrs ramp in the middle was totally at odds with my expectations, and I put that down to the fitness gains I've acquired through Hyrox training.
Why is Hyrox so beneficial for cyclists?
Is Hyrox the perfect sport for time starved cyclists? I reached out to elite cyclist, Hyrox athlete and coach Brammeier, to get her take.
Not only does Brammeier have national titles across the disciplines of cyclocross, mountain bike, road racing and track to her name, having taken up Hyrox, she won her first race with doubles partner Kimberley Keay in a time of 1:01:49, qualifying for the Hyrox World Championships in Nice, France.
Catching up with Brammeier post Hyrox she's clearly taken by the sport "Since I found cyclo cross, I don't think I've been more excited by a sport" she tells me.
"If you've ever seen or done a Hyrox comp or workout it's pretty clear to see it's an all body workout – every inch of you is in pain at that finish line" Brammeier says, reassuring me that even at the top end Hyrox still hurts.
But how exactly does Hyrox benefit bike riders?
Nikki is an ex-professional cyclist who has competed in numerous European and World Championships, Commonwealth Games and the Olympic Games in Rio. She founded Mudiiita coaching, where she is head coach.
Different movement patterns
"In a way cycling can be quite unhealthy in terms of the unique movement of peddling and being sat down hunched over. Hyrox definitely gives you the opportunity to get out of that rut and improve overall strength, flexibility and muscular endurance," Brammeier explains.
Hyrox training requires a constant, all body effort, and this is complimentary to bike riding, especially cyclocross or mountain biking.
"The dynamic and 'unipodal' nature of some of the exercises [in Hyrox] can work miracles in terms of stability on the bike, overall posture and spinal health," Brammeier confirms.
Pacing and dosing your effort practice
Elite Hyrox athletes will finish their event in an hour, or close - amateurs could be going for well over two. Regardless, these durations are similar to many bike races - and, as per disciplines such as cyclocross and time trials, there's no let up.
"Managing an effort over a specific time is a learnt skill," says Brammeier. "Hyrox teaches you how to suffer in that way it's very comparable to cyclocross, or even mountain biking, both physically and mentally. Being able to sustain high aerobic effort and stamina but within the effort you're also having to be explosive and switched on mentally ready for the next obstacle or exercise."
"You need to be very fatigue resistant," she says, "again comparable to the demands in most cyclist disciplines. You need to think about where you can maximise your effort, and where you can gain the few seconds to recover. Your heart rate rarely goes below threshold."
The benefits of learning a new sport
Doing something different is often good for us - mentally and physically.
"Pushing your body and mind in different ways is only ever going to be a positive thing," Brammeier confirms. "Doing the same things all the time year after year can sometimes see you stagnate. Introducing Hyrox into your program can be a great way to keep you motivated, highlight weaknesses and see improvements in your overall fitness which can be crossed over to your cycling."
Following a program and reaping the rewards
Most cyclists are on board with the idea that strength training is beneficial. However, the gym can feel like an intimidating place to be. Gyms all over the country now offer 'Hyrox classes', which, as Brammeier explains, "take the guesswork out of gym work."
Fitting these in around your cycling is the art.
"As a rough rule of thumb you should incorporate a Hyrox strength session during your intensive days, so as an example you could tag it onto a day where you have some intervals set, then leave the endurance days as endurance days and the easy days as easy days. Of course, adjust this depending on your cycling discipline and where you are in your phase of training," Brammeier says.
With her coaching hat on, she adds: "This also highlights one of the biggest benefits of working with a coach. Entrusting someone to tell you when it's time to pull your finger out and crack on, or when it's time to take a rain check and take an extra day on the sofa!"
Overtraining and injury prevention
The race weights of Hyrox competitions, according to Brammeier, "aren't too high and the movements aren't too alien to most of us," limiting the risk of injury which is more prevelant where the likes of Olympic lifting is introduced.
However, rest is important: "Hyrox is very demanding on your body, so you have to keep your hard days hard, your easy days easy and your rest days as recovery. However with Hyrox, done right, the injury risks of adding it into training are pretty low," Brammeier warns.
"As with anything though you shouldn't steam into things full gas, take small steps, ask for or find advice from an official Hyrox gym or trainer," she advises.
"It's very difficult to overtrain if you rest properly! It kind of sounds a bit silly to say but you can train as hard as you want (within reason) if you commit as hard to the recovery on the other side. Again, Hyrox done right will build in the all important rest and recovery."
How to give Hyrox a go
Tempted?
A quick website search on the Hyrox website will help you find your nearest affiliated Hyrox gym were you will can get coaching on the correct race movements, as well as being introduced to complimentary strength and conditioning training in a safe supported environment.
Hyrox competitions are hosted all over the world, but if you are thinking of competing, be quick as most events sell out pretty quickly.
There are several divisions to compete in, Pro, the professional athlete standard, open, age group, doubles, mixed or same sex, and even relay events.
If you are Hyrox curious, why not challenge yourself with the 'P'F"T' Workout (the Hyrox physical fitness test)?
The workout consists of:
1000m Run (outdoor or treadmill at 2% incline)
50 Burpee Broad Jumps (90 cm)
100 Stationary Lunges (Fully Extended)
1000m Row
30 Push Up (Hand Release)
100 Wallballs (6kg male / 4 kg female)
According to Hyrox you 'P'F"T' finish time will give you a good indication as to your current Hyrox fitness level, and a good idea as to which division you should sign up for should you choose to compete.
15 – 25 minutes – HYROX PRO
25 – 35 minutes – HYROX Open
30 – 40 minutes – HYROX Doubles
35 – 45 minutes – HYROX Relay
However, don't forget that there are no time caps or qualification times for Hyrox, so as Brammier says "If in doubt, get out there and give it a go!"
Thank you for reading 20 articles this month* Join now for unlimited access
Enjoy your first month for just £1 / $1 / €1
*Read 5 free articles per month without a subscription
Join now for unlimited access
Try first month for just £1 / $1 / €1