Drink riding: How much is too much before you get on your bike?
New studies show that that more than 80mg of alcohol in every 100 mllilitres of your blood is likely to impair your ability to ride safely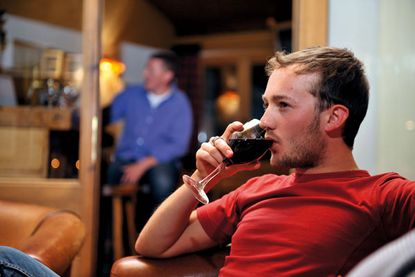 >>>Biking and boozing: Can cycling help your hangover?
In the first scientific experiments to measure the effects of boozing and bicycling, cyclists have been given measured quantities of alcohol before being told to pedal round a short course.
It seems like nice work if you can get it but there was a serious purpose behind it - to find out how many pints, schooners, tumblers or glasses of alcoholic drinks it takes to start affecting a rider's control of their bike.
This kind of data has been assessed many times for car drivers and has been the basis of drink-drive laws around the world.
The blood alcohol concentration limit for drivers in England and Wales is one of the highest permitted in the world, at 80mg of alcohol for every 100 millilitres of blood. In early December Scotland reduced the legal limit there to 50mg, in line with most other European countries.
But can you ride a bike under full control with a similar level of inebriation? Although there's no law in Britain that specifies exactly how much alcohol is permissable for a cyclist, it is illegal to cycle "under the influence" and to ride dangerously, carelessly or inconsiderately.
>>>31 things you always wanted to know about cycling, but were afraid to ask
So, should cyclists stick to the same amount of drink as a driver? Is it easier to stay in control of a bicycle than a car when merry?
The answer is that more than 80mg of alcohol in every 100 mllilitres of your blood is likely to impair your ability to ride safely.
This has been shown by experiments in which 78 cyclists had to ride round a test track, including slaloming between poles, riding in a straight line along a narrowing track and circling clockwise and anti-clockwise.
Then they were given alcohol and had to do the tests again.
Even at very low blood alcohol levels, their riding ability was affected, say the scientists. And by the time it reached 80mg there was a significant increase in "gross motoric disturbances".
At 140mg, well above the drivers' legal limit in England and Wales and almost three times that limit in Scotland, not a single rider could match their cycling performance when sober.
It's all very well knowing the science data but the challenge is translating that into pints, shots and numbers of glasses of wine - because everybody metabolises alcohol differently.
So there's no simple rule - except that, unfortunately, the safest is not to drink any alcohol at all before cycling.
Thank you for reading 10 articles this month* Join now for unlimited access
Enjoy your first month for just £1 / $1 / €1
*Read 5 free articles per month without a subscription
Join now for unlimited access
Try first month for just £1 / $1 / €1