How to master your cycling-related nerves - from social anxiety on group rides to performance anxiety on race day
Pre-race nerves are normal, possibly even helpful, but what if fears and unease begin to take the joy out of your cycling? We explore the troubling topic of anxiety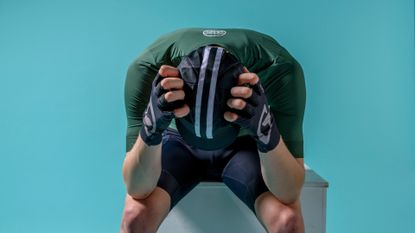 (Image credit: Future)
It's Mental Health Awareness Week and - despite bike rides being a brilliant way of reaping the many physical and mental benefits of cycling - pro and amateur cyclists alike can still suffer from anxiety. Here, we explore some of the most common types of anxieties cyclists may experience - and how they can be overcome.
Josh Morris's embarrassing pre-race moments go back a long way. "I ran from sign-on to the toilet, back to the car to put my wheels on the bike, and then back to the toilet," he remembers of his 2011 race debut at the Maindy velodrome in Cardiff. At his next race, the same thing happened. And the next, and the next. No matter which approach he tried, the Welsh amateur racer continued to suffer from performance anxiety – and it still affects him now, 12 years later.
"On the way to a race I'll feel clammy and will have to pull over and find a toilet," he says. "There's been times when facilities have not been available, which has led to some uncomfortable situations that I don't need to describe. And then there's always the worry that the queue for the cubicle will be long. What's worse is having to go back a few times."
Morris – now 35 and a communications manager living in Bangor, north Wales – has yet to find a solution to overcome his pre-race anxiety. "It doesn't matter if it's a fourth-cat crit or the National Hill Climb, I'm always anxious before a race," he says. "It's not put me off racing, but it means it's more of an ordeal. I have to travel earlier to get to the venue with enough time to spare before the start. I couldn't jump in a car at 5pm and be on the line at 6.30pm. I race less and less because it's just not as practical."
Anxiety and cycling
Morris's experience is far from unique. Up to one-fifth of the UK population experience one or more of the many forms of anxiety at some point in their lives, with even higher rates among sportspeople. Studies have estimated that 60% of cyclists have experienced performance anxiety at least once. Rates of anxiety disorder are higher in women than men, according to research, and a 2020 report found that 30% of women aged 18-24 suffered from anxiety.
Regardless of how a cyclist – be they pro or amateur – is affected by anxiety, it's always an unpleasant, unwelcome experience, and at its worst it can severely limit the enjoyment of competing. So, how and why does this all-too-common reaction occur, and how can it be controlled?
Anxiety is, according to the NHS, a feeling of "unease, such as worry or fear", varying in severity from mild to severe. Whereas fear of a specific threat disappears once that threat is removed, anxiety is a persistent overreaction to an anticipated event. It's our body's fight-or-flight response in a state of overreaction, inflating a perceived threat.
There are multiple types of anxiety but they have many shared, common symptoms, including a rapid heart rate, sweating, shaking, nausea, dizziness or an increase in blood pressure. It can negatively affect a person's daily life and routine, even leading to panic disorders and phobias. "Many people assume [anxiety] only happens to them and no one else, but it's relatively common," says psychologist and former bike racer Peter Hudson from Cyclotherapy. "They shouldn't feel weak, pathetic or a failure. We have to normalise anxiety."
The two areas we're going to focus on for this feature are performance and social anxiety.
Performance anxiety in cycling
Performance anxiety, as Morris experiences every time he pins on a race number, relates to a fear around one's ability to perform – often despite going well in training. It does not always dissipate with experience and achievement: many of the pros I spoke to for this article admitted to anxiety induced sweating and extra toilet breaks before races. "The majority of racers will experience some butterflies, but for some it tips over into being a psychological threat," says Hudson.
A low level of anxiety may not be disruptive. "A degree of anxiety is normal and helpful – it's important not to take it away," Hudson adds. "It's there in us naturally because of an event's challenge, and we use it to motivate ourselves, to get the adrenaline going." There's a fine balance between an acceptable amount and too much, though. "We have to control it, to keep the anxiety within reasonable bounds so it doesn't impact negatively on performance. There's no distinctive line between normal competitive anxiety and anxiety that is disruptive – they're on a continuum."
Anxiety is often entwined with a person's ingrained beliefs and fears. "The meaning of the event becomes so important," Hudson continues, "that they may think if they don't finish on the podium it's an awful result. If they don't challenge or question that belief, if there's no flexibility, it sets them up for failure. Belief tends to be black-or-white: if they finish fourth, they think it's a waste of time. But they should unpack that and ask if there are good things to be taken from the race, to learn from."
The consequences of anxiety can alter people's sporting trajectories. "Occasionally it gets to the point where the athlete falls out of love with the sport," Hudson adds, "because their sole focus, performing and winning, is tied up with their sense of wellbeing and identity. That is the danger point – it can spill over into other areas of their life."
Morris relates. "If I can pin the anxiety down to anything, it's putting pressure on myself to perform," he says. "I couldn't possibly enjoy it if I couldn't give it my all at the end of a race. I take time out from my family, make sacrifices for a race, so it becomes even more important."
Among other changes, Morris has tried dietary amendments, but all to little success. "I can't quantify it, but it probably has affected my performance," he acknowledges. "It's harder to be at the tail end of racing, but I try. I worry it's just how it is for me with racing now."
Motivating nerves or debilitating anxiety?
Butterflies before a race are common and form part of natural anxiety that should not be suppressed. "A little bit of anxiety and stress before an event normally happens, and as long as it's in an expected range – i.e. the person is not perceiving the challenge as problematic – it can be very functional," explains psychologist Victor Thompson. "As a society we normalise this level of anxiety."
So what is the difference between acceptable nerves and debilitating anxiety? "I think we all get anxious due to a certain situation, and a lot of people have actual fears and phobias, such as the fear of public speaking. But it doesn't paralyse them in daily life, as it's not something they need to do," continues Thompson.
"Nerves become clinical anxiety when the person modifies what they do because the feelings are so intense and distressing that they can't complete the task. If it develops into panic attacks and gets in the way of enjoyment and performance, perhaps stopping them from competing, then anxiety is disabling and the person needs help."
Social anxiety in cycling
It's not only race nerves that affect cyclists. For many, social anxiety – for example, feeling too nervous to join a group ride – holds them back. Studies have shown that up to 15% of us will experience social anxiety at some point in our life, typically feeling afraid of being judged or watched by others, as well as feeling very self-conscious. A cyclist with social anxiety may feel reluctant to meet new cyclists, limiting their participation in the social side of the sport.
Ross Barney, a 33-year-old Scottish amateur cyclist, tells me how he "felt like there was a barrier" to joining a club when he took up cycling in 2007. Specifically, he was concerned about how as a gay man he would be perceived. "I was once attacked randomly by a group of guys in a bar, so when there's a group of guys together I am anxious of how they will perceive me," he says. "Most cycling clubs are full of men, and people would instantly guess that I am gay, so it creates anxiety for me. I feel like I have to hide myself to first test the waters, and it puts me off."
While living in Aberdeen, Barney joined a club but concealed his sexuality. "I wouldn't chat that much and I hid," he says. When he joined a second club, Westhill Bike Club, which had a greater proportion of female riders, the barrier was lifted. "I instantly felt comfortable," he says. "They were very welcoming and it made a huge difference. When I got married to my husband, no one had an issue with it. I felt I could be myself."
However, when Barney relocated 30 miles north to Peterhead in November 2021, he "went back to square one". These days he rides by himself and is anxious about joining a local club because "being gay isn't as accepted up this way. I have to tone everything down," he says.
Of course, there is no way around anxiety when the threat of discrimination is real. Would Barney's fears have been borne out if he had taken the plunge and joined a club? It's impossible to know for sure, but a 2021 review of the research into LGBTQ+ discrimination and exclusion in sport by academics at Monash University in Australia highlighted that as many as 82% of athletes had witnessed homophobic or transphobic language in sport in the past six months.
"My mood's been affected because I've stopped cycling with people," says Barney. He accepts that the local club may be inclusive and accepting, but his anxiety is holding him back from taking the chance. "I just don't have the courage to go," he concludes.
"Social anxiety is not uncommon," says sports psychologist Victor Thompson. "For some people the anxiety continues even if they join the social activity. They become really anxious en route, and after returning they'll evaluate how people judged and responded to them, going out of their way to review everything."
Financial anxieties for professional cyclists
Released by Lotto-Soudal at the end of 2018 aged just 22, James Shaw was left in a near impossible situation. The Briton suffered income-related anxieties that he believes affected his sporting performance.
It took Shaw three years to get back to cycling's top-tier, but the time away left an impact on his finances. "Unless you're Tadej Pogačar or Mathieu van der Poel, being let go leaves a massive hole in your financial records," he says. "I didn't want to but I had to move back in with my parents."
Now racing for EF EducationEasyPost, Shaw is entering the second year of a WorldTour contract, but the problems persist. He explains: "I'm about to remortgage my house and when I show the mortgage companies the last three years of my financial books, they ask why there was limited income in 2019, 2020 and 2021.
"Salary from a Continental team is small. How do I explain to the bank that everything is going to be OK from now on? "One team manager in that period said to me he couldn't pay me much but he could give me a Jaguar, that was really nice. 'I said, 'that's fantastic, but when I can't pay the mortgage, what do I say to the bloke at the bank? 'Sorry, I can't pay, but you can take the Jag for the weekend.'
"I've only just about recovered financially, but whereas my friends are putting down 10% deposits for houses, I have to put down 60 or 70% of the house's value. Where do I find that money from? I'm anxious for the future, because if I want to borrow again, I have to make sure the records of my accounts look better. When the cycling salary stops, it stops. If you get to the end of the year and you need a result in October, a lot of guys find themselves in an impossible situation with their finances."
How to overcome cycling-related anxiety
Taking active steps to defeat anxiety can be daunting in itself, but cyclist and psychologist Hudson says that often improvements can be made relatively quickly. "I usually see changes after four to six therapy sessions, but in some cases one or two, when a rider thinks, 'Oh gosh, I've never thought about it that way'."
Hudson is referring to psychotherapy, including cognitive behavioural therapy, which is widely available on the NHS. "These short-term interventions are based on the idea of getting people to reflect on their own belief system," Hudson explains. "Which bits are helpful and which not. It's about opening up and allowing themselves to reflect on their approach to cycling from a wellbeing point of view."
Outside of the clinic, positive self-talk can go a long way, says Hudson: "Have phrases in your head such as 'I will do my best today', 'I am prepared', 'I don't need to worry about anyone else'. Focus on your strengths and abilities." According to Thompson, who has provided psychological support to Olympians, it's important to address the root cause of the anxiety. "We need to understand the circumstances of how the anxiety has developed," he says. "Was there a specific event? Were there consequences? Did it make you uneasy? Once we understand the cause, we can better regulate the emotional and psychological levels and symptoms."
Thompson has some practical recommendations, too. "Before you enter the situation, take some slower breaths for 30 seconds to a minute, and let the breathing naturally become slower and deeper. If you can feel more relaxed physically, you'll feel more relaxed psychologically. Use this time to think about how you're going to manage the situation, how you're not going to be the centre of laughter and attention. As you continue to breathe slowly, think about how you've prepared for the event and how you've got strategies to help you."
Anxiety, as we've seen, is complex: an imagined threat can very easily disrupt day to day living. But taking control of one's feelings, undergoing therapy if required, can bring reality, as opposed to ungrounded fears, to the forefront. Even for a chronic sufferer like Morris, gaining self-knowledge helps him to spot patterns, which in turn keeps his anxiety in check. "It's less of a problem at a familiar course, such as at a weekly crit series," he says. "If I know the race, the people, the environment, I'm not triggered as much. If I can replicate that elsewhere, I can overcome it."
Anxiety helplines and charities
There is a wealth of assistance readily available if anxiety becomes a barrier to your enjoyment of life and sport. Anxiety UK (Tel: 03444 775774) and No Panic (Tel: 0300 7729844) have trained experts on hand to offer support and guidance. Elsewhere, the Samaritans (Tel: 116 123) and Shout Crisis Text Line (Text: SHOUT to 85258) are available 24 hours a day.
This full version of this article was published in the print edition of Cycling Weekly. Subscribe online and get the magazine delivered direct to your door every week.
Thank you for reading 10 articles this month* Join now for unlimited access
Enjoy your first month for just £1 / $1 / €1
*Read 5 free articles per month without a subscription
Join now for unlimited access
Try first month for just £1 / $1 / €1
Chris first started writing for Cycling Weekly in 2013 on work experience and has since become a regular name in the magazine and on the website. Reporting from races, long interviews with riders from the peloton and riding features drive his love of writing about all things two wheels.
Probably a bit too obsessed with mountains, he was previously found playing and guiding in the Canadian Rockies, and now mostly lives in the Val d'Aran in the Spanish Pyrenees where he's a ski instructor in the winter and cycling guide in the summer. He almost certainly holds the record for the most number of interviews conducted from snowy mountains.