How to stay motivated through winter - top tips from the pros
Mountain biking, running and even chopping wood are what the pros are recommending us all to do this coming winter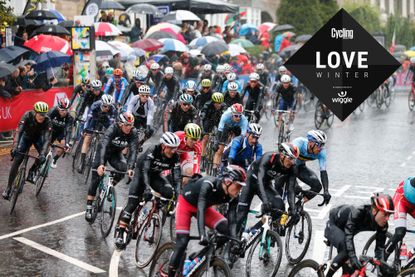 This article is part of Cycling Weekly's Love Winter week, guiding you through setting up your bike and yourself for riding through the winter months. There's plenty to enjoy about riding in winter, and we'll show you how to get the most out of it. For more Love Winter articles, click here.
Experienced and young professionals have lauded the benefits of cross-training in winter to improve both physical and mental health.
As the northern hemisphere approaches shorter daylight hours and colder temperatures, it is easy to succumb to the narrative that our cycling experiences deteriorate and so too does our fitness.
While indoor fitness trainers and apps like Zwift have revolutionised the experience behind doors, making a habit of not riding on your road bike every time you head outside can set you up for an even better fitness base and help not just maintain but increase motivation.
Koen de Kort, a veteran of 20 professional seasons, goes out on his motorbike to replicate the feel of road racing, but when he fancies more pedal-powered adrenaline, the Dutch 38-year-old gets his mountain bike out of the garage. "In the winter I do a lot of mountain biking, mainly choosing cross-country over downhill trails," the Trek-Segafredo rider tells Cycling Weekly.
"The most important part of getting out on the mountain bike is that it's good, hard training but you feel like you're doing something completely different. Psychologically, it makes it easier to do the training because it's not the same thing all year around.
"It's really good for bike-handling skills too, and on the descents and ascents, you use your core muscles more than you do on the road bike. There are a lot of advantages."
Briton Gabriel Cullaigh, a neo-pro with Movistar, has raced the Manchester winter track league in recent seasons and highlights its use. "The cyclocross and track guys keep the intensity up all winter long, so there's something to be said for going out in the winter and hitting it hard constantly," the 24-year-old says.
"Personally, I would find that mentally taxing, and nice base miles are more important to me, but to keep the knife sharp with intervals, track league is perfect.
"I'm considering doing it again this winter. You rock up, support the scene, get stuck in, it keeps you fresh and it's basically intervals for free. You're getting your efforts without thinking about it."
Meanwhile Gruff Lewis, one of the most consistent riders on the British domestic scene in the past decade and a former Welsh cyclocross champion, turns to running in the winter. "For quite a few winters now I have run a lot in the winter, even joining a running club for the group and social factor," the 32-year-old Ribble-Weldtite rider says
"I run typically three times a week and do about 40km, with two-thirds of it on road and the rest of it on trail.
"The thing I like about running is that you haven't got a free wheel so you're really in touch with your effort. You're always on an effort, even on a downhill which is often hard. It's great for your weight, too. Running, for me, is a good strength session and is good for your balance and muscles."
Running is something that resonates with Cullaigh, who will also be hitting his local mountain bike trails in the winter. "I do a little bit of running too, as well as more gym work. It's important, I think, to have a robust system not just for road cycling.
"Obviously there's the mental side of it that changes things up, but it toughens the body up too. I remember reading an article from Sean Kelly who encouraged riders to chop wood, lay bricks, go walking, it could be anything, but his point was that mixing it up helps your body not be as frail and so as susceptible to injuries and there's a lot of truth in that.
"No one should feel bad about not riding your road bike every day. You can do different exercises and activities."
It's easy to paint winter as a bleak time of the year, but it's a season that actually just offers different perspectives and experiences, ones that should be seen in a positive light. Cullaigh says: "I don't think there is anything better than a crisp winter's day with a bit of frost overnight, but not on the road. Heading into the hills with a good group of mates, I love it. It's gorgeous out there on days like that in the winter."
Cullaigh touches on group riding. "Being together, having a laugh when the weather is grim, stopping for a mid-ride coffee and to warm up again, it's great for morale," he says.
And when the weather is bad, just remember that by going out and riding, you've already got one-up one most of your rivals. "When the weather isn't great, 60 percent of the competition have already given up and decided to take the day off. The feeling of completing the planned session is so satisfying, especially knowing others decided against."
Thank you for reading 20 articles this month* Join now for unlimited access
Enjoy your first month for just £1 / $1 / €1
*Read 5 free articles per month without a subscription
Join now for unlimited access
Try first month for just £1 / $1 / €1