Iliac artery furring: Is surgery the cure?
Iliac artery furring can cause significant discomfort. Usually only seen in the elderly and overweight, the condition is now being regularly diagnosed in both professional and club cyclists.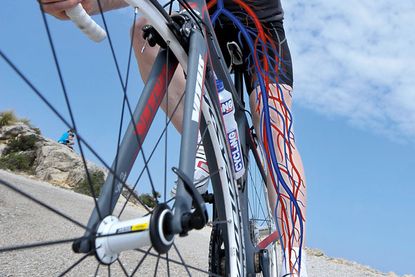 British surgeons have made medical history with a pioneering keyhole operation designed to keep some of the world's top cyclists in the saddle.
Consultant Adam Howard revealed his stunning medical breakthrough - made with the help of robotic technology more commonly found in his young sons' computer games - to coincide with the start of the Tour de France.
The vascular specialist, alongside colleague Rob Hinchliffe, has become the first in the world to repair damage done by iliac artery endofibrosis using laparoscopic surgery and a head-mounted camera.
The minimally invasive technique means cyclists suffering from the crippling condition should swiftly regain peak performance and will not be impeded in the long term by scar tissue. It will revolutionise traditional treatment, which used to necessitate two incisions of up to 20cm each in the thigh and abdomen and carried significant health risks.
The global cycling community was devastated in 2007 when South African champion Ryan Cox, 28, died from complications as a result of the operation.
Pro Stuart O'Grady suffered from the condition
Underlying cause
Howard said: "Doing high mileage on a bike can make arteries in the pelvis fur up with a fibrotic material which is soft and rubbery, a bit like a piece of tagliatelle. It restricts the blood flow to the legs and causes life-changing problems among the professional cyclists who fall victim."
"At the outset, it might just mean cramping and leg weakness when they exert themselves but as it worsens it prevents them riding a bike, going for a run or even climbing stairs without pain."
"It affects other athletes - rowers, triathletes and marathon runners - but is most common in young, male cyclists, whether they are at the pinnacle of the sport or dedicated club riders."
The condition is notoriously hard to detect; arterial furring is more usually seen in smokers, drinkers and the overweight. In fit people, it is caused by repetitive movement - such as pedalling - and is often misdiagnosed as a muscular or skeletal injury.
It has become increasingly acknowledged in the pro cycling community with riders such as Australians Stuart O'Grady and Travis Meyer, and Dutchman Theo Bos having gone under the knife.
Howard fears it may also be becoming more common among club cyclists. "Even doing 25-50 miles a day, the sort of distances people ride to work and back, is enough to cause this kind of fibrosis," he says.
"GPs, through no fault of their own, often fail to spot it because it can only be definitively diagnosed by special tests on blood velocity when a patient exercises in laboratory conditions."
The 43-year-old surgeon, who works at St George's Hospital in London and Essex's Colchester Hospital, has now performed his groundbreaking keyhole operation three times.
He and Hinchliffe first trialled their technique on club rider Carrie Hook, 42, from Colchester, Essex. The upholstery company sewing machinist took up cycling in 2008 and competed locally, often in 50-mile time trials. But within two years she suffered such severe cramp and pain even on training rides she had to seek medical help.
Help at last
Hook said: "My doctor said I was young, fit and slim and sent me for physiotherapy but it didn't help. I was trying to run to stay fit but I couldn't go for more than 15 minutes without having to literally drag my left leg along behind me. By the end, I couldn't even run for a minute. Getting on my bike was completely out of the question."
She was tipped off about iliac artery endofibrosis by a cycling friend and sought a referral to a vascular clinic where it was finally diagnosed in January 2011. She agreed to be Howard's guinea pig and underwent experimental keyhole surgery two years ago, in August 2011. The operation was not publicised because the medical team had to make a planned seven-centimetre incision in her abdomen to inspect the result of their laparoscopic work.
Their real breakthrough came with tanker driver James McCaffrey, 42, from Bristol, who developed iliac artery endofibrosis as a result of cycling 1,500 miles a month on his road and mountain bikes.
He said: "I like to push my body as far as I can but eventually my legs felt like they were made of wood every time I tried to get on my bike.
I had no power going up a hill, for example. It was the kind of sensation you get when you wake up to find you've been asleep on your arm and it's gone dead - you have to make a conscious effort to move it and there's just no strength there. I would try to pedal through but the pain would come in waves. It was excruciating."
McCaffrey's problem began four years ago and, like Hook, he suffered serial misdiagnoses beginning with 'muscle fatigue' for which he had a year's worth of physiotherapy.
Multiple misdiagnoses
He explained: "That didn't help at all so my doctor sent me for a CAT scan on my back, thinking perhaps it was sciatica. When that was negative, he recommended having a bike fit with a semi-pro rider in Bristol, which didn't make any difference either.
Eventually it was me who discovered the possibility of a vascular problem on the internet and I raised it with my GP. It helped that he was a sportsman himself, a runner, and was willing to persevere."
McCaffrey was referred to a local vascular specialist but initial tests came back clear. Luckily his notes were reviewed by a vascular surgeon in Bristol who had attended a lecture by Hinchliffe and he was identified as a textbook case. McCaffrey's condition was confirmed after he attended St George's Hospital with his bike and turbo trainer for blood pressure tests on his leg while exercising.
Howard and Hinchliffe repaired his left leg in August last year using five abdominal cuts of no more than a centimetre each. McCaffrey said: "After I'd had the first operation, it was like having a power surge in the leg which had been fixed.
That's why I volunteered to have the other one done." In May, the laparoscopic team repaired his right leg using the same technique but with the addition of a robotic camera called a FreeHand. "The FreeHand is a game-changer," said Howard.
"I control it with my head and my feet to make it look where I look, the same as when my boys play their Wii at home. It means everything can be positioned to within half a millimetre, making this kind of surgery much easier.
"I am always trying to push back the boundaries of laparoscopic surgery and iliac artery endofibrosis was a great candidate. "Traditional surgery keeps cyclists out of the saddle for several months and can result in herniae and chronic pain at the site of the wound. "McCaffrey was exercising in a swimming pool within days of his operation and will be fit enough to compete in a 100-mile cycle race next month. And that kind of outcome is a yellow jersey moment for any surgeon."
The cause
The left and right external iliac arteries are about the diameter of the little finger and supply blood to the leg. A cyclist's constant bending and pedalling can cause serious mechanical damage which sees the arteries thicken, reducing blood supply and causing weakness, cramping and pain.
The more a cyclist trains in the hope of rebuilding their failing leg strength, the faster the arteries will deteriorate.
This little-understood condition is difficult to detect and sufferers often receive fruitless treatment from their GP as well as osteopaths, chiropractors and physiotherapists before being diagnosed by a specialist in cycling injuries. Treatment, traditional or laparoscopic, involves cutting out the damaged section of artery and grafting on a patch harvested from a leg vein.
Meet the surgeons - Keyhole Kingpins
The ground-breaking operation was perfected by consultants Adam Howard, 43, and Rob Hinchliffe, 40, who have worked together for the last five years.
Howard is a vascular surgeon at Colchester University Hospital in Essex and also a senior lecturer in minimally invasive surgery and robotics at Anglia Ruskin University.
Surgeons Howard and Hinchliffe
He was trained at the Royal London Hospital in London's Whitechapel where he was mentored by David Nott, who treated Tony Blair and is famed for his war-zone exploits with medical charity Médecins Sans Frontières. Nott is recognised as one of the pioneers of keyhole surgery in Great Britain.
Hinchliffe is a senior lecturer and consultant in vascular surgery at London's St George's Hospital, having trained in the UK and Sweden.
He specialises in treating athletes and military personnel whose tough exercise regimes have left them with damaged arteries. He has also cultivated a close working relationship with sports doctor Roger Palfreeman Hinchliffe is a keen club cyclist. Like Howard, he still commutes to work by bike.
Case Study Carrie Hook
"I'd not been cycling for very long. It happened in less than a year. I was a runner before and kept running as well as taking up cycling. It got so difficult to ride I had to give up and just stuck to running. There were a lot of tears.
"It started off with a really bad ache in my leg and then a feeling of total fatigue. I'd be pedalling away in a time trial trying to go fast and there would be a real desire to stop pedalling. It felt like my leg was being suffocated, which of course now I know was exactly what was happening. If you have these symptoms, visit your GP.
"Be persistent. If you are fit, young, cycling and slim, no one suspects you have a vascular problem. I tried everything before getting a proper diagnosis.
"When you go for tests, insist you take your bike with you. The first test the hospital did, they couldn't see any problems because they did the test at rest. It is only when you exercise that it shows up.
"Finding out the problem gave me some relief, as then I knew there was a solution. I was lucky that the registrar I saw was determined to get to the bottom of it.
"It's very frustrating; you need someone on your side to help you. Nobody knows much about it and there is very little information online, so you can wait a long time for someone to work it out."
This article was first published in the July 4 issue of Cycling Weekly. Read Cycling Weekly magazine on the day of release where ever you are in the world International digital edition, UK digital edition. And if you like us, rate us!
Thank you for reading 10 articles this month* Join now for unlimited access
Enjoy your first month for just £1 / $1 / €1
*Read 5 free articles per month without a subscription
Join now for unlimited access
Try first month for just £1 / $1 / €1
Founded in 1891, Cycling Weekly and its team of expert journalists brings cyclists in-depth reviews, extensive coverage of both professional and domestic racing, as well as fitness advice and 'brew a cuppa and put your feet up' features. Cycling Weekly serves its audience across a range of platforms, from good old-fashioned print to online journalism, and video.