'It's still bike racing!': The former superbike star making the switch to cycling
Ex superbike racer Bradley Jones tells CW how cycling helped him recover from a huge crash and why non-motorised bike sport is now his main focus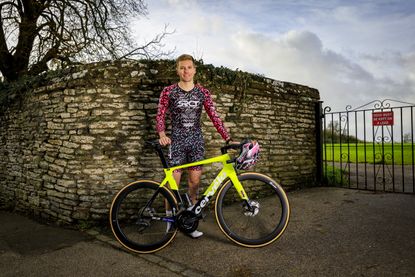 (Image credit: Andrew Sydenham)
This article was originally published in Cycling Weekly's print edition as part of the long-running MY FITNESS CHALLENGE series.
It is 24 July, 2021 and the third round of the British Superbike Championship. Rain is in the air at the Brands Hatch circuit as 27 riders are sent on their way for the opening race of the weekend, the deafening roar of their 1,000cc machines piercing the air. Then, just as the leaders are starting their second lap, the race is brought to a shuddering halt. There has been a bad crash and a rider has been thrown over his handlebars at high speed. Medics rush to the scene. Soon the blades of an air ambulance will be heard as the stricken rider is airlifted to London's King's College Hospital.
Fast-forward 16 months and Bradley Jones, the rider who was catapulted onto the tarmac, recalls very little about that day his life changed. Exactly what happened to him in the crash he has pieced together from eye-witness accounts. "It was a highside that flicked me over the top," the 24-year-old tells me over the phone. "I landed on my head and shoulder, knocking me out before I even made the gravel. The bike barrel-rolled, flicked up into the air and came down on my head and chest. That's when the really serious injuries were done."
Jones had been in his debut superbike season. Born into a family that raced motocross, he started racing dirt bikes at the age of five. "My dad and uncles used to do it and so it was natural I'd follow them," he says. Jones moved to road racing at the age of 12 and spent the next decade moving up through the various classifications. After finishing runner-up in the Supersport Championship in both 2019 and 2020, he was signed by the iForce Lloyd and Jones /PR Racing BMW team for the 2021 superbike season. "It was a big year for me because all I ever wanted was to jump into superbikes," Jones says. "It was all I'd dreamed of and now I had made that step."
He runs through the injuries he sustained at Brands Hatch. "Starting from the top, I cracked the base of my skull, broke my collarbone, shattered my shoulder blade, broke four or five ribs and broke my pelvis. I also punctured both of my lungs and had a bleed on the brain. Those were the two worrying things," he adds. Jones also developed a blood infection that caused his body temperature to sky-rocket alarmingly. "They had to quickly drain my lungs at the track, and they think that when they put in the drain they picked up a bit of dirt off the gravel," Jones explains.
It was an horrific and life-threatening crash, and Jones spent two and a half weeks in an induced coma before he could be safely brought round. In total he was in hospital for eight weeks, his family by his side. Jones is remarkably calm as he describes what happened. "It is mad when I talk about it," he says. "It's like I am talking about someone else because I don't really remember anything. I wasn't aware of what was going on, and by the time I had woken up and come off all the drugs, though I was uncomfortable, I wasn't really in great pain anymore." Jones had been due to go from King's to a rehab facility in his home county of Dorset but a Covid outbreak at the receiving hospital brought a change of plans. "Good friends and people around me raised a chunk of money, which enabled me to get home and have my rehab from there," he says.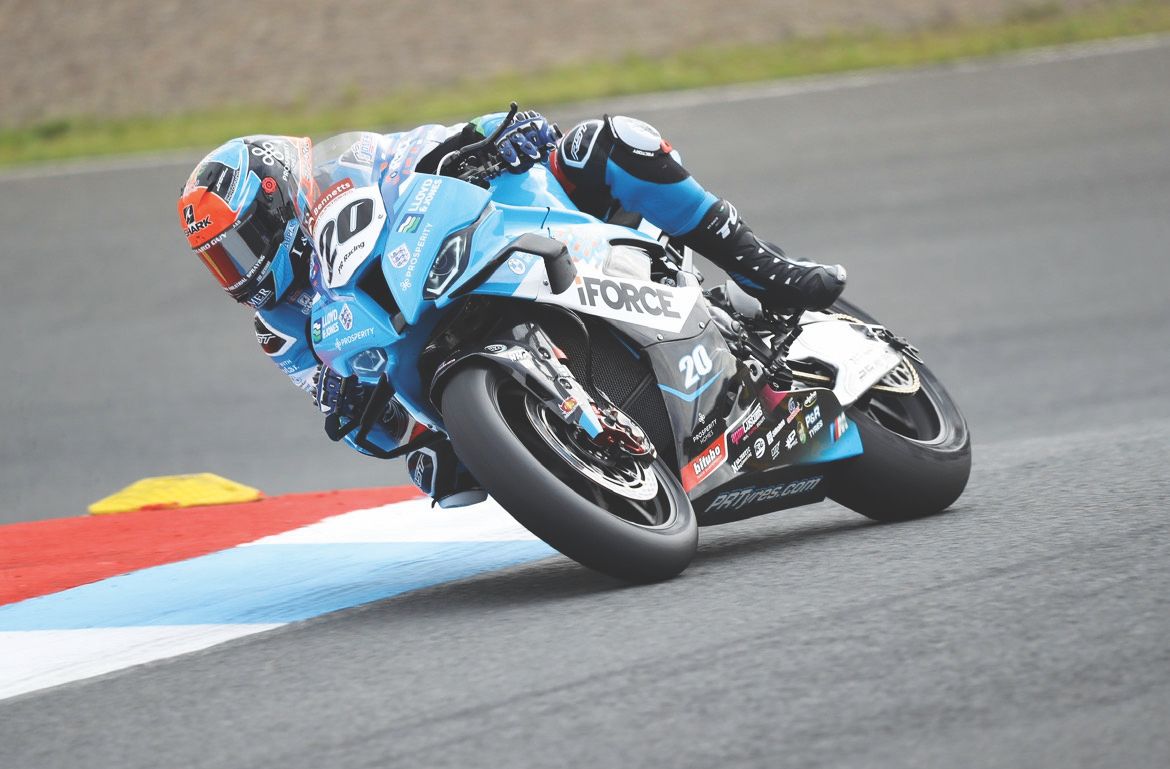 Before his accident Jones had started racing pedal-powered bikes, qualifying for his third-cat licence after fellow motorcycle racer Scott Redding – who runs his own cycling team – had introduced him to the sport. "Cycling was an important piece of my training," says Jones, who did about eight hours a week of cycling alongside his other training. "It was good for pushing my VO2 max and high-end intensity which sometimes can be hard to maintain in a gym. Races also helped keep me in a racing mindset."
Now the bicycle would play an important part in Jones's recovery. "I was really motivated. I have an indoor cycling set-up and I was back on that as soon as able to, just super-lightly and slowly pedalling. Every day I wanted to do a little better than yesterday." Jones went "super-steady for quite a while" slowly building up his stamina at home before heading out onto the road. "I had to do my first road ride with an instructor from Poole hospital," he says. "He had to come with me to make sure I could remember how to use a road properly and safely."
After getting the nod to continue, five-mile rides on Dorset roads soon became 15-mile rides, 25-mile rides, 60-mile rides. As well as helping him regain his physical fitness, did cycling also aid his mental health during a very difficult time? "Massively," he says. "I lost my driving licence and I was under the watchful eye of people all the time, so to be able to get out on my bike gave me back a bit of independence. If someone asked if I wanted to go for a coffee, I could say yes, knowing that I could cycle there rather than have to liaise with my mum or dad or someone else for a lift."
In May 2022, just 10 months after his accident, Jones took to the start line in a cycling race again. "When I first came home from hospital, I couldn't cope with speed and spatial awareness even as a passenger in a car. Everything felt heightened. So, it was a question for me how I would cope in a race with everyone so close around me." How did that first race go? "Happily, it felt normal. I mean it was hard, but it felt good. It was a big goal and a big achievement for me. I remember feeling emotional on the start line. I was like, I've made it back to the point where I can be here at the start. The result was almost irrelevant."
Currently Jones has no plans to return to motorcycle racing. "I do intend to carry on riding motorbikes," he says, "but just for fun, not at a competitive level." On the one-year anniversary of his accident Jones returned to Brands Hatch, got back on a 1,000cc BMW and rode a parade lap. "It felt great," he says. "When I got to the corner where I had my accident, I had no flashbacks or anything. It was a big tick in the box and a massive thank-you to everyone who had donated money. It showed them that what they gave helped towards my recovery and ultimately got me back out on the track."
Jones is now a second-cat racer and achieved his 2022 goal of finishing on the podium of a second-cat race, his last of the season. "I was quite happy with that," he says. "I've now massively turned my focus to racing pushbikes. I finish work every day, go home and ride, whether that be inside or outside. I love the accessibility of it." He highlights the similarities between racing motorcycles and pushbikes. "You have to think ahead, look how things are developing. Assess the pace of others. You are still racing a bike, just at a lower speed."
He is excited at the challenge of developing his cycling. "I want to keep it fun but to win a E/1/2 road race would be cool. That's a goal, but I know it will be a big ask. For now I'll just try to keep racking up points to try to get as close as I can to a first-cat licence."
Mechanic's view: 'He's astonishing! He's a machine'
Jamie Coulter worked as Jones's mechanic for four years and was at Brands Hatch on the day of the accident.
"I knew straight away it was Brad because I saw his bike flying through the air," Coulter says. "Nine times out of 10 the rider gets up, dusts himself off, and walks back. But we could see the medical vehicles and they were holding screens up. My heart sank immediately because I have lost friends riding the championship before."
The two men share a passion for cycling and have similar steely resolve. "I used to be a professional rugby league player Coulter says, "and I always looked at myself as a machine when I was training. Brad looks at himself in the same way. After he came round, he said to me 'the machine needs another task'.
"Using this machine-like approach, he has taken binary instructions – I get recovered, I do this training plan, I follow this diet and I get back to cycling. It is astonishing, for such a young man, how he absorbed what had happened and then said 'right, what do I make out of this'. It's been fascinating to watch how he's done that."
The full version of this article was published in the 5 January 2023 print edition of Cycling Weekly magazine. Subscribe online and get the magazine delivered to your door every week.
Thank you for reading 20 articles this month* Join now for unlimited access
Enjoy your first month for just £1 / $1 / €1
*Read 5 free articles per month without a subscription
Join now for unlimited access
Try first month for just £1 / $1 / €1