My Training Space: 'My dad's ashes were mixed into the paint – he comes with me on every ride!'
Bathroom fitter and sportive rider David Rhead shows us around his self-built garden getaway
Get The Leadout Newsletter
The latest race content, interviews, features, reviews and expert buying guides, direct to your inbox!
Thank you for signing up to The Pick. You will receive a verification email shortly.
There was a problem. Please refresh the page and try again.
Each month in this MY TRAINING SPACE series from Cycling Weekly's print edition, a CW reader shows us around their training room, shed or garage, the part of their home or garden dedicated to all things cycling. They talk us through the equipment, as well as the motivating keepsakes and decorations that keep them training hard. If you'd like to show us around your training space, email a photo to david.bradford@futurenet.com. This time, it's the turn of David Rhead...
I used to store all my bikes and kit inside the house, but as I was amassing more and more, my wife's tolerance was getting stretched. Shopping around for garden rooms, I was being quoted prices of over £20,000, and I thought, 'Hang on a minute, I can build this myself'. So in 2016 that's what I did – for about a quarter of that cost.
I run a bathroom installation business, so I already had the skills required. YouTube was very helpful for any extra information I needed, and the entire project took around two months.
For several years, I was working two jobs and didn't have time for cycling, as I was just too busy, but over the past couple of years I've got back into it. Only now do I realise how much I'd been missing it! It is such a great outlet to release stress.
As I'm getting older, I seem to be getting more competitive. Although I don't race, I signed up for the Tour de Manc at the end of April, a 130-mile sportive, and I trained hard for it. I tend to do longer rides at the weekend plus Zwift sessions during the week. Being based in Manchester, I have easy access to the Peaks, and I'm built for climbing – my mates hate me!
I've done the Coast to Coast twice, raising money for a local hospice and for a brain tumour charity, in memory of my late father. I'd love to do it again – my mind is saying yes, but my legs aren't!
Rider profile: David Rhead
Age: 55
Height: 5ft 9in
FTP: N/A
Rides for: N/A
Lives: Manchester
Occupation: Bathroom fitter
Proudest cycling achievement: Twice rode the Coast to Coast, in 2016 and 2017, raising money for charity in memory of my father
Instagram: rhead.on.a.bike
His training space
Let's take a look inside...
1. KEEPSAKE BIDONS: I go to the Tour of Britain and I've been to the Tour de France, and wherever possible I'll fight a child for a water bottle for my collection (joke!)
2. THE TRAINER: The Tacx Neo smart-trainer is my Zwifting device. I had to extend my internet connection via cable from the house to eliminate drop-outs but now it works perfectly.
3. JENS WORSHIP: I have a shrine to Jens Voigt, my cycling hero: photos of him and a couple of Trek jerseys. The way domestiques work so hard without getting any credit, I really respect that.
4. SPORTIVE MEMORIES: The numbers and medals are from the events I've done over the years. The Coast to Coast is the ride I'm proudest of.
5. THE BIKES: Pride of place, my custom-built Starley. While it was being built, my father passed away, so I had his ashes mixed into the paint – I like to think Dad comes with me on every ride. I also have a Ribble GCR-SL winter bike, a 1970s Viking, and my wife has a Whyte hybrid. During lockdown, I built up my newest bike, an S-Works SL7.
6. GUIDE BOOKS: The travel books remind me of our holidays – and prompt our grown-up kids to complain that we don't take them with us anymore!
Image 1 of 6
The full version of this article was published in the 1 June 2023 print edition of Cycling Weekly magazine. Subscribe online and get the magazine delivered to your door every week.
Thank you for reading 20 articles this month* Join now for unlimited access
Enjoy your first month for just £1 / $1 / €1
*Read 5 free articles per month without a subscription
Join now for unlimited access
Try first month for just £1 / $1 / €1
Get The Leadout Newsletter
The latest race content, interviews, features, reviews and expert buying guides, direct to your inbox!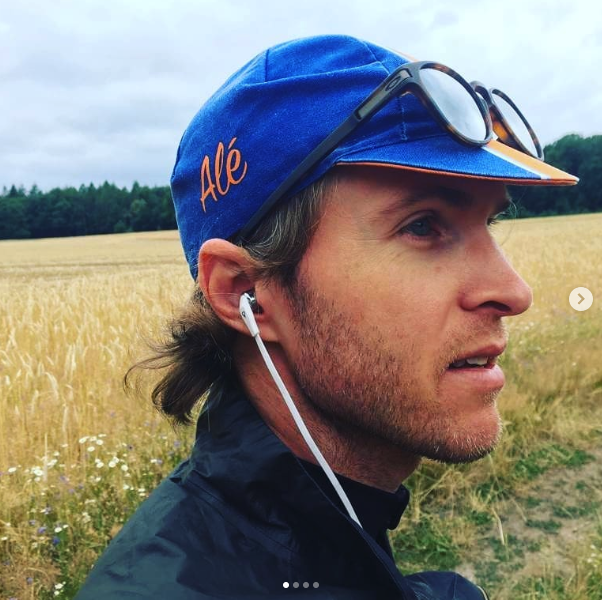 David Bradford is fitness editor of Cycling Weekly (print edition). He has been writing and editing professionally for more than 15 years, and has published work in national newspapers and magazines including the Independent, the Guardian, the Times, the Irish Times, Vice.com and Runner's World. Alongside his love of cycling, David is a long-distance runner with a marathon PB of two hours 28 minutes. Having been diagnosed with retinitis pigmentosa (RP) in 2006, he also writes about sight loss and hosts the podcast Ways of Not Seeing.