Cycling climbing – how to improve your ascents fast
We get tips on to train outdoors and indoors to get yourself climbing quicker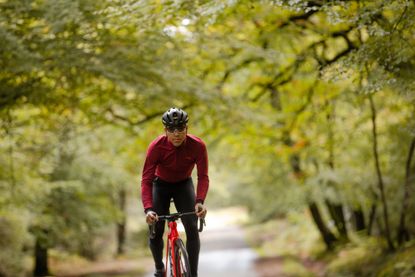 (Image credit: Daniel Gould)
It's the question every cyclist asks, no matter their capabilities or experience. And we ask it a lot. Just how do I improve my climbing – and fast?
Whether it be a classic short and steep British ascent or a long Alpine undertaking into the high mountains, climbing represents a challenge that excites us all – even if it does put us in the pain zone.
Rising British star Mark Donovan, who recently finished in the top-five in two stages of the Vuelta a España, advises that riders treat a climb as a big objective. "Forget your power – it's all about how fast you can get up something. Practise trying to go as fast as you can," the 21-year-old said.
>>> Indoor trainers: what is electromagnetic resistance and can it make you fitter?
"Strava is a big help for competition so try and see how you stack up on the KOM leaderboards.
"For some people, holding onto the same rhythm works best for them, and for others going easy and then building up the pace works better. Whatever works for you, just enjoy it and try and go fast.
"Focus on how you're feeling too – this is a really underrated skill. You need to know what your body can do, what it is capable of, and if some days you can push out 400 watts but the next only 300 watts, don't worry too much about it."
Ed Laverack, winner of the 2019 British National Hill Climb Championships, says that riders should study a climb and then decide on how best to pace it.
"You ride the terrain, not the climb," he said. "If it's a 2km climb with a seven per cent gradient, you might think you can go and smash it, but the last 500m might be 15 per cent and the first four per cent so you have to analyse where it is good to go harder and where you need to back off.
"Climbing is like time trialling: your speed goes up and down. If you notice it going down, then it's a sign you need to up the effort. If you see your speed going up, then just back off a little.
"I'm not talking about easing off massively, or increasing the speed a lot – these are micro changes that will help with pacing and effort."
Glyn Griffiths, who runs WestSide Coaching and trains hill-climbers, points to technique as a key area of improvement. "For the short, brutish ones – and that's almost all in the UK – you have to keep your weight further back. That's good technique," he advised.
"When your weight is forward, you basically get skipping on the back wheel and the wheel spins. Try to be out of the saddle but keep the weight further back.
"It's difficult and you will need to work on it – it's not going to come overnight. But if you can really work on it, it will help enormously with your power."
But don't fret too much about your pedal technique. Griffiths added: "Every rider has their own pedalling style and it's very hard to change. Pro riders have positions that don't look great for pushing power out, but they still can. Focus on other areas."
Shorter and colder days, compounded by the coronavirus pandemic, means that less of us are climbing our favourite or feared slopes at the moment, and instead training indoors and using innovative digital platforms like Wattbike Hub like analyse our riding.
Laverack, who was also a rider for six years with JLT-Condor, added: "If you're training indoors, do one or two sessions a week that will directly impact on your climbing ability.
"Make sure to focus on the predominant skills such as out of the saddle climbing, lower and higher cadence, and getting use to actually pushing, either with more power or the same power you're used to but at a higher or unnatural high cadence. There is evidence that says this type of training improves your economy.
"The winter is a great time to develop basic abilities before going back outdoors and into events."
Griffiths shares Laverack's belief that indoor trainers, Wattbikes, and online platforms can be an invaluable assistance. "Do intervals. For improving your performance on a short climb, definitely target really short intervals when you're indoors – a few minutes max.
"Time trials – 10- and 25-miles – are a great help in the summer because it gets you riding at your threshold and holding the same power for a long period of time. You can do that on your indoor trainer, too."
If you find that your performance isn't improving as quickly as you'd like, Laverack cautioned: "None of us are in our best shape in the winter – typically, you get better as the year progresses.
"You're not going to be setting personal bests in these months, but that's fine. Keep it fun. Get out there and do the climbs because that's the best practice.
"Sometimes you will feel at peak fitness and not have a great ride, and others you'll feel the absolute worst but surprise yourself. Climbing is a really personal achievement thing and it keeps you honest."
Thank you for reading 20 articles this month* Join now for unlimited access
Enjoy your first month for just £1 / $1 / €1
*Read 5 free articles per month without a subscription
Join now for unlimited access
Try first month for just £1 / $1 / €1