How to overcome injury, back pain and more with the help of your indoor trainer
Overcoming injury is never easy, but indoor training can be a big benefit to getting yourself back to full strength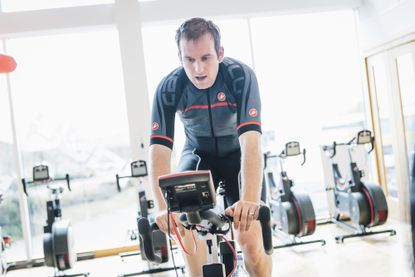 (Image credit: chris catchpole)
Although cycling has many physical and psychological benefits, there are times where back issues, niggles and other injuries can hamper your progress in everyday life or even stop you from riding your bike altogether.
Whereas rehabilitation and physiotherapy will be key to getting you back on the road, utilising an indoor trainer or stationary bike like a Wattbike Atom can be very beneficial to increase your strength, stability and stamina once again.
There are many advantages to using your indoor bike for training, and we have collated just some of the ways they can be extremely beneficial, as well as some testimonials of cyclists who have used them to that exact effect.
>>> 10 tips for improving your indoor winter workouts
Fine-tune your position
Taking stock of why and how you injured your back can be one of the most worthwhile jobs to take on when injured. Whereas this can ultimately be improved with a professional bike fit, but ensuring you maintain and work on your more economical — and in the long run faster — position can be a great decision.
Using an indoor trainer to apply these modifications can be an ideal way to enhance these changes within a controlled environment, without the temptation or concentration required on the road.
Pedal to perfection
Even though it can be an almost automatic motion, perfecting your pedalling technique can be crucial to not only performance but also to staying injury-free.
Using cadence or pedalling drills on an indoor trainer can really fine-tune your pedalling which may not be as easy to achieve out on the open road with natural terrain and obstacles throughout a normal ride.
There's plenty of technology that can help you assess your pedalling technique indoors, from a simple cadence sensor or a dual-sided power meter to more detailed analysis available through sophisticated indoor training apps. Manufacturers like Tacx and Elite provide visualisations of your pedal stroke on some of their trainers if you use their own software, as does Wattbike through its Polar View analysis on it's Hub platform. Wattbike actually takes this one step further with its Pedal Effectiveness Score between 0-60 which provides an easy to understand assessment of your pedalling technique.
Using these tools effectively can help you avoid putting unnecessary stresses on your body with poor pedalling style. They can really help you focus on what areas of your pedal stroke could be showing weaknesses and could ultimately have a knock on effect to other weaknesses or injuries that may occur further up the body to compensate for these pedalling faults.
Riding the right session for your needs
Even when we are injured, any cyclist that gets out on the open road will have the adrenaline pumping through their veins. However, this freedom as well as the challenges that the road brings sometimes pushes us beyond our natural and physical limits.
Whilst this may be good the majority of the time, when you are overcoming injury it is key not to overexert yourself and stick to working to a structured rehabilitation session or an easy ride.
This can be done the old fashioned way by following a session plan, or via many training programmes which will focus on maintaining certain power outputs or training zones over the duration of a session.
How it worked for me
Janet Bell
I'm a runner but at the start of 2020, I decided to have surgery on both feet that would take me out of running for potentially six months. After considering my rehabilitation options I decided that a Wattbike could give me a different focus, aid recovery, keep me fit and be simple to set up!
I've now had my surgery and indoor training has been brilliant with recovering from both feet being broken and pinned! I'm still six weeks away from running again but as cycling is low impact I'm gradually building my strength and FTP back up. Plus with lockdown it's been a saviour being able to join group rides on Zwift with my club and do different types of workouts.
My focus during rehab was initially just as a leg turning exercise. Then I followed various pre-set/custom workouts with a low FTP or generally flat circuits on Zwift. I'm still avoiding doing too many hills but maybe that's because I'm still relatively new to this world and it hurts my quads!
At some point I may even consider an actual bike but I love the convenience of just being able to 'plug and play' that a turbo wouldn't have given me. Plus as a single parent I don't have to leave the house so I have additional reassurance.
Thank you for reading 10 articles this month* Join now for unlimited access
Enjoy your first month for just £1 / $1 / €1
*Read 5 free articles per month without a subscription
Join now for unlimited access
Try first month for just £1 / $1 / €1
Paul Knott is a fitness and features writer, who has also presented Cycling Weekly videos as well as contributing to the print magazine as well as online articles. In 2020 he published his first book, The Official Tour de France Road Cycling Training Guide (Welbeck), a guide designed to help readers improve their cycling performance via cherrypicking from the strategies adopted by the pros.