10 tips for improving your indoor winter workouts
We show you how to make the most of your indoor workouts this winter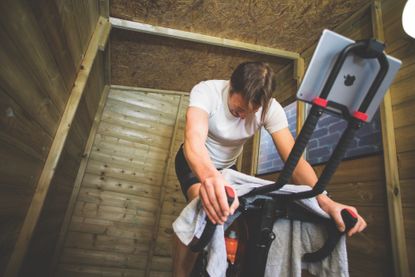 Indoor training allows you to maintain or build fitness whatever the weather or lockdown situation – but thanks to huge advances in both the hardware and the software, it is now much more than just a substitute for the real thing.
The latest trainers and apps allow you to perform intervals without the usual dangers and distractions of the open roads, virtually ride the iconic climbs of the Grand Tours, join pro teams' training sessions, e-race on Zwift or just go for a spin with your mates – and that's barely scratching the surface of what they can do.
Whether you're a newcomer to indoor training or are hitting your best-ever form after a couple of seasons of indoor work, we've got some top tips to help make your workouts even more effective.
Have a plan
Fitness improvements come about by progressive overload, not by random killer interval sessions and mega long rides.
Yes, the latest smart bikes and training platforms have a high level of functionality, but to make the most of it – and crucially, to use it to reach your potential – you need a longer-term goal or strategy. Whether you take on a coach to design an individualised training programme or follow an 'off-the-peg' plan offered by your chosen platform, structure is key.
Test regularly
When you start an indoor training programme, the first thing you'll do is an FTP (functional threshold power) test. This will allow you, your coach, or your platform to set your training zones according to your fitness level.
Testing regularly once you're up and running will allow you to check that your performance is heading in the right direction and, assuming it is, for your zones to be adjusted correctly. If you're not prompted by your programme to perform a test, consider doing one monthly. However, bear in mind that since it's an all-out effort that will need proper recovery, testing too regularly could be counterproductive.
Improve your pedalling
If you're training seriously, better pedalling should be part of your game plan: pedalling effectiveness is being hailed as the next big wellspring of untapped watts.
One-legged drills can help you improve your technique; more sophisticated is Wattbike's Polar View feature, which allows you to see where the force is being applied around the pedal stroke in real time, scoring your effectiveness as your pedal.
Do some Zwift racing
Everyone knows that you can get that little bit more out of yourself when you pin a number on, and that goes for virtual numbers too. It's just as well, because Zwift racing is incredibly tough. You'll typically go way too hard from the gun in order to hang on, try to recover at somewhere around your threshold, go into the red again… and repeat. Most experienced e-racers will tell you it's actually harder than the real thing. You can make some great gains e-racing, but use it wisely because it's a hard session.
Upgrade your trainer
For getting the most out of your indoor training, it's worth investing in the best trainer you can afford.
Gone are the days where a 'turbo' was a rusty A-frame that lurked in the garage and was regarded as an instrument of torture. The latest smart trainers supply a level of precise data, detailed analysis and ride feel that was unimaginable even 10 years ago.
Smart bikes are the gold standard, offering the best accuracy via built-in power meters that don't need to be separately calibrated. A smart bike such as the Wattbike Atom is also quiet thanks to its electromagnetic resistance – always useful unless you live alone in a detached house – and has a smaller footprint than a standard bike clamped to a trainer.
Sort your accessories
Get your pain cave (or designated corner of the dining room) sorted so that you can focus on your workout without worrying about sweating on the carpet or your iPad slipping off its precarious perch on the bookcase.
If there's no wipeable floor available, put down a long mat. There are turbo-specific mats available; a yoga mat will also work. Smart bikes are more likely to have an integrated tablet holder but if you're on a standard bike/trainer set-up, invest in a proper tablet stand that you can position right by the bars.
You should of course be using as powerful a fan as possible, but will still need a towel or bike protector.
Use indoor-specific clothing
Because you're not shifting around on the saddle in the same way as when you're out on the road, indoor training can be tough on the rear end, and the extra moisture can make things yet more uncomfortable. Indoor-specific shorts use a dense pad and are designed to wick moisture more effectively than a regular pair.
Stay hydrated
Come to your workout well hydrated and make sure you're sipping throughout.
Indoor training is a sweaty business, even with a powerful fan, so it's important to start a workout properly hydrated and to remember to drink throughout. Even mild dehydration can lead to loss of performance. With more serious dehydration, if your core temperature starts to rise and the body's ability to thermoregulate is impaired, it will limit the amount of power you can produce.
Stretch more
A good stretching regime will combat the extra strain on your body that static riding can inflict. Targeted stretches will relieve built-up tension in your muscles while foam rolling can literally iron out the tight spots and speed up recovery.
Turn off the tunes
Try longer threshold efforts listening only to your body.
Playing pumping music while working out indoors can keep you motivated, help you push through the pain and just make the whole thing more enjoyable. However, particularly if you're training for time trialling, you need to strengthen your mind as well as your body. Out on the road there won't be any music.
Cycling Weekly created this content as part of a paid partnership with Wattbike. The contents of this article are entirely independent and solely reflect the editorial opinion of Cycling Weekly.
Thank you for reading 20 articles this month* Join now for unlimited access
Enjoy your first month for just £1 / $1 / €1
*Read 5 free articles per month without a subscription
Join now for unlimited access
Try first month for just £1 / $1 / €1