Matt Johnson: Cycling with cystic fibrosis
Matt Johnson was diagnosed with cystic fibrosis as a baby. He tells CW why he started cycling long distance events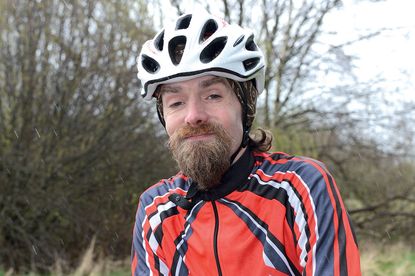 Imagine if every morning you had to do physiotherapy to clear your lungs of mucus and then take several different antibiotics, digestive enzymes (Creons) and vitamin supplements, as well as having breakfast and getting dressed. You have a detailed daily list of medications and treatments; not just once a day but, with some modifications, several times throughout the day.
Once in a while you may get infections which need additional treatment, such as intravenous antibiotics. On a regular basis you will have hospital appointments to fit in as well.
For Matt Johnson this is his routine. Like his older brother Tim, he was diagnosed with cystic fibrosis as a baby. As a child he would lie head down on a sloping bed twice a day, so his parents could help get the mucus out of his system. Nowadays, he has active breathing exercises which help bring up the mucus without the damaging, and energy-sapping, effects of coughing.
Johnson's parents encouraged him to be active. As he got older he cycled everywhere and, growing up in Rickmansworth, nearly anywhere he wanted to go involved cycling up a hill. Cycling became part of his life for trips to school, work, the supermarket — but he hadn't really considered doing any long-distance events.
Then, about three years ago, Johnson invested in an exercise bike and started doing a daily 30-minute session on it, partly to help his condition. As he got fitter he increased the difficulty level on the bike. He decided, as so many people do who train regularly, to look for a formal goal: a recognised event which he could get sponsored for, and thereby raise money for the Cystic Fibrosis Trust.
He entered the London to Paris bike ride. Several months before, he worked out a programme to increase his stamina and mileage, until he was doing a 36-mile training ride twice a day, sometimes two days in a row.
Having successfully completed the event and raised over £3,000 for the CF Trust, this year he aims to complete the Coast to Coast, and a longer-term goal is to do Land's End to John o' Groats. "Now I've reached that standard," Johnson says, "I'd really like to do one event like this every year."
Determined
Many of us with no health disadvantages would struggle to do these events, but the determined Johnson says, "I want to push myself physically both for medical reasons and for that sense of achievement. With my history of cycling I realised that this could be something I could really push myself at."
With a condition like cystic fibrosis, training for a staged long-distance event is not something to undertake lightly. Johnson's mutation of the CF-causing gene means that his digestive problems tend to be worse than his lung problems, and two years ago he was diagnosed with type 2 diabetes, as the CF affected his pancreatic functioning.
This means that Johnson needs to eat a huge number of calories each day, while also taking enough insulin to counter the effects of sugars in the food. As Johnson's body doesn't get all the nutrients it needs anyway — he struggles to reach 50kg in weight — he has to carefully balance the benefits of exercise with the extra demands for food.
Dietary needs
Johnson's medical team includes a dietician, physiotherapist and diabetic nurse. "I've been with the same hospital 10 years now," he says, "so they know me really well physically and mentally. They are very supportive and helpful."
His minimum calorie requirement per day is 2,500 calories, but this increases to 3,000 per day when he is cycling long distances. He has various fruit juice-based supplement drinks, which provide a power-packed 300 calories in just 150ml, and Creons help with food absorption. Also, to the envy of anybody trying to lose weight, his dietician told him to grate cheese on everything and to fry food!
When asked if he has a favourite food Johnson laughs, "I've taught myself to like full-fat milk — it's not something everybody likes but it's a staple for me."
Regular exercise has meant that Johnson's lungs are functioning better now than they have for some years, and he's also found that he's good at hill-climbing, partly as he's light. With at least three major climbs on the Coast to Coast (Honister, Whinlatter and Hartside), this should stand him in good stead.
Johnson lives with his wife Tania in Warrington and works 30 hours a week as the North West regional administrator for Christian Aid. You can follow Johnson's progress on his blog at mattyj1979.wordpress.com.
What is cystic fibrosis? The facts
Around 10,000 people in the UK have cystic fibrosis, an inherited condition caused by a faulty gene. One in 25 people carries the gene. If two carriers have a child it has a one in four chance of having CF.
The defective gene is the one which controls the movement of salt and water in and out of the cells, and this leads to a build-up of thick, sticky mucus. This mucus clogs the lungs and leads to life-threatening lung infections, and also obstructs the pancreas, preventing natural enzymes from breaking down food for absorption of necessary nutrients.
There is currently no cure for cystic fibrosis. In the 1960s a child diagnosed with CF would be lucky to reach his or her fifth birthday. However, significant advances in treatments — nutrition, physiotherapy, antibiotics and, when necessary, transplants — over the past 50 years now mean that more than half of the current population with cystic fibrosis will live to be over 40.
Cycling worked for me
"Remember that when you get home you need to eat — and it could be more than you think."
"I took the date of the event and then worked backwards, adding 10 miles each week to my training until I was achieving the sort of distances I needed. It meant I had about a six-month training programme."
"It's only now sinking in what I've achieved. I'd never cycled as far as 100 miles before, and I did it, followed by another 200 over the following three days. But that's not to say I've not already started nurturing that small question in the back of my mind: 'what next?'"
Fundraise
Jennifer Westmoreland, head of the Cystic Fibrosis Trust's community and fundraising events
"The Cystic Fibrosis Trust would like to thank Matt for his fundraising efforts. Without people like him we would be unable to invest in cutting-edge research to develop better treatments and, ultimately, find a cure for this life-shortening disease."
Exercise
"Most people don't understand what cystic fibrosis is, or what it does, until someone close to them is affected by it. Exercise is crucial to everyone with cystic fibrosis because it can slow the rate of decline in lung function, help to clear mucus from the lungs to help with easier breathing, as well as creating more reserves for the lungs to use during periods of lung infection."
Thank you for reading 10 articles this month* Join now for unlimited access
Enjoy your first month for just £1 / $1 / €1
*Read 5 free articles per month without a subscription
Join now for unlimited access
Try first month for just £1 / $1 / €1
Founded in 1891, Cycling Weekly and its team of expert journalists brings cyclists in-depth reviews, extensive coverage of both professional and domestic racing, as well as fitness advice and 'brew a cuppa and put your feet up' features. Cycling Weekly serves its audience across a range of platforms, from good old-fashioned print to online journalism, and video.