Alessandro Petacchi retires from professional cycling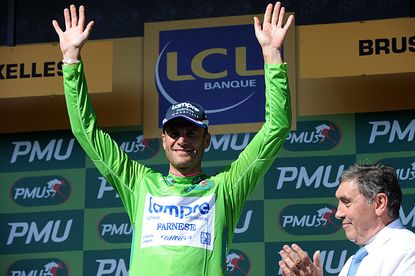 Italian sprinter Alessandro Petacchi announced his retirement on Tuesday after 18 years as a professional rider.


Issuing a statement via his Lampre-Merida team's website, Petacchi said: "My career has been full of satisfactions and enriched by all the most important victories that a rider like me could ever aim at.
"At the threshold of the 200 victories in career, I feel my life reaches a peculiar moment, a turning point in which I perceive the need to find a new dimension and to have more time to dedicate to my family. These considerations induce me to the decision to pause my career."
The 39-year-old hasn't ruled out returning to the sport as a coach or manager at a later date: "I want to say goodbye to all the cycling fans, considering that maybe there will be the chance to come back some day to be part on the world that gave me so much, offering my experience to the new cycling generation."
Petacchi has a huge string of victories to his name (see full list below), including multiple stage wins in the Tour de France, Giro d'Italia and Vuelta a Espana, including winning the Tour's coveted green jersey in 2010. His one-day wins include Milan-San Remo, Scheldeprijs and Paris-Tours.
His career hasn't been without controversy. In 2007 he returned a 'non-negative' test for excess levels of salbutamol. Although Petacchi held a therapeutic excemption certificate for the drug, the level was well above the allowed upper limit. He was subsequently suspended by his Milram team and handed a back-dated 12-month ban. He returned to competition in 2008 with LPR Brakes and was signed by Lampre for 2009, where he has been ever since.
Alessandro Petacchi's full rider profile on www.cyclingweekly.com>>
Alessandro Petacchi's wins
2012
Bayern Rundfahrt; stage one
Bayern Rundfahrt; stage three
Bayern Rundfahrt; stage five
Bayern Rundfahrt; points classification
2011
Volta a Catalunya; stage two
Giro d'Italia; stage two
Tour of Turkey; stage four
Tour of Turkey; points classification
2010
Giro della Provincia di Reggio Calabria; stage two
Giro della Provincia di Reggio Calabria; stage four
GP Costa degli Etruschi
Tour de Suisse; stage four
Tour de France; stage one
Tour de France, stage four
Tour de France; points classification


2009
Giro d'Italia; stage two
Giro d'Italia; stage three
Tirenno Adriatico; stage two
Settimana Ciclista Lombarda; stage two
Settimana Ciclista Lombarda; stage four
Settimana Ciclista Lombarda; points classification
Giro di Sardegna; stage five
Scheldeprijs Vlaanderen
Gran Premio della Costa Etruschi
2008
Tour of Britain; stage one
Tour of Britain; stage six
Tour of Britain; stage eight
GP Beghelli
Memorial Viviana Manservisi
2007
Vuelta a Espana; stage 11
Vuelta a Espana; 12
Tour of the Algarve; overall
Tour of the Algarve; stage
Tour of the Algarve; stage
Tour of the Algarve; stage
Vuelta Valenciana; stage
Regio Tour; stage
Internationale Niedersachsen-Rundfahrt; overall
Internationale Niedersachsen-Rundfahrt; stage
Internationale Niedersachsen-Rundfahrt; stage
Internationale Niedersachsen-Rundfahrt; stage
Paris-Tours
2006
Tirreno Adriatico; stage seven
Tirreno Adriatico; points classification
Ruta del Sol; stage
Ruta del Sol; stage
Vuelta Valenciana; stage
Vuelta Valenciana; stage
Internationale Niedersachsen-Rundfahrt; overall
Internationale Niedersachsen-Rundfahrt; stage
Internationale Niedersachsen-Rundfahrt; stage
Internationale Niedersachsen-Rundfahrt; stage
Internationale Niedersachsen-Rundfahrt; stage
Internationale Niedersachsen-Rundfahrt; stage
GP Costa Degli Etruschi
Giro della Provincia di Lucca
2005
Giro d'Italia; stage 10
Giro d'Italia; stage 13
Giro d'Italia; stage 16
Giro d'Italia; stage 21
Vuelta a Espana; stage three
Vuelta a Espana; stage four
Vuelta a Espana; stage eight
Vuelta a Espana; stage 12
Vuelta a Espana; stage 21
Tour de Romandie; stage one
Tour de Romandie; stage two
Tirreno Adriatico; stage one
Tirreno Adriatico; stage six
Tirreno Adriatico; stage seven
Vuelta a Aragon; stage
Vuelta a Aragon; stage
Vuelta a Andalucia; stage
Vuelta a Andalucia; stage
Volta a la Comunitat Valenciana; overall
Volta a la Comunitat Valenciana; stage
Volta a la Comunitat Valenciana; stage
Volta a la Comunitat Valenciana; stage
Milan-San Remo
GP Costa Degli Etruschi
Trofeo Luis Puig
2004
Giro d'Italia; stage two
Giro d'Italia; stage five
Giro d'Italia; stage seven
Giro d'Italia; stage nine
Giro d'Italia; stage 11
Giro d'Italia; stage 13
Giro d'Italia; stage 15
Giro d'Italia; stage 16
Giro d'Italia; stage 21
Giro d'Italia; points classification
Giro d'Italia; most combative rider
Giro d'Italia; Azzurri d'Italia classification
Vuelta a Espana; stage two
Vuelta a Espana; stage four
Vuelta a Espana; stage seven
Vuelta a Espana; stage 13
Tirreno Adriatico; stage one
Tirreno Adriatico; stage two
Tirreno Adriatico; stage seven
Giro della Provincia di Lucca; stage
Giro della Provincia di Lucca; stage
Tour of Aragon; stage
Tour of Aragon; stage
Tour of Holland; stage
2003
Tour de France; stage two
Tour de France; stage four
Tour de France; stage six
Tour de France; stage seven
Giro d'Italia; stage one
Giro d'Italia; stage five
Giro d'Italia; stage six
Giro d'Italia; stage 13
Giro d'Italia; stage 16
Giro d'Italia; stage 17
Vuelta a Espana; stage three
Vuelta a Espana; stage five
Vuelta a Espana; stage 12
Vuelta a Espana; stage 14
Vuelta a Espana; stage 21
Paris-Nice; stage one
Vuelta Valenciana; stage
Tour of Aragon; stage
Tour of Aragon; stage
Tour of Aragon; stage
Tour of Holland; stage
Tour of Holland; stage
Trofeo Luis Puig
2002
Vuelta a Espana; stage 12
Paris-Nice; stage one
Paris-Nice; stage five
Settimana Coppi & Bartali; stage
Settimana Coppi & Bartali; stage
Settimana Coppi & Bartali; stage
Tour of the Mediterranean; stage
Vuelta Valenciana; stage
Vuelta Valenciana; stage
Vuelta Valenciana; stage
Regio Tour; stage
Tour of Holland; stage
2001
Settimana Coppi & Bartali; stage
Settimana Lombarda; stage
Settimana Lombarda; stage
Euskal Bizikleta; stage
Tour of Poland; stage
2000
Vuelta a Espana; stage eight
Vuelta a Espana; stage 12
Giro della Provincia di Lucca; overall
Giro della Provincia di Lucca; stage
Giro della Provincia di Lucca; stage
Tour de Luxembourg; stage
Tour de Luxembourg; stage
Route du Sud; stage
Route du Sud; stage
Regio Tour; stage
1998
Tour de Langkawi; stage
Thank you for reading 20 articles this month* Join now for unlimited access
Enjoy your first month for just £1 / $1 / €1
*Read 5 free articles per month without a subscription
Join now for unlimited access
Try first month for just £1 / $1 / €1