Aqua Blue Sport folds leaving Adam Blythe and more without a contract
A team of 16 riders and staff are left looking for work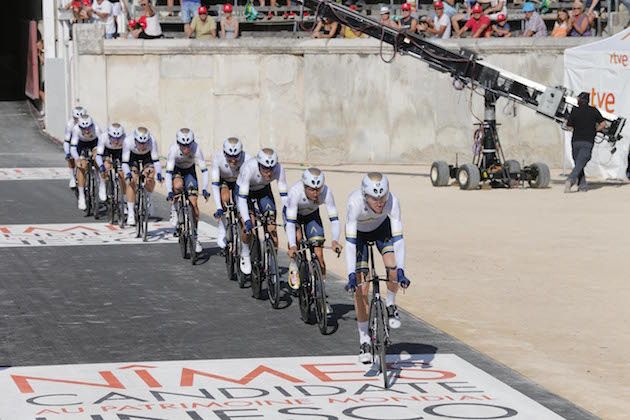 (Image credit: Yuzuru SUNADA)
"We are extremely proud of our achievements over the past two seasons and made history in being Ireland's first professional cycling team, first Irish team to participate in a Grand Tour and first Irish team to win a stage at a Grand Tour," the team said.
"We started this project over two years ago with huge ambition, gusto and optimism that we could actually make a difference," read the team's statement.
The riders heard the news only this morning.
The team's roster includes four Brits with Adam Blythe, Mark Christian, Andrew Fenn and Daniel Pearson.
They knew the team's owner Rick Delaney had been working on a fusion with Nick Nuyens's Veranda's Willems-Crelan team with star Belgian Wout Van Aert. That never materialised.
Team Aqua Blue Sport will not continue into the 2019 season, leaving a roster of 16 including Brit Adam Blythe and staff immediately searching for work.
The Irish professional continental team announced this morning via a Twitter message that it would end after only two years.
"Aqua Blue Sport cycling team have been negotiating tirelessly with another Pro Continental team regarding an acquisition/partnership," read the statement.
Delaney started the team with a unique model to fund the team with a sports equipment website based around the Amazon set up.
"I guess it's fair to say that we have made some fundamental mistakes, and errors of judgement, ultimately bringing our 'on road' ambitions to an unfortunate end.
"This year we have found it increasingly difficult to obtain race invitations and recognition from race organisers in how unique and how well supported our project should be."
"It's good it's not a month later. At the moment, I'm not sure what's available."
"Over the past weeks we had formed the basis of an agreement many times, but unfortunately common sense did not prevail.
"We believed on numerous occasions that the deal was so far advanced that it was a foregone conclusion that a partnership would be achieved.
"Today, August 27, 2018, we now find ourselves in a position where we can categorically state that all negotiations have been terminated."
Doing so, he hoped the team would not be depended on sponsors to continue each year. Such situations have seen big teams like HTC Highroad and BMC Racing this year in danger.
The 2017 season began well with team receiving wildcard invitations to several big one-day races and tours, and ultimately a grand tour at the Vuelta a España. Not only did Aqua Blue participate in the Vuelta, but it won a one of the biggest stages with Stefan Denifl.
This 2018 season however looked less promising without invitations to the biggest races. Behind the curtains, insiders reported troubles and a difficult working environment. In Belgium, there was news that Van Aert – three-time cyclo-cross champion and emerging classics star – would lead a merged Aqua Blue / Veranda's Willems team.
The Irish riders include Matthew Brammeier.
"Hopefully there be options, but it is late and teams are filling up," former U.S. Champion Larry Warbasse told Cycling Weekly. 
"We are, of course, not going to give up with our passion of becoming a sustainable cycling team and will continue to grow and develop our e-commerce platform to enable us to return to the road unshackled sometime in the future."