Becky James nominated for Welsh SPOTY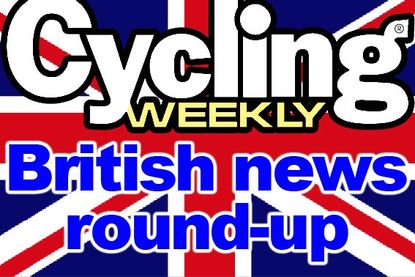 Becky James nominated for Welsh Sports Personality of the Year
Becky James has been nominated for the Welsh Sports Personality of the Year competition - and on the day of her nineteenth birthday, no less.
This season, the Welsh sprinter has continued to fulfil the promise she first showed last summer, when she took breakthrough gold medals at the world and European junior track championships.
This autumn, the young sprinter scored impressive silver and bronze medals at the Commonwealth Games, pushing star Anna Meares all the way in the team sprint.
Victoria Pendleton has been among the riders and pundits to praise the teenager's efforts. At this rate, James could yet challenge Pendleton for the individual sprint berth at London 2012.
Horizon Fitness add Rowsell, Allen and Miller

The Horizon Fitness women's team is strengthening for 2011 by adding former world team pursuit champion Joanna Rowsell, Jessica Allen and Ruby Miller.
Rowsell and Allen have fallen on harder times since being at the head of the new wave of British female cycling talent a couple of years ago.
Since being part of the world championship team pursuit winning team in 2008, Rowsell has suffered untimely injuries - most recently a fractured elbow, throwing her late-winter World Cup and world championship team pursuit ambitions into doubt - but she remains a serious contender for a spot on the London 2012 trio.
"Jo is an exciting addition to our team. In fact, it's about as exciting as it gets. She sums up exactly what our team is all about: young, talented and determined to be the best in the world, while being one of the nicest people you could wish to meet," said team manager Stefan Wyman.
Having ridden the World Championships, Tour of Flanders and Tour de
l'Aude as a teenager for Great Britain in 2008, former junior time-trial
champion Allen has also struggled with injury problems over the last twelve
months.
"When you add Jess to our current riders, we're getting
towards an impressive all-round squad. We'll be going to races where we
think we can achieve, and to do that we'll need to be strong in all
areas. With such a young squad still, it's impressive just how strong we
have the potential to be," Wyman added.
Talented junior Miller completes the team's roster for 2011, having already shown well on the track, road, MTB and cross.
"Ruby is a great prospect and we know that we can help develop her potential. She's always been impressive off road, but some her road results at the end of last season really caught my eye," said Wyman.
The team, which will be mixing a continental and domestic calendar next season, also includes Paralympic gold medallist Sarah Storey and U23 talent Dani King.
Horizon Fitness for 2011
Sarah Storey
Claire Thomas
Jessica Allen
Dani King
Joanna Rowsell
Hannah Rich
Annie Simpson
Ella Sadler-Andrews
Britt Jochems
Penny Rowson
Ruby Miller
Rowsell (l) with fellow world championship-winning team pursuit members Wendy Houvenaghel and Lizzie Armitstead
Halfords shopping spree for primary school race winners

As winners of a special relay race for local primary schools, pupils from St Peter's Docks Primary in Tower Hamlets enjoyed a shopping spree courtesy of Halfords.
Their prize was £300 of shopping vouchers, happily spent at the specialist retailer's Whitechapel store.
The school's Learning Mentor & Healthy Schools coordinator Alex Stead commented: "The school is very proud of the win. All of our children enjoy cycling, we even have dedicated break times each week for children to cycle their bikes within school grounds, and our own bike mechanics club."
Vanilla Bikes announce new signings
2011 will see a new team on the British racing circuit, VanillaBikes. The ambitious team are sponsored by the online cycle shop of the same name.
This week they've announced the first two signings to the team, 23-year-old Adam Norris and 21-year-old Jack Pullar.
Norris, from Essex is a former Junior National Champion and after a year out is hoping to realise his abundant potential.
Lancashire born Pullar will be aiming to put his sprinting and climbing skills to use in support of the more experienced Norris.
Both riders will be competing in the Premier Calendar series, the Elite Crits and National A events.
For more information, visit www.vanillabikes.com
Thank you for reading 20 articles this month* Join now for unlimited access
Enjoy your first month for just £1 / $1 / €1
*Read 5 free articles per month without a subscription
Join now for unlimited access
Try first month for just £1 / $1 / €1