Bradley Wiggins: Caerphilly Mountain is biggest threat to Tour of Britain lead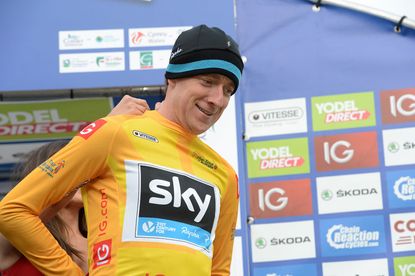 Bradley Wiggins believes tomorrow's Tour of Britain stage into Caerphilly will pose the biggest threat to his race lead.
Wiggins retained the IG gold jersey in this afternoon's stage to Llanberis but admitted that Thursday's now traditional leg into Caerphilly - which includes two ascents of the town's iconic mountain - is where the overall winner will be crowned.
"I think the race will be decided in the final on those two laps," said Wiggins, who has a 37-second lead in the general classification over team-mate Ian Stannard.
"I looked at this stage last week and rode it. It's going to be another tough day tomorrow, probably the toughest of the race in terms of that finish circuit. I don't believe Haytor [on Friday] is a proper mountain finish as such, so I think tomorrow will be a real key climbing day.
"It's been the crucial stage in the previous years so I'm expecting it to be the same tomorrow."
A day after his storming victory in the time trial at Knowsley, Wiggins credited his team-mates and nearest man on GC Stannard for keeping an 11-man breakaway from getting too far ahead.
"It was as tough as I thought it was going to be, with the cold weather and the wind," he said. "I think it always looks different on telly but the boys kept that gap down below 3-50 the whole race.
"If we knew it was going to come back as easily as it did in the last 10 or 20 km perhaps we could have left it a bit more but it's best to play it safe really.
"I never look forward to the days after a time trial, the change of bike and stuff but today I felt pretty good. I'm glad it's out the way now another day back on the road bike and tomorrow's another day really.
"Ian's [Stannard] going so well at the moment, we saw once he started riding about 15 kilometres to go he brought it back by a minute straight away.
"We tried to keep Ian as long as possible and also tried and keep his second place overall for another day. Bernie [Eisel] and Matthew [Hayman] rode all day today really pretty much on their own and Dave Lopez and young Josh [Edmondson] took it up with about 50 kilometres to go and started throwing in as well."
Wiggins even said he believes 21-year-old Edmondson has the ability to win the Tour de France one day.
"For a first year professional he's been brilliant this season. You only have to look at him on the bike. I don't want to big him up too much but I think he could be the next Tour de France winner in the next 10 years," he said.
"He's got a lot of class about him and he looks like old school Spanish climbers on the bike, he's got a real good style and a good head on his shoulders."
Thank you for reading 20 articles this month* Join now for unlimited access
Enjoy your first month for just £1 / $1 / €1
*Read 5 free articles per month without a subscription
Join now for unlimited access
Try first month for just £1 / $1 / €1