Britain's Best Bike Mechanic 2018 | Vote is now closed
Britain's Best Bike Mechanic is our UK wide campaign to find the best bike mechanics in association with Park Tool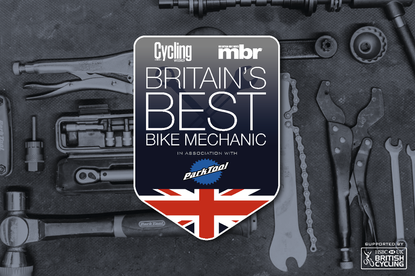 Voting for Britain's best bike mechanic is now closed
Building on the success of Cycling Weekly and MBR's Britain's Best Bike Shop in 2017, which received over 21,000 votes for over 1,000 shops, we have partnered with Park Tool and British Cycling to begin a journey to champion the work horses at the back of the shop, the unsung heroes who keep the wheels spinning, pedals turning and brakes stopping.
Now the voting is closed we will be contacting the mechanics who received the most votes with a knowledge based questionnaire. Te strongest candidates will be invited to a take part in a skills test which will take place on the 7th September at the ATG Training Cycle Academy in Oxford. The final will be overseen by GB Cycling's head mechanic Mark Ingham and Park Tool's Director of Education Calvin Jones.
Voting closed on the 7th August the Finals Day will take place on 7th September
Everyone who voted for a mechanic will go into a prize draw to win a Park Tool Home Mechanic Starter Kit.
Kellie Parsons, Marketing Director at Madison (UK distributor of Park Tool) has said "We are delighted to be supporting the search for Britain's Best Bike mechanic and think it is a great opportunity to celebrate some of the unsung heroes that literally keep the wheels of our industry turning."
"Park Tool prides itself on being the number one tool brand in cycling so it was an obvious campaign to throw our weight behind. We can't wait to see who is crowned champion and being introduced to our nation's best bike mechanics."
Victor Alway, Marketing Manager at Cycling Weekly and MBR added, "teaming up with Park Tool and British Cycling is a really exciting part of the campaign. Alongside Cycling Weekly and MBR's fantastic influence in print, online and social media, Park Tool and British Cycling will help us reach a huge portion of the cycling community.
"This access to cyclists, bike shops and the mechanics themselves will allow us to uncover the best of the best."
The 2018 Britain's Best Bike Mechanic winner will be announced in September and invited to the Cycling Weekly Awards in December.
The Cycling Weekly Awards will are taking place on December 12 and will celebrate the people who make road cycling so special, from the best professional riders to the cycling clubs and volunteers who knit the grassroots scene together.
Thank you for reading 20 articles this month* Join now for unlimited access
Enjoy your first month for just £1 / $1 / €1
*Read 5 free articles per month without a subscription
Join now for unlimited access
Try first month for just £1 / $1 / €1