Britain's Best Bike Shop 2017: Winner and results revealed
We launched our quest to find Britain's Best Bike Shops in June and since then you have cast over 21,000 votes. Here we head to Scotland to visit the winner and find out what makes the Edinburgh Bicycle Cooperative a cut above winner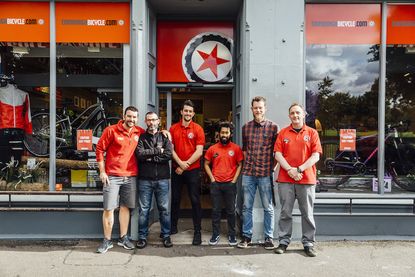 With thanks to Britain's Best Bike Shop 2017 sponsors Lezyne, Bikezaar and Muc-off
As we stroll into the Bruntsfield branch of the Edinburgh Bicycle Cooperative it is clear that this is a shop for the masses.
A young girl with her father is being measured up for a helmet, a small army of mechanics are working hard fixing a vast range of bikes, while cyclists constantly drip feed through the door on a deceptively chilly September morning looking for extra layers.
This may not be an unusual sight to see in most bike shops up and down the land, but dig a little deeper and you can see why this one has been voted the best by Cycling Weekly readers.
Firstly, the unique element of the Edinburgh Bicycle Co-op is that it is, as the name suggests, a cooperative, making it a very different company structure to most other bike shops on the high street.
"Essentially you've got a managing director, a deputy managing director, a few executive directors and then the staff after a year get invited to become a member and buy shares in the cooperative," explains deputy shop manager Simon Cortis.
"Any profits then get shared out after that and everyone gets the same. It doesn't matter if you are the managing director or the Saturday boy, it is all spread equally."
You get the impression speaking to the members of the cooperative that their personal ownership in the business itself plays a role in the ambition to improve the shop. Cortis also believes the staff's passion for cycling is one of the main reasons that they provide excellent customer service.
"Most of the people who work here do everything by bike, and they are all passionate about bikes," he says. "At the end of the day it is not just about pay cheques but actually enjoying what you do."
Located just south of the city centre opposite the Bruntsfield Links, the store has grown from its original humble beginnings to its current location on Alvanley Terrace, changing a lot ever since it opened nearly 40 years ago.
"It's unrecognisable!" Cortis says. "We moved here after a few years, and started in just one of the units in this block before knocking our way down through the units. We now have nowhere else to go with a large hotel up one end and a renowned sculptor up the other."
One element of the shop that clearly sets it apart as soon as you step through the front door is the number of staff that are present to help and greet customers. Deputy managing director Alan Nestor explains that this is both a necessity in terms of the layout of the shop as well an expression of the company's values.
"There are about 35 employees in total with about 25 of them being employed full time," he says.
"It's a great building but a horrible one at the same time from a retail perspective. There are so many blind corners, we actually have to have that many staff because the building dictates it. But also the philosophy is that we want to put people in front of customers."
It is not a case of quantity instead of quality and just putting inexperienced and unknowledgeable staff in front of customers for the sake of it. The importance of the team having a deeper understanding of the products that are on sale on the shop floor is crucial, not just from a retail perspective but also to engage with the customers on a personal level.
"Over 95 per cent of the stuff we sell is technical, so there needs to be that level of engagement and advice," Nestor says.
"This is what we've always being trying to focus on, trying to remove that stigma of snooty or intimidating bike shops, engaging with the customers to see what they want, what they need, what they are doing and advising accordingly."
Nestor stresses how important this is in today's market, with the rise of technology such as e-bikes requiring staff to be clued up on the latest developments and releases. The staff's excellent customer service is one of the major reasons behind the success of the shop.
"I am constantly banging on about it, so if that is what is being reflected by what our customers want then that is great," he says.
"I'm under no doubt that most of our customers have been into another bike shop and that is OK, as long as we give them good reason to come back to us."
Changing with the times
With the profile of road cycling in the UK at an all-time high thanks to the success of British riders at the Olympics and the Tour, it would be easy to assume that bike shops are riding a wave of good fortune. This is far from the case.
"As a retailer, I am slightly cynical about the 'cycling boom' because the success on the road has coincided with the downturn in the import of bikes into the UK," Nestor admits.
"All the bikes we sell are made outside the UK and the only real numbers we can get is through imports, which have been on the decline for the last five years."
It may seem strange that Edinburgh is such a cycling- friendly city in the first place, with unfavourable geography, cobbled roads and, to put it politely, chilly weather at the best of times.
But despite battling these factors to great success with the Bruntsfield shop — as well as other Edinburgh Bicycle Co-op branches in the city, and across Scotland and England — it hasn't all been plain sailing for the company.
"We opened new stores in Leeds, Manchester and Sheffield. Leeds is still going strong but last year we had to close our Manchester and Sheffield shops," Nestor says.
He admits it wasn't a decision that was taken lightly, but rather indicative of the challenges and pressures that the cycling retail industry is under.
"Establishing yourself in a city is one thing, but establishing yourself in a city where competition is so fierce and you've also got the internet pummelling everyone to smithereens from both a price and choice point of view — it meant we just couldn't get the critical mass of customers that was needed.
"They were good stores with really good people and it was tragic we just couldn't get over that line and make the financials stack up and deliver for us."
Adapting to modern shopping methods and values was perhaps one of the major reasons Edinburgh Bicycle Co-op as a whole succeeded during a sticky time for the industry.
Embracing the internet enabled it to reach customers from all angles, firstly by simply placing its annual catalogue online for browsing purposes before implementing the e-commerce option on their site at a later date.
"I did some analysis and we launched our site six months after Amazon did. So we have been kicking around online for quite some time.
"We've always taken the view of replicating what goes on in store, not having dual pricing but replicating the service and quality online that you'll find in the store."
Community hub
Despite the wider reach the shop can now achieve, it still retains a sense of community. This is, in part, thanks to the training courses held in the shop.
"We run full-day maintenance classes, yoga classes and wheel-building courses," explains Niall Patterson, who has been working for Edinburgh Bicycle Co-op for five years.
"We see the maintenance classes as a way of building a relationship with customers rather than a massive money maker or a way to generate a lot of business for us."
Taking the shop out to the wider community is another aspect of the cooperative that Nestor is keen to emphasise. It is currently working on a project with a local secondary school in Edinburgh, teaching bike maintenance skills to students who are struggling academically.
While other bike businesses may branch out into related commercial ventures such as coffee shops, Nestor is determined to stick to what his staff do best in spite of the many requests and ideas they receive.
"People ask why don't we add something to the shop to offset the season. But we are a bike shop and we know what is needed to run it. Plus, you can't move for coffee shops in Bruntsfield."
Nestor also demonstrates a laudable concern for his workers' waistlines: "I like carrot cake but I don't know whether I could keep the staff out of the coffee shop if we had one.
"We don't have a TV either, so we don't have the Tour on, which may be missing a trick. But I would rather focus on the customer when they are here rather than the TV. Maybe that is just an old-school convention."
Some conventions are clearly worth keeping.
Britain's Best Bike Shop 2017 Results
Overall
1. Edinburgh Bicycle Co-op - Edinburgh
2. Leslie Bike Shop
3. Sigma Sport
4. Pedal Heaven
5. Arragons Cycle Centre
Scotland
1. Edinburgh Bicycle Co-op - Edinburgh
2. Leslie Bike Shop
3. Pedal Power West Calder
4. Edinburgh Bicycle Co-op - Aberdeen
5. Synergy Cycles
The North East
1. Edinburgh Bicycle Co-op Newcastle
2. Peddlers
3. KB Cycles
4. Cycle Art
5. NRG Cycles
North West
1. Arragons Cycle Centre
2. 4Play cycles
3. Wheelbase
4. Twelve 50 bikes
5. Merlin Cycles
Yorkshire
1. Edinburgh Bicycle Co-op Leeds
2. York Cycleworks
3. Twisted Cogs
4. Woodrup Cycles
5. Stif Cycles
East Midlands
1. Giant Store Lincoln
2. Gorilla Firm
3. Wellingborough Cycles
4. Flamme Rouge
5. Twenty3c
West Midlands
1. 2 Wheels Only
2. Giant Bicycle Store Leamington Spa
3. Dave Mellor Cycles
4. Run & Ride
5. Bikewrench
Wales
1. Alf Jones
2. On it Sports
3. The Bike Shed Wales
4. Cranc Cycle Sport
5. Don Skene Cycles
East of England
1. Lifecycle UK
2. JD Cycles
3. Yellow Jersey Cycles
4. Aerocycles
5. Lee Valley Cycles
London
1. Sigma Sport
2. Cadence Performance
3. Flag Bikes
4. Condor Cycles
5. SE20 Cycles
South East
1. Pedal Heaven
2. Pankhurst Cycles
3. D & D Cycles
4. Pedalworks
5. Abbotts Ann Cycles

South West
1. Wolf Cycleworx
2. Bike Chain Ricci
3. Green machine
4. Clive Mitchell Cycles
5. Carb Cycles
Northern Ireland
1. Cicli Sport
2. Velo Culture
3. Cycleology
4. Velo Cafe Megasin
5. Dave Kane Cycles
Congratulations also to our competition winner, Kathy Chandler, who has won a subscription to Cycling Weekly, a year's supply of Muc-Off product and a Lezyne super GPS navigate computer bundle.
Thank you for reading 20 articles this month* Join now for unlimited access
Enjoy your first month for just £1 / $1 / €1
*Read 5 free articles per month without a subscription
Join now for unlimited access
Try first month for just £1 / $1 / €1