British Cycling call for perspective in Surrey cycling debate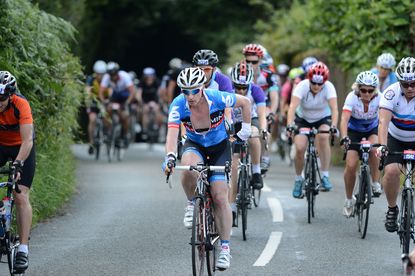 British Cycling's Cycle Sport and Membership Manager, Jonny Clay, called on petitioners in Surrey to get some perspective over road closures for cycling events at a live radio debate to discuss the future of cycling in the county last night.
Frustration over lack of communication around road closures and poor cyclist and driver behaviour dominated the discussion at the University of Guildford.
During the debate, hosted by BBC Surrey, six panellists from the police and council as well as a local petitioner, Sustrans and British Cycling, took questions from audience members, as well as from listeners.
The point was ostensibly to discuss the future of cycling as part of Surrey's Cycling Strategy consultation.
However most of its six key elements, including how to get more children cycling, were sidelined by concerns over the disruption to businesses and residents caused by events like Ride London 100.
Respondending to the concerns, Clay, said: "I think it is very important we get some perspective.
"There is only one complete road closure to my knowledge and that is the Ride London which is one day.
"The Tour of Britain is a rolling road closure that would only inconvenience people for 20 minutes to half an hour."
However, Stop Surrey being turned into a race track petition founder, Ian Huggins, said there were 250 mass participation cycling events in Surrey this year, and there was no requirement for event organisers to consult residents and businesses.
"The behaviour of cyclists is the number one complaint on all of the 300 signatures on my petition," he added.
David Preedy, of Headley Parish council, warned: "We haven't had the problems of the New Forest where residents have disrupted the events but if we don't get a grip on the tension of this situation, I absolutely condemn it, but that is where we are heading if we are not careful."
No consultation
Various accounts of losses or benefits to businesses were cited but as Clay pointed out, without a proper economic assessment there was no way of assessing the real impact on businesses.
An audience member from Leith Hill argued: "The route [of the Ride London event] has been decided without consultation There must be a case of taking this not only to other parts of Surrey but to other of the home counties."
Helyn Clack of Surrey County Council, said the route is decided by event organisers as part of an Olympic legacy.
She said: "There were 20,00 cyclists at the Prudential Ride London event and our primary concern was delivering it safely. In the future we will have to make sure we enable businesses and residents to collaborate in a way that is enjoyable and successful."
The regulation of road events was also raised. Clack added: "It is more worrying to me when pelotons of cyclist appear without any consultation but if it is not a race or time trial I understand there is not a lot we can do about it at the moment."
"We have to make sure we get the powers to manage more of the sportives on the roads," she said.
Roads suitable for cycling?
Surrey Police Deputy Chief Constable, Nick Ephgrave, said control of cycle events, governed by the 1960 cycle racing on the highways, is arguably unsuitable for today's conditions and the boom in sportives.
He said of cyclist behaviour: "I enjoy cycling as a sport and I have cycled with clubs and I learned the strict discipline of cycling no more than two abreast, and that is what I want to see.
"We have a boom in people really enjoying cycling but don't know how to behave in a group."
Several audience members argued Surrey's narrow roads aren't suitable for cycling and many reported feeling intimidated by cyclists riding in groups, equalled by cyclists who felt intimidated by traffic speeds and motorist behaviour.
There were also calls for segregated infrastructure on all sides to reduce tensions on the roads and encourage more people onto their bikes.
One audience member from the Netherlands said: "This reminds me of what happened in Holland in the 70s, when people wanted to cycle but there were too many accidents.
"This isn't about the cycle race, it is about getting people to cycle more."
Thank you for reading 20 articles this month* Join now for unlimited access
Enjoy your first month for just £1 / $1 / €1
*Read 5 free articles per month without a subscription
Join now for unlimited access
Try first month for just £1 / $1 / €1