Cavendish comes closest yet to win in 2011 season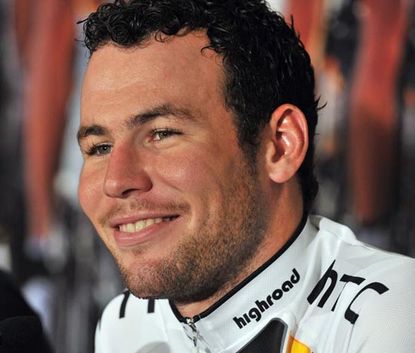 Britain's Mark Cavendish (HTC-Highroad) came his nearest yet to a victory in 2011 when he finished a close second to Theo Bos (Rabobank) in stage one of the Tour of Oman.
Well within sight of the finishing gantry, Cavendish had to swerve abruptly to avoid a spectator standing on the edge of the road. Add to that: his team in Oman is far from being as polished a sprint train as he usually gets; a three-kilometres-sign-to-go in the wrong place that led to his being a little far back late on; and it all added up to a narrow defeat.
"It was fast and everybody from our team was up there trying their best, we were where we should be and even though the guys here don't normally ride together as a team we pretty much kept it together," Cavendish said.
"Then the race signs were wrong, the three-kilometres.to-go sign was where the two-kilometres sign should have been and with about what was really a kilometre to go I was about 30 guys back."
"I shouted to [HTC-Highroad team-mate] Matt Goss and got across and he went with about 600 metres to go, he went up the side of the bunch on the right, which was probably the hardest way because that was where the wind was coming from."
"I felt good, but the sprinters spread out, then I had to come past a spectator who was standing in the road about 200 metres from the finish which meant I had to switch in and then go from there."
"If I'd been able to start a bit earlier, maybe I'd have got it: But there was this guy there in the road, so I couldnt' start my sprint until after that."
No longer with any bandages visible on his left side - which took the impact both in the Tour Down Under and again in the Tour of Qatar when Cavendish crashed - the Briton said his condition is exactly where it should be.
"I felt good in Qatar, I've got good form. But when everybody's fresh, like on the first stage, you've got every man and his dog sprinting. Later on in the week it'll be different."
"I didn't feel too bad," added Cavendish's team-mate Matt Goss, "but it was a messy finish and the signs were barely visible."
"I tried to take Cav up to the front with 800 metres to go, but then I ran out of legs."
"On top of that it's always the same on a first day of a stage race, it's a bit crazy, suddenly everybody becomes a sprinter."
"But me and Cav managed to work it out pretty well in last year's Vuelta and I'm sure we will again."
Related links
Tour of Oman stage one: Bos wins opening stage
Thank you for reading 20 articles this month* Join now for unlimited access
Enjoy your first month for just £1 / $1 / €1
*Read 5 free articles per month without a subscription
Join now for unlimited access
Try first month for just £1 / $1 / €1