Chris Froome driven by winning multiple editions of Tour de France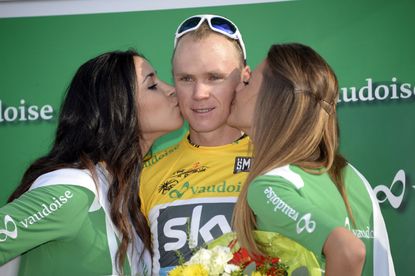 Chris Froome (Sky), fresh off his Critérium du Dauphiné victory, said that he is driven by not just winning one Tour de France, but many.
"I've got my goals and personally where I want my career to go is to target the Tour," he told The Times. "Not just this year but for the next six or seven years and each time to line up at the Tour ready to try and contend for the yellow jersey. I am driven by that goal."
Anti-gay group to demonstrate at Tour de France
France's anti-gay movement will focus its attention on the Tour de France over the next month, according to the Atlantic Wire, after protesting at the French Open final. The group, called Hommen is against the new same-sex marriage law passed in France.
Instead of blocking the road, like other protesters in the past, it promises to line the roads with its supporters.
UCI President McQuaid faces Swiss challenge
Union Cycliste Internationale (UCI) President Pat McQuaid faces a challenge to the endorsement he received from the Swiss Cycling Federation last month. According to the AFP news agency, three members are appealing the decision to endorse his candidacy for re-election in September.
Swiss Cycling representative, Selina Küpfer said that the issue would be looked at by an arbitration tribunal. With the challenges, including one in Ireland, and Brian Cookson's bid, McQuaid's re-election is uncertain.
Ag2r-La Mondiale fires Sylvain Georges over doping positive
Ag2r-La Mondiale announced on Tuesday that it fired Sylvain Georges due to his doping positive at the Giro d'Italia.
The Frenchman tested positive for stimulant Heptaminol on May 10 and was kicked off the race five days later when the result was announced.
Lance Armstrong made too many enemies, says Ullrich
Jan Ullrich expected Lance Armstrong's downfall, according to an interview, because he made too many enemies during his career.
"Normally I don't wish bad things on people, including Armstrong," Ulrich told German sports weekly, Sport-Bild.
"But I've always said that Lance wouldn't get out of it. He made too many enemies... He always wanted to be the boss and behaved ruthlessly with his subordinates."
In February last year, Ulrich was stripped of all of his results back to 2005, including a second place at the Tour de France, after being linked to Operación Puerto.
Italy replaces Torri with new anti-doping prosecutor
Ettore Torri will no longer hear Italy's big sports doping cases after the Italian Olympic Committee (CONI) replaced him on Tuesday. It named Tammaro Maiello, 55, to replace the 80-year-old.
Torri, who worked as a criminal lawyer, made headlines with several doping cases since joining in 2006. He helped link Spain's Alejandro Valverde to the Operación Puerto doping investigation via a DNA sample collected at the Giro d'Italia. More recently, he dealt with Riccardo Riccò and the Michele Ferrari cases involving Michele Scarponi, Giovanni Visconti and Filippo Pozzato.
CONI made the decision during a national council meeting. It also split the body into two sectors, one for amateur and one for professional racers.
Thank you for reading 5 articles this month* Join now for unlimited access
Enjoy your first month for just £1 / $1 / €1
*Read 5 free articles per month without a subscription
Join now for unlimited access
Try first month for just £1 / $1 / €1